To avoid box-office clash with 2.0, makers of Kangana Ranaut's Manikarnika likely to announce release date only after sci-fi drama does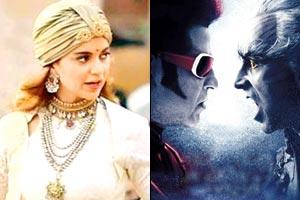 Kangana Ranaut in Manikarnika: The Queen Of Jhansi
Amidst constant speculations surrounding the release date of Kangana Ranaut's Manikarnika: The Queen Of Jhansi, rumours are rife that the makers will zero in on a date only after Rajinikanth's 2.0 seals its date with the audience.
In two instances, the Manikarnika team announced its release date — first, April 27 and then, August 15 — only to find themselves locking horns with the ambitious sci-fi drama on the respective dates. In order to avert a probable box-office clash, sources say, the makers have decided to wait on the final announcement.

Rajnikanth and Akshay Kumar in 2.0
Kamal Jain, producer of the Rani Laxmibai biopic, says, "We have mounted the movie on a scale that's hard to imagine. We don't want to clash or release too close to a film that can eat into our business. While we want to release the film between August and September, we haven't zeroed in on a date yet." Currently in post production, the film is apparently eyeing the September 28 window.
When asked if he had reached out to the makers of 2.0, Jain said, "We haven't, as of now. But buzz in the market is that they too are planning a release around September. So, we will wait and come to a consensus. Movies like Rani Laxmibai biopic are a one-time creation; we can't afford to go wrong with it. So, rushing with dates is not a good idea."
Also Read: Twitter launches special emoji for Rajnikanth-starrer Kaala
Catch up on all the latest entertainment news and gossip here. Also download the new mid-day Android and iOS apps to get latest updates