Kangana and Swara have a history that goes beyond their work dynamics given both of them have worked together in the hit 'Tanu Weds Manu' franchise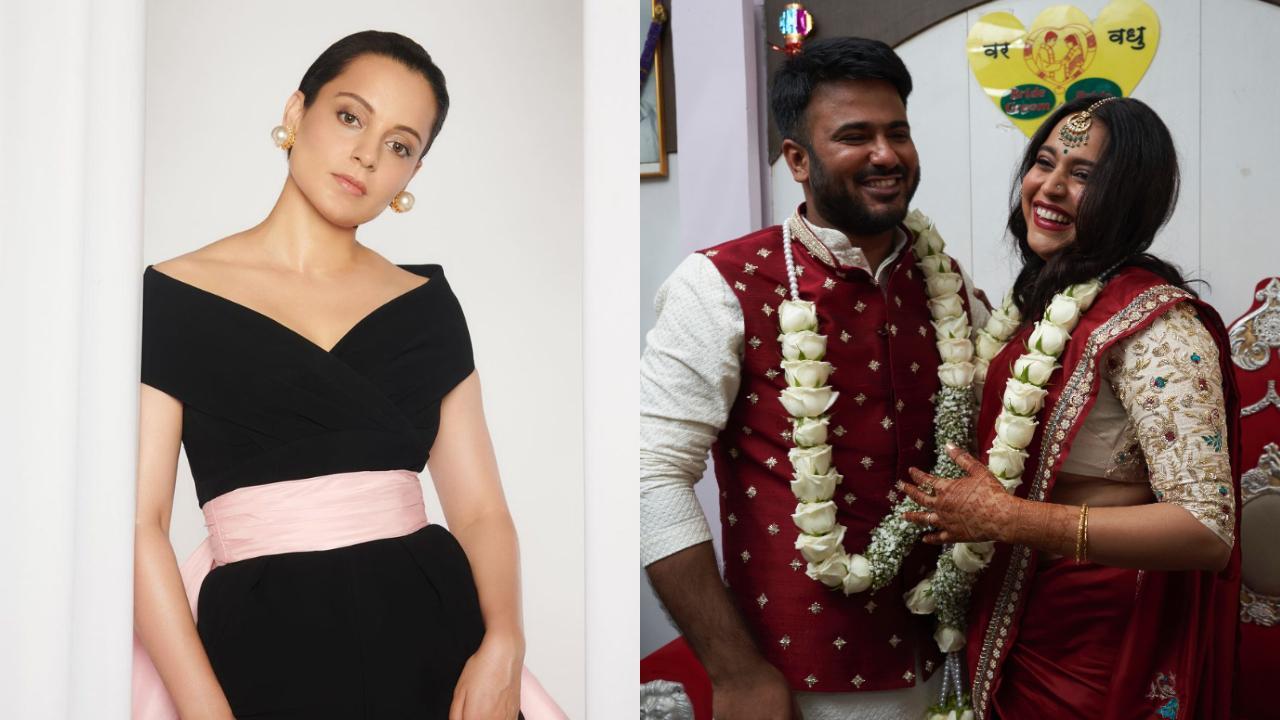 Kangana Ranaut; Swara Bhasker with Fahad Ahmad
Actress Kangana Ranaut, who is busy with the post-production of her upcoming period political drama 'Emergency', recently surprised the netizens when she took to her Twitter on Friday to wish the best to actress Swara Bhasker on her wedding with political activist Fahad Ahmad.
Swara had taken to her Twitter to share the happy news with her followers about her marriage with Ahmad, whom she first met in January 2020 during her participation in the protest against the contentious Citizenship Amendment Act (CAA). Ahmad, being a student leader, had mobilised the young crowd of students to establish the resistance to CAA. 
ADVERTISEMENT
Swara posted a curated video that had the montage of important moments in the lives of Swara and Fahad Ahmad. Swara captioned the post as "Sometimes you search far & wide for something that was right next to you all along. We were looking for love, but we found friendship first. And then we found each other! Welcome to my heart @FahadZirarAhmad. It's chaotic but it's yours!" To which, Fahad replied back to Swara's social media post by stating, "I never knew chaos can be so beautiful. Thank you for holding my hand love. @ReallySwara" For those who are wondering about the details of Fahad Ahmad, let us tell you that, his Twitter profile reads as "State President at Samajwadi Yuvjan Sabha a Youth Wing of Samajwadi Party Maharashtra". 
Three cheers for the #SpecialMarriageAct (despite notice period etc.) At least it exists & gives love a chance… The right to love, the right to choose your life partner, the right to marry, the right to agency these should not be a privilege.@FahadZirarAhmad
✨✨✨♥️♥️♥️ pic.twitter.com/4wORvgSKDR

— Swara Bhasker (@ReallySwara) February 17, 2023
On Friday, Kangana took to the congratulated the newly-wed couple as she wrote on Twitter, "You both look Happy and Blessed. That's God's Grace a marriages happen in the hearts rest all are formalities."
You both look happy and blessed that's God's Grace … marriages happen in the hearts rest all are formalities … ♥️♥️

— Kangana Ranaut (@KanganaTeam) February 17, 2023
Kangana and Swara have a history that goes beyond their work dynamics given both of them have worked together in the hit 'Tanu Weds Manu' franchise. The two actresses came to loggerheads when Kangana addressed Swara as a B-grade actress along with 'Manmarziyaan' actress Taapsee Pannu during a nepotism debate.
Also Read: Swara Bhasker shares pictures from court marriage with Fahad Ahmad
(with inputs from IANS)