The specific prompt to ChatGPT here, though, would've been: Write a Bhai picture that could also go pan-India. What must writers of this film, who will soon be replaced by ChatGPT, figure?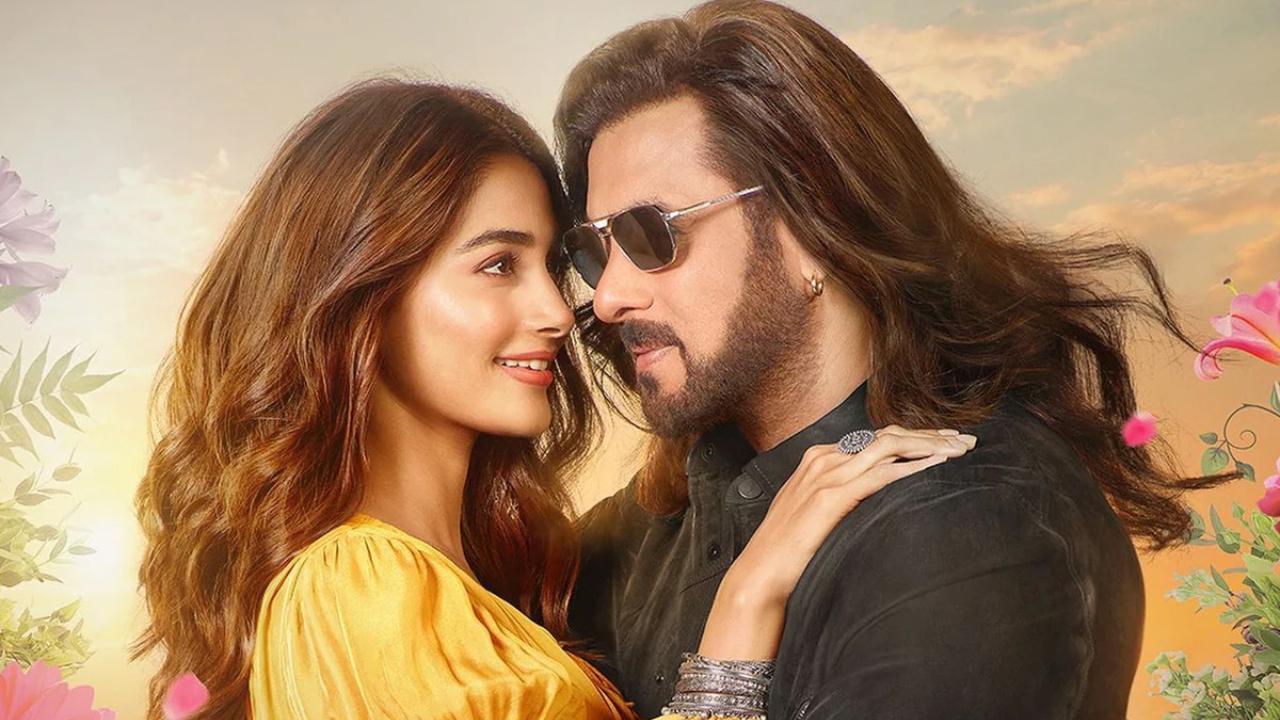 Salman Khan and Pooja Hegde in a still from 'Kisi Ka Bhai Kisi Ki Jaan'
Movie name: Kisi Ka Bhai Kisi Ki Jaan
Director: Farhad Samji
Actors: Salman Khan, Pooja Hegde
Rating: 2/5
Mind the gap, but if you must know, Bhai, aka Salman Khan, 57, plays his age in his latest Eid release. Consider that in the film, he lost out on love once, to never find/attempt it again. Who was the girl?
ADVERTISEMENT
Bhagya, as in Bhagyashree — appearing as herself, with her husband, Himalaya, and son, Abhimanyu, getting engaged. Even the 'Mere rang mein' song sequence from Maine Pyar Kiya (1989), with Bhai and Bhagyashree, plays on screen.
He has remained single since. Bhai couldn't move cities for Bhagyashree, after all. Multiple drone shots tilting to Connaught Place suggest Bhai lives in Delhi. Also, he has brothers — total nalayaks (losers), by the look of it, who worship him, nonetheless — that he must take care of.
It is self-referential stuff like this that I walk into a Salman picture for. They're for his fans, formerly known as 'bhaitards'. I'm not a card-carrying member. But FOMO is a real thing.
Over decades, Salman, the patron saint of north India's single men — his nickname reveals his disproportionately large male following — has also offered precious relationship advise through his films.
Here, he concedes that while 99.9 per cent women are good people, if a rotten egg from that remaining o.1 per cent was in your destiny — you're finished. Be warned. Be safe.
What to do with his three 'chomu' brothers, named Love, Ishq, Mo, though. While Bhai was busy "legs aur chest marne" in the gym, boys landed girls, named Chahat, Sukoon, Muskaan, from the mohalla! Now, how do they mate? Until they find for Bhai, another girl named Bhagya! They do. That's Pooja Hegde, 32. Sorted.
Bhai, to be fair, is also a stuck-up kinda guy — li'l idea of romance, terrible at cooking, dances like he's 'gymming' — having spent his life raising three boys like his own. This bit is straight out of Satte Pe Satta (1982), which in turn was lifted from Seven Brides for Seven Brothers (1954).
Also Read: Salman Khan fans call Kisi Ka Bhai Kisi Ki Jaan 'Eid ki Eidi' as they gather for first day first show at Gaiety
The rest of this movie, produced by Bhai, most likely ghost-written, directed by him as well, seems scripted by ChatGPT. If not, all his future films should be.
Which, as you can tell, are meant to be like his past films, in any case. With lip-syncing songs of multiple street genres and massy tastes — there's usually one with English lyrics and soft vocals for the 'classes'. Can't go wrong.
That's between action/stunt sequences — the 'money-shot' here is set in Delhi metro, with VFX the quality of Shaktimaan. Bhai's entry involves him, in long locks from Suryavanshi (1992), jumping off a building with his jacket flying in the air that he gets into, in one motion, soon as he lands.
An occasional feature is actor Satish Kaushik showing up for a small part — just being himself, only making sure he's dressed differently, adding sufficient smiles to whatever is going on. As he does, as Nadeem Chacha, in this film. We will miss him forever.
The specific prompt to ChatGPT here, though, would've been: Write a Bhai picture that could also go pan-India. What must writers of this film, who will soon be replaced by ChatGPT, figure?
Foremost, Shah Rukh Khan's similarly wonky Chennai Express (2013) for tracks to shoot lungi dance-steps on, and that can hopefully go viral. Yo Yo Honey Singh for closing credits, down to the interval slate that says, "Welcome to south of India". Which is where the film's second half is shot, specifically in what's supposed to be Andhra/Telangana.
This is where the great Telugu hero, Venkatesh, arrives. Bollywood audiences of my vintage watched him first, with Karisma Kapoor, in Anari (1993). Decades later, we saw him recently in the Netflix series, Rana Naidu.
Isn't he born with the most genial/affable screen presence, regardless of how ghastly his role? Here, he plays the non-violent brother of Pooja Hegde, who's a much huger Telugu star herself. Ram Charan does a cameo in a song.
This South-North swap is happening because South blockbusters (Pushpa, KGF, etc) are currently being seen as the North Star for Indian box-office. Whether southern audiences will accept a north Indian hero as their own star, which is the only way to widen the Bollywood base, I'm not sure!
Likewise, I'm quite certain, the pull for South films that Hindi-speaking audiences augmented to pan-India blockbusters wasn't so much for the stars either. As for the kind of film they wished to watch, and found Hindi cinema lacking in.
Salman is the closest approximation to a serious South ka hero for North audiences, anyway. Kisi Ka Bhai Kisi Ki Jaan is evidently inspired by the Tamil, Ajith starrer, Veeram (2014).
Not that anybody asked for advice — the next, big pan-India, or even global blockbuster, from Bombay, if at all, will come from genuine/authentic madness at a grand scale, like Baahubali, RRR. Rather than a hero feeding his audience-base, with ChatGPT stuff. Just saying.
Which is to take away nothing from the cultural phenomenon for an Eidi, that a Bhai film is. Won't lie, I've missed it on the big screen, all along. Last one was probably Radhe (2021), which premiered on TV, due to the pandemic. In fact, even critics like me typing second-rate, sit-down comedy for reviews is part of that annualised ritual!
I chose not to watch this first-day, first-show, first-row — done it too many times. Skipped single-screen cinema too. Got lazy to head to the city's swankiest multiplex — haven't done that yet for a Salman film.
Settled for a mid-level, neighbourhood multiplex. But there was no one inside. Too early. It's not Eid yet. Not coming back, though. Happy bhai-day to you in advance then.
"Exciting news! Mid-day is now on WhatsApp Channels

Subscribe today by clicking the link and stay updated with the latest news!"
Click here!