Kruti is the head behind 'Ghani Cool Chori' from 'Rashmi Rocket' featuring Taapsee Pannu, 'Jhumi Re' and 'Dholida' from 'Gangubai Kathiawadi', and 'Boom Padi' from 'Maja Ma' featuring Madhuri Dixit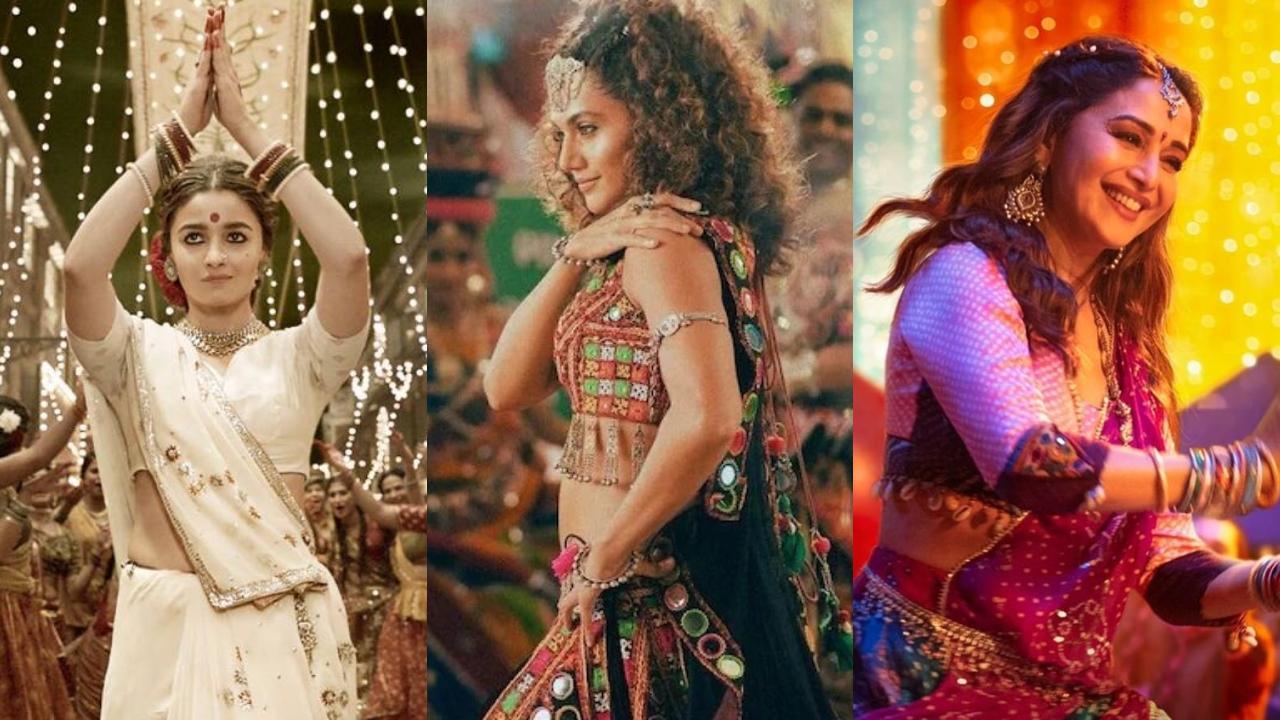 Alia Bhatt in Dholida, Taapsee Pannu in Ghani Cool Chori and Madhuri Dixit in Boom Padi
It wouldn't be wrong to term choreographer Kruti Mahesh as the Garba queen of Bollywood. Kruti has choreographed not one but four Garba dance sequences for three different films in the past year. She is the head behind 'Ghani Cool Chori' from 'Rashmi Rocket' featuring Taapsee Pannu, 'Jhumi Re' and 'Dholida' from 'Gangubai Kathiawadi', and 'Boom Padi' from 'Maja Ma' featuring Madhuri Dixit. 
Talking about how she makes sure that each Garba choreography looks different from the other, Kruti told mid-day.com, "I have to remember what I have done in the previous garbas so that I don't repeat (laughs). I have a team just to remember what we have done. Having said that, I like to choreograph the actor because if the actor convincingly pulls off the choreography that is what is going to make it amazing. It's not about how Kruti choreographed, how Kruti or her team dances. It's about how the actor and the artist perform. It's not about me, it's about them and it's about the dance and every piece has been different in its originality, the way it is structured, and the way it is presented. I think I had the scope to make it look different."
"When it came to 'Rashmi Rocket', it was different because that was the only song where you seeTaapsee being a little feminine in the whole film. It was playful and very Kutch oriented. It had a very different backdrop to it and the character was very different. I didn't have to restrict myself on how the song is going to look because, at the end of the day, it is an athlete who is performing and dancing. The discipline is kind of there but it is about literally enjoying the form," Kruti shared.
Also Read: Kruti Mahesh on choreographing Madhuri Dixit
Sanjay Leela Bhansali directed 'Gangubai Kathiawadi' had two Garba sequences that take place at different phases of the protagonist's life. "Gangubai was also a challenge because 'Jhumi Re' is the Garba she does when she is a girl and she is innocent and naive, and bubbly. Then you come to her in 'Dholida'- the backdrop for the song in itself is very different. In the second one, she has already become a woman, a lioness to say. There is a certain masculinity with the femininity she has, plus it was a Bambaiya base to it. It was not authentically Kathiawadi."
Kruti's latest was 'Boom Padi' featuring the talented Madhuri Dixit. The song marks Dixit's first garba sequence for the screen. "Madhuri Dixit'sgarba is very Gujarati in essence; commercialized garba that we see today. What you see her doing is today's Garba. It's very commercial, very 'ucchal khud wala' . It is very Bollywood influenced and there is so much vibrance and colours. You see so much vibrancy with the colours themselves. There is pink that is subtly there in everything but it is still very colourful," she added.
 

 

View this post on Instagram

 
Also Read: Kruti Mahesh: 'Meri Jaan' from 'Gangubai Kathiawadi' was a one shot song Are you enjoying the current season of `Bigg Boss` (season 16)?