This movie's inherent joyousness is altogether sustained by zany characters that might seem like caricatures—with no one really ever going obviously over-the-top, at any moment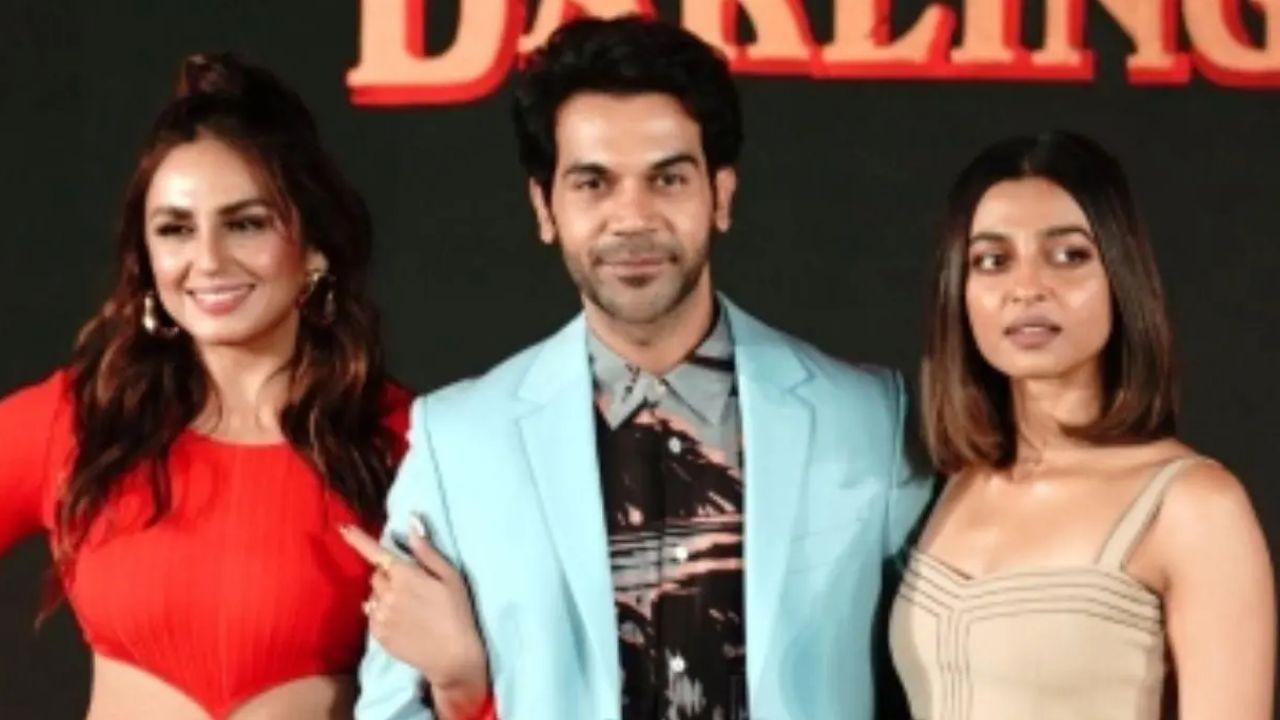 Star cast of the film
Monica O My Darling
On: Netflix
Dir: Vasan Bala
Cast: Rajkummar Rao, Huma Qureshi
Rating: 3.5/5
Yup there's a 'film-buff' film. And this is it—a movie that's too much about movies. Meaning, you watch, parallelly, looking out for references, homages to other pix. And which also makes such flicks worth a rewatch.
ADVERTISEMENT
Maybe you wanna add to its Wikipedia/IMDb list, as you go name-spotting 'Nasir Hussain' on the pick-up tempo/truck; 'my cousin Vinny' on a phone call; Bates Motel (from Psycho) to check-in to—Captain Zatack (from Hum) being referred to somewhere, or a riff from the Satya soundtrack, for a moment in the background score, elsewhere.
Speaking of which, how about blasting the RD Burman song, Monica O My Darling, that the movie is titled after. And that plays as a proper 'item song' first. Before we're OD'ing on it in the background music, eventually. That is, when playful, original compositions with mad-cap lyrics (Varun Grover) aren't on the screen as well.
And yet, in terms of genre, this would be what's called 'noir'—as is the perfume brand in this pic, Notoriously Noir Extreme (Ralph Lauren's?). That said, noir is also the other four-letter word, used so liberally, that it's effectively lost all meaning.
Also Read: Kareena Kapoor Khan shares a selfie on her Instagram story with her 'mains'
Suffice it to suggest, by noir, one means that in terms of stylised parts/roles, this film is fairly self-contained—the quasi-crafted world revolves around few peeps. None of them trustable, to begin with.
And, indeed, we're dealing with a life of crime, or multiple crimes, actually—series of murders, one after another, within the same (robotics) company! The story, as per credits, is based on Japanese mystery-writer Keigo Higashino's book, Barutasu no Shinzou.
Still, noir itself means dark, no? That, on the face of it, this film is anything but. There is a catty/mischievous overtone, throughout. To be sure, it is Tarantino, post Pulp Fiction, in particular, who popularised the use of bright colours, even more colourful language, songs, and pop-culture references, to spice up the serious 'noir', as it were.
To compare, I found no Tarantino-like pornography of violence in this movie at all. The most elaborate action sequence is shot from a distance, with a glass window serving as a frame, within the frame.
This is in sharp contrast to director Vasan Bala's last feature, and first release—the sufficiently cult-grade, Mard Ko Dard Nahin Hota (2018, MKDNH), chiefly immortalised by actor Gulshan Devaiah's double-role  (Jimmy, Karate Mani)—that was similarly an ode to the super-hero comic genre, instead.
This movie's inherent joyousness is altogether sustained by zany characters that might seem like caricatures—with no one really ever going obviously over-the-top, at any moment. Starting with the man-eating secretary, apparently playing the whole office—that's Huma Qureshi, totally killing it, in & as Monica!
Opposite her, the smart, small-town hustler, moving up the corporate ladder—a perfect blend of confident/cool, from the exterior, but someone whose pants perennially on fire—Rajkummar Rao plays this in a way that only he can pull off with such ease.
Also Read: Kareena Kapoor Khan shares a selfie on her Instagram story with her 'mains'
But, no, this pic is so much more fun for all the specimens exiting, entering the frame—adorably crazy cop (Radhika Apte), the maalik's loser-ish heir, full of swag (Sikander Kher), his sister (Akansha Ranjan), the family-man accountant (Bagavathi Perumal)… How much more fun it'd be to watch them vibe like this on the big-screen, before a packed crowd?
Monica O My Darling is a Netflix original. Which, for a filmmaker, is really a trade-off between a proper, simultaneous global drop, across 190+ countries, or a picture that may not even secure a desi theatrical release, let alone a wide one.
Such as Bala's debut, Peddlers (2012)—we should be able to catch it on an OTT now? From Netlfix POV, this is decidedly their best Indian film in the crime-ensemble space since Anurag Basu's absolute crackerjack, Ludo (2020).
Director Sriram Raghavan (Johnny Gaddaar, Ek Hasina Thi) is separately/specially thanked in this movie's opening credit. That, for look/feel inspiration, makes sense. Also films of this genre have such an incredible set-up, that inevitably no payoff in the end matches it. Raghavan only totally aced both with Andhadhun (2018).
So you needn't be hugely disappointed as the people plus plot in this pic peter off slightly towards the final few minutes. Consider still how you sat through a murder mystery that actually involves plotters of a crime, writing down their roles, in a signed note—in case any of them backs out. Where on earth is this piece of document justiciable?
Likewise, pretty sure, if you trace the steps backwards, by way of backstories and main crime—unlikely you'll find a wholly convincing motive, plus beginning, middle, end, for proper detective-fiction.
But that's the thing with top-class surface-level scripting. You're in the moment, as an audience—compelled to think nothing in particular. What matters most isn't so much 'what happens next', as 'wow, did not see that coming!' And you don't know where this film is going—absolutely the best reason to get in on the ride, right away.
"Exciting news! Mid-day is now on WhatsApp Channels

Subscribe today by clicking the link and stay updated with the latest news!"
Click here! Are you excited to see Kartik Aaryan replacing Akshay Kumar in Hera Pheri 3?