No surprises here, David Dhawan tries to recreate the tried-and-tested formula with 'Main Tera Hero', although with one difference: Varun Dhawan replaces Govinda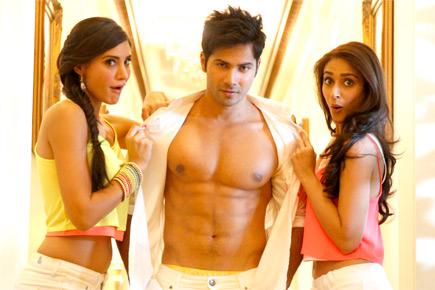 Main Tera Hero; Varun Dhawan, Ileana D'Cruz, Nargis Fakhri
'Main Tera Hero'
U/A; Comedy/Drama/Romance
Director: David Dhawan
Cast: Varun Dhawan, Ileana D'Cruz, Nargis Fakhri
Rating: 
David Dhawan and Govinda teamed up in the '90s to give us a unique 'leave your brains at home' genre of films. Movies with their slapstick, unabashedly-playing-to-the-gallery kind of humour which entertained nevertheless, thanks to the silliness of it all and yes, due to Govinda's genius comic timing.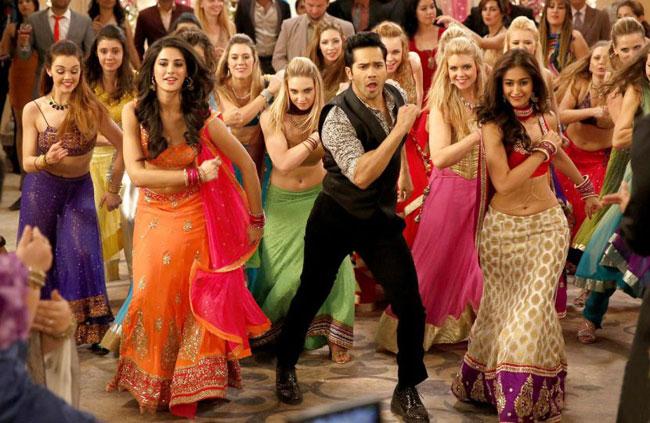 Varun Dhawan (centre), Ileana D'Cruz (right) and Nargis Fakhri in 'Main Tera Hero'
Dhawan tries to recreate the tried-and-tested formula with 'Main Tera Hero', although with one difference: Varun Dhawan replaces Govinda. But Dhawan plays it extra-safe by making Varun clone all of Govinda's mannerisms, his special dialogue delivery and also his tight white trousers look. One doesn't really mind the "inspired" performance, considering that Govinda deserves the tribute, but the whole exercise only makes you miss Govinda even more.
Varun Dhawan is Sreenath 'Seenu' Prasad, a wickedly mischievous chap who everyone seems to love to hate. Seenu decides to educate himself in Bangalore, but once in the campus he does everything but study. Seenu oscillates between talking to pictures and idols of God (God-ji responds in Salman Khan's voice, if you please) and wooing Sunaina (Illeana D'Cruz). Sunaina is already engaged to the terror of a policeman, Angad (Arunoday Singh). Seenu is the typical masala hero, who can flash his moobs at a moment's notice, beat multiple goons to pulp at a time and can also do enough pelvic thrusts for the songs in between. Ayesha (Nargis Fakhri), who is the daughter of a 'Asia aur Africa ka gangster' (multi-tasking, anyone?), played by Anupam Kher, falls for Seenu's charm and wants him for herself.
A hero playing out the frontbenchers' fantasy, the long-legged heroines showing skin and the innumerable gags might have worked wonders in the '90s. Two decades later, when the movies have gone through a rather dramatic transformation, it seems silly that Dhawan is still dealing the same old cards (with a new Joker, of course). The film does have some hilarious scenes, like Seenu's communication with God or when Kher's sentences end in an echo. Ironically, while the script and the film are refreshingly unpretentious, it's the simplicity that gets to you after a point. The flashy sets, the eardrum-challenging music and the sexy-but-intolerably dumb women might have worked two decades ago but now they just add to the overall cacophony.
Varun is still a greenhorn but he does a decent job and also has good screen presence. He has a long way to go before he reaches Govinda's league so it might be better for him to carve his own path. Illeana and Nargis are the pretty props and they do just that. Poor Arunoday Singh seems to be the most confused as his character changes as per the scriptwriter's whim and fancy, without any warning whatsoever.
A timepass of a movie, it can be watched once. Only wish Dhawan had taken some risks rather than sticking to the age-old formula that worked for him eons ago.