'Sulemani Keeda' works because it unabashedly speaks about the story of two sex and fame-starved youngsters, one of the millions that are part of Mumbai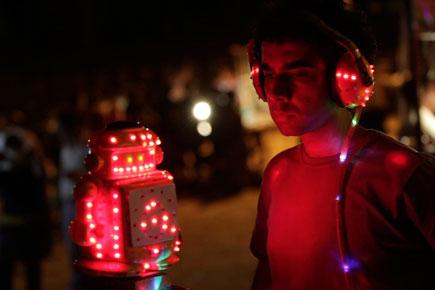 Movie Review: 'Sulemani Keeda'
'Sulemani Keeda'
A; Comedy
DIRECTOR: Amit V Masurkar
CAST: Naveen Kasturia, Mayank Tewari, Aditi Vasudev, Karan Mirchandani, Krishna Bisht
Ratings: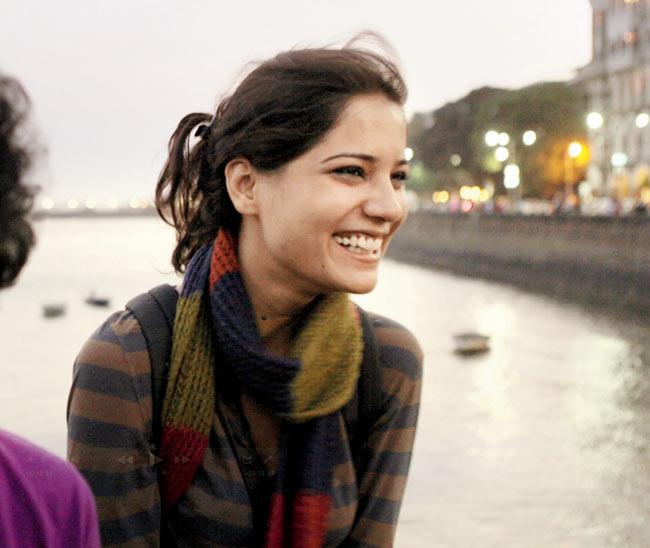 Scene from 'Sulemani Keeda'
The best thing about 'Sulemani Keeda', a truly urban indie film, is that it is truly independent of the burden of having to succumb to any commercial needs. Amit V Masurkar's debut direction talks about two struggling writers, conscientious and rather timid Dulal (Naveen Kasuria) and, badass and crazy Mainak (Mayank Tewari). 'Sulemani Keeda' (which, politely put, means pain in the rear) takes us through the rather delightful journey with the two writers as they stumble while trying to make it big in the film industry. While they are not looking for work, the two boys are busy trying to pick up girls and Mainak, the more outgoing of the two, has his own weird ways of doing it and ends up in rather uncomfortable situations. Dulal eventually gets smitten by a free spirited photographer, Ruma (Aditi Vasudev) and within three days of meeting her, decides that she is the love of his life.
'Sulemani Keeda' works because it unabashedly speaks about the story of two sex and fame-starved youngsters, one of the millions that are part of this city. Their struggle is matter of fact, thankfully not glorified and the duo is not portrayed as this brilliantly talented, God's-gift-to-filmmakers either. The writers take themselves seriously but the film, fortunately, doesn't. The biggest challenge for Masurkar (who has also written the screenplay) obviously was to make these two non-descript youngsters — somewhat creative but with misplaced ambitions — interesting and he largely succeeds in the task. Anybody who's been part of the film industry in the city in any capacity would absolutely relate to the joys, the awkward moments, the compromises and the desperation of the writers. Even otherwise for outsiders, this would be an interesting, realistic peek into the otherwise 'glamorous' profession of writing for cinema.
Some of the scenes — like the one where these film writers are comparing notes with a few 'prosperous' TV serial writers who have 'sold their souls' — are so bang on that they give you a feeling of déjà vu.
Casting is good, editing (Khushboo Agarwal) is fantastic. Naveen and Mayank fit into their roles pretty well and do a commendable job. A special mention has to be made of Aditi who carried her role with remarkable ease and she is pretty easy on the eye, too. Hope this girl gets more roles to prove her mettle further.
One regret, though. There is this one totally crazy, absolutely wonderful scene about a cat accidentally sniffing coke and dunking itself in the fish bowl. Wish there were more of those. For a story that is not really novel, this movie would have been much more exciting with a wee bit more confidence and craziness. Nevertheless, it's definitely worth one watch for a good laugh.