A self-indulgent, dumb movie, intolerable from the word go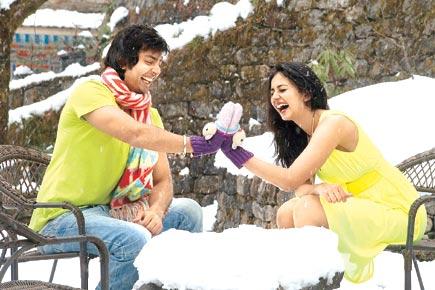 Yaariyan
u/A; romance
Dir: Divya Khosla Kumar
Cast: Himansh Kohli, Rakul Preet Singh, Dev Sharma, Serah Singh, Shreyas Pardi
Wonder how this movie was conceived. College campus? Check. One college hottie who speaks Hindi in a rather strange accent? Check. One nerd of a girl who later blooms? Check. One sidekick? Check. One college dude on a bike? Check. Ladies hostel? Check.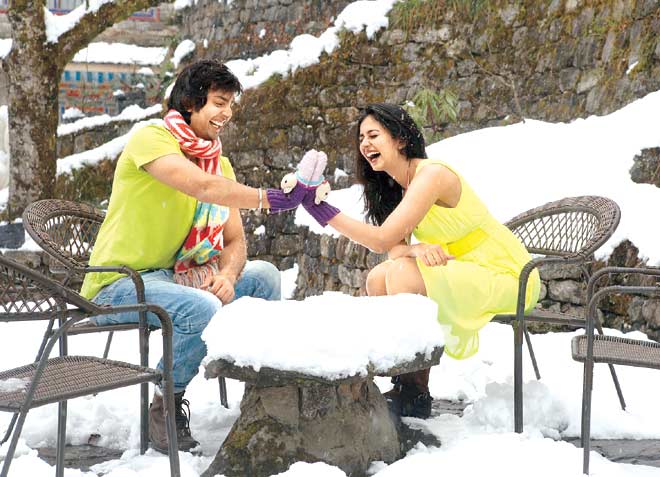 A still from 'Yaariyan'
Boys with hormones working overtime? Check.
Oh oh. We also need a story. What to do? We also have to involve some foreign location because budget is not a restraint. Hmm. Brainwave. How about some Australian fellow wanting to build a resort on the ground that the college stands on and then he agrees to give back the land if the Indian students win a random Indian culture versus Australian culture competition? Culture is anyway a much abused and least understood word in this country, so why not we make full use of it too? And we have a Gulshan Grover to play our mock serious principal of the college, who surprisingly doesn't burst out into a laughter while explaining this bizarre turn of events to the students. Great story. Wow. Let's high five each other.
Now that we have the five newcomers fitting the stereotype are here, let's give them a personal touch. How about making the three boys prettier by using the same shade of lipstick on them, that they end up looking like feminine clones of each other?
Oh oh. The story needs some depth too, some emotional tear-jerking scenes and raising some issues are necessary. How else will they know we are intelligent and are concerned about social issues? So let's include two suffering mothers and lightly touch upon racism etc. If the audience gets it, good. If they don't, at least we have actors like Deepti Naval and Smita Jaykar to play the eternal sobbing, suffering mothers.
Oh yes, we need comedy. How about making every cleavage-baring woman fall all over any and every man in sight? Isn't that incredibly funny? And we'll have the lead boy (Himansh Kohli) desperately running around looking for a first kiss whenever he takes a break from an ear to ear grin plastered on his face. Everything done? Yayyy. Let's high five each other again.
So what do we get at the end of it all? A self-indulgent, dumb movie, intolerable from the word go. The only bright point in this otherwise forgettable experience is this actress, Rakul Preet Singh.
Hopefully we'll get to watch more of her in some other film but you certainly need to avoid this one.