Aastha Gill has teamed up with Khatron Ke Khiladi co-contestant Arjun Bijlani for a Navratri special song called Saawariya. She got a chance to sing a duet with the legendary Kumar Sanu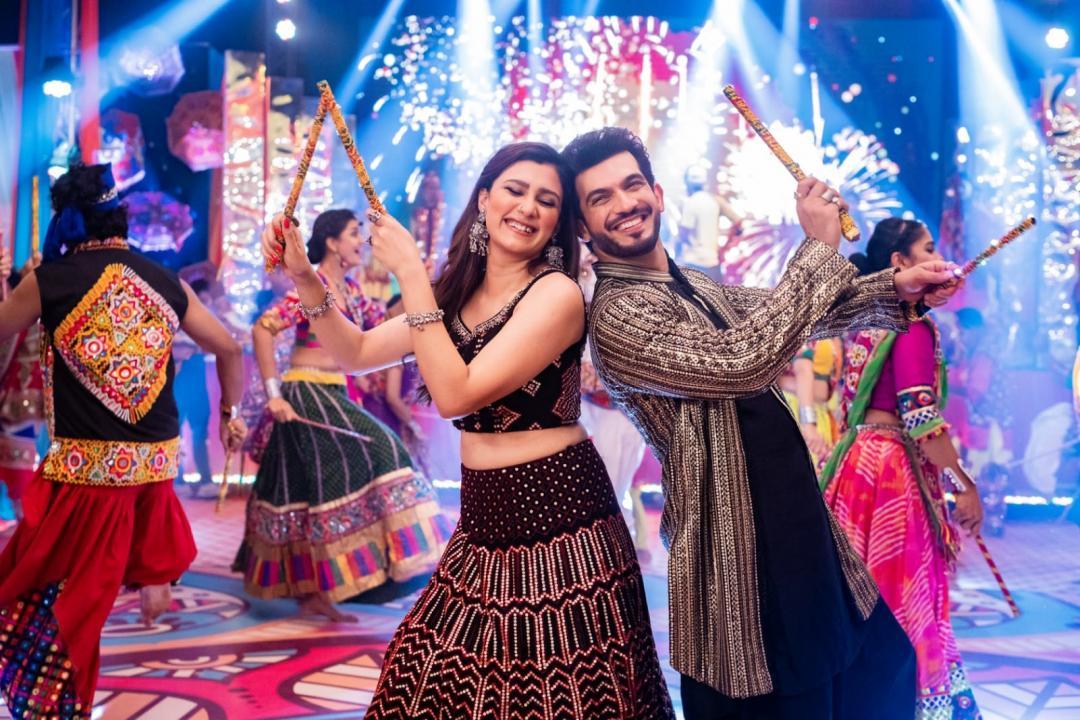 Aastha Gill and Arjun Bijlani/Pic: PR
It's the festive season of Navratri and Aastha Gill has teamed up with her Khatron Ke Khiladi co-contestant Arjun Bijlani for a special song called Saawariya. She exclusively speaks to mid-day.com about singing the duet with Kumar Sanu, sharing screen with Arjun Bijlani, Bachpan ka Pyar and much more...
Tell us how Saawariya came to life and why you feel it is the perfect Navratri song?
Arjun Bijlani and I met in Khatron Ke Khiladi show in Cape Town and we turned really good friends, and that time we decided to do a song together. So as soon as I came back from Cape Town, I started working on the song. During the Khatron Ke Khiladi finale, I met Arjun and spoke to him about this song. Later the song was shot so quickly, and spontaneously things started happening.
What can your fans look forward to in the song and the video?
It's a complete festive Navrati special song. It's a different genre of music that I've tried and have never done earlier, so I hope my fans enjoy this new style. Plus, we have tried something new in terms of dance, the grandeur sets and of course, singing a duet with Kumar Sanu Da was a dream come true. 
How is Arjun Bijlani as a co-star and any fun moments from shoot...
I and Arjun used to have neighbouring rooms in Cape Town during Khatron Ke Khiladi and it would end up becoming a place where the co-contestants would chill after shoot. He is a great actor and so good in front of camera. He made me feel so comfortable. Arjun was very confident and I've learnt so much from him during the shoot. 
Tell us about your look in the video and how did you select the outfit? 
Well, it all happened in a frenzy and it was a quick decision to work and release this track. Since this was a festive special, we decided to keep the look Indian and my stylist did a great job at last moment too. 
Which among your songs is closest to your heart and why? 
Honestly, it's very difficult to pick one, but I would say Buzz because of the energy and the vibe it has. It lifts the mood up and I thoroughly enjoy it. 
How do you feel about the success of Bachpan ka Pyar? 
I am so happy, it cannot be expressed in words, but the response Bachpan ka Pyar song has got and it's mind-blowing. Me, Badshah and Rico were going for a show and Badshah bhai mentioned about the kid going viral. So we created a reel on that hook, and it became viral too. Even post release, the song is still growing.
How will you be celebrating Navratri this year?
There are certain guidelines which we all have to follow. Rules are strict for all the cities this Navratri celebrations. But I make it a point to stay connected with my fans and loved ones this festive season.
Also Read: Aastha Gill says this is a golden time for all musical artistes