The only way to enjoy any of it would have been in a packed hall, with eager fans, ideally FDFS (first day, first show).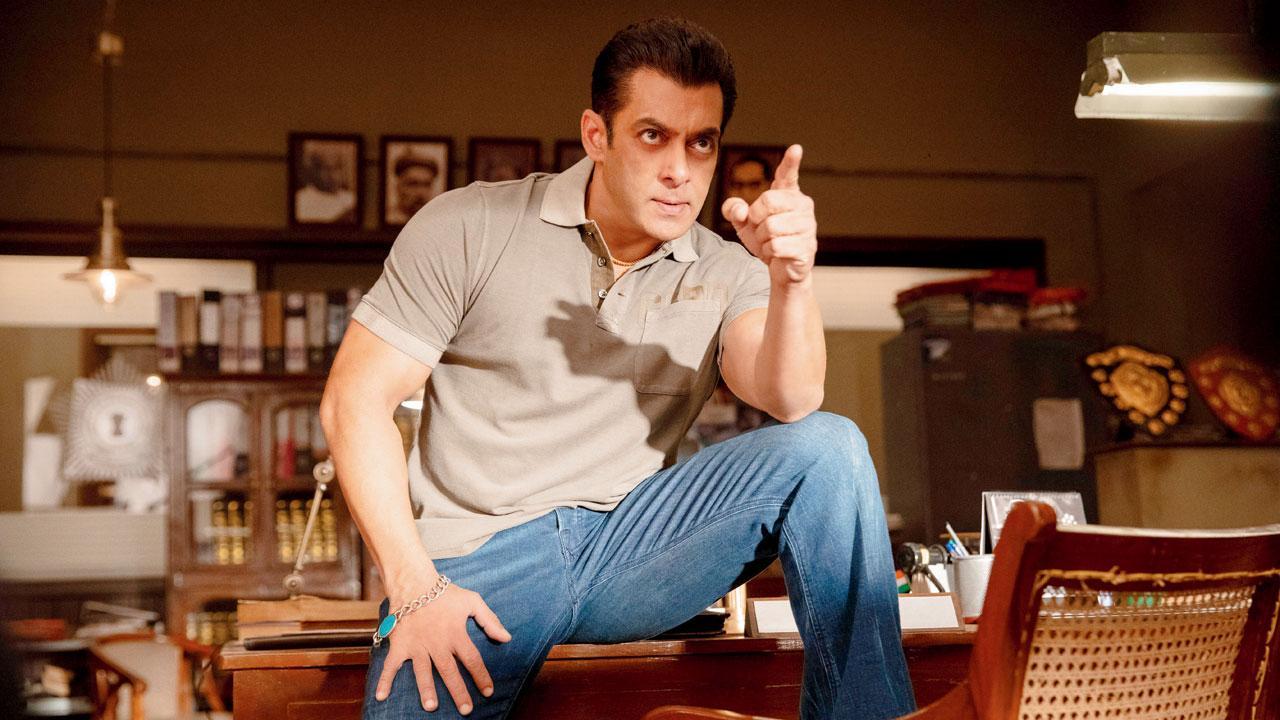 Salman Khan in Radhe - Your Most Wanted Bhai
Radhe - Your Most Wanted Bhai
U/A: Drama
Director:  Prabhudheva
Cast: Salman Khan, Disha Patani, Jackie Shroff, Randeep Hooda
Rating: *
It's somewhat heartening, have to admit, that while the world, in particular India, is in a constant state of upheaval, rendering it hard to even recognise it anymore — some things remain just the same. Such as: A Salman Khan film —so self-aware in its intentions, and tropes.
Never mind still that the hero makes the tackiest entry, diving through glass, shards of it look like VFX from Jaani Dushman. But he's mindful of the occasion, when he goes: "Tere hisse ki biryani, hum mil baat ke khayenge, aur bolenge, Eid Mubarak." We'll split the biryani, because? This is a Salman Bhai Eid release!
Bhai chases down villains in the bike that's from (his own brand) Being Human. As per ritual, he tears his vest/baniyan off. Only this time the rando heroine (Disha Patani), sprays water (or is it bronzer) on his tight man-boobs, while he twitches both sides of his chest alternately.
Wut? No, you please watch. Bhai plays a jaanbaaz cop — a law unto himself — brought in to clean up the city. He starts off by uniting the two dreaded underworld dons. They go home hugging, calling themselves, "Karan Arjun". 
To impress his girl, he claims to be a struggling model. She's determined to show him the ropes. Only the biggie who can land Bhai a job suggests, "He's not for Bollywood. Should try web-series, or Bigg Boss." "Ooh, Bigg Boss, lucky you," the heroine coos!
Self-referencing is complete, when Bhai gets off a car, right outside Galaxy (his own Mumbai apartment-building in Bandra), and pretends to the girl that he lives behind it. 
It is therefore in the fitness of things that King Salmander — surveying his imagined empire, lapping all this up before the screen — looks straight into the camera twice to say; what else: "Ek baar jo maine commitment kar di, toh mein khud ki bhi nahin sunta (Once I commit, I don't even listen to myself)."
That's his stock phrase from the single-screen blockbuster Wanted (2009), also directed by Prabhudheva, that turned around his career in many ways, with the part of Radhe. This film is officially titled Radhe: Your Most Wanted Bhai.  
Wanted was the remake of Telugu blockbuster Pokiri. Radhe is an official adaptation of the Korean pic, Kang Yoon-sung's The Outlaws (2017). Not that I've seen the latter. What baffles me is what they could've possibly lifted, paying remake rights no less, to make this movie, that's so inherently desi-'80s that they couldn't simply call it their own.
Mumbai sheher (presumably in 2019) is under the "control of two gangs." An outsider (Randeep Hooda) steps in to this sheher, to sell drugs, and mess up the young. Bhai — "97 encounters, 23 transfers" — takes on this drug-lord. You get to 'say no to drugs'. Bhai serves his audience neatly measured cocktail of action, drama, romance, and item songs instead. 
Of course there is difference in the sameness of Bhai movies. And in that regard, Radhe > Ready > Race 3, if you're really staring at the bottom of the barrel. In fact, given some of the hand-to-hand fight, plus chase sequences, it's superior to Wanted itself.
But at the end of a couple of hours (in this case, mercifully, only an hour and 40 minutes), these films are really like political elections. The quality of parties and candidates doesn't matter. What does is, who won. Or, if it was a box-office success. Which, for the first time, we will never know.
And that's what's inevitably changed with a Salman Khan release, along with the world. It's dropped as a pay-per-view, on your TV/laptop/cellphone. The only way to enjoy any of it would have been in a packed hall, with eager fans, ideally FDFS (first day, first show). 
I probably would have had a lot more fun, if only as a cultural experience, going with the annual, Eid caveat, that I should leave my brains at home. Well. I was home. Just can't find my brains anymore.