Rahul has choreographed the number, which has been sung by Tiger Shroff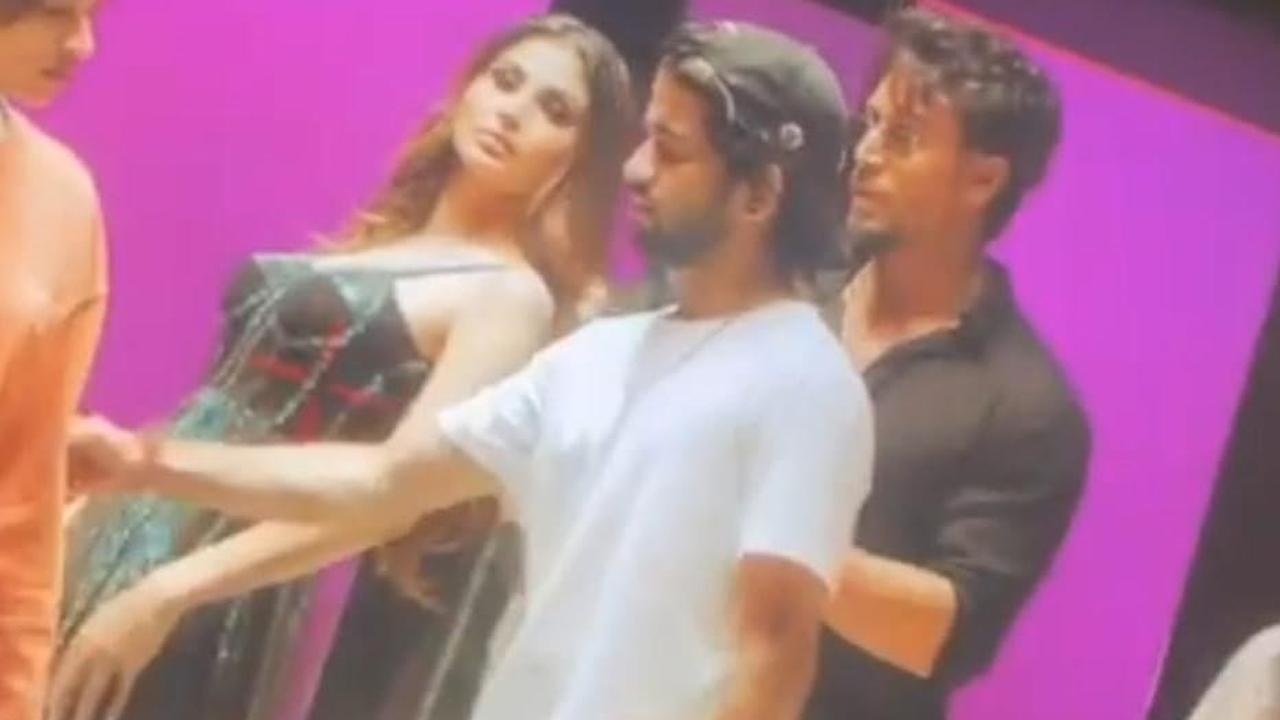 BTS from 'Poori Gal Baat'
Choreographer Rahul Shetty has directed Tiger Shroff and Mouni Roy's latest music video 'Poori Gal Baat' that the former has also lent his voice. He tells us all about the video, in a conversation with mid-day.com.
How did 'Poori Gal Baat' happen?
Tiger sir called me up one day saying that he has sung a Punjabi and English song. His next single after 'Unbelievable' and 'Casanova,' which were English tracks but this was Punjabi. He said he had worked really hard on it and wanted me to direct this video. I have been working with Tiger for a long time since his first single. I have been associated with him for every performance and song. This was a great move for both of us, collaborating on a song because I was directing and choreographing the song as well.
What should the audience watch out for?
The best part about this song is it's a Punjabi-English song. You may have heard a Punjabi track but you surely have not heard Tiger singing a Punjabi track yet and he has done it so flawlessly and fluently like a professional singer. That's a great quality about Tiger, if he puts his heart into something he will give 100 per cent to it. Music composer Prem Hardeep, the lyricist and musicians have done a great job.  I've tried my best to create something fresh for our audience because there are so many songs out there. This video is simple, classy and you will love the choreography. We tried our level best to put together the choreography, visuals and the chemistry between Mouni and Tiger.
Tiger was supposed to leave for London for his film shoot and just four days before we get a call where he said that he wants to shoot the song. So we got everything together in three days, from set to production to creatives to concept and choreography. Mouni and Tiger also rehearsed for two days and I'm very thankful to both of them. In a very short period of time, we finished the pre-production. We shot the song in just 10 hours because post that he had a flight to London. All the performers, along with Tiger and Mouni were so cooperative You need to wait and see the results, I think everyone's going to love it. Mouni and Tiger are like family so it felt really comfortable, fun and nice. It didn't feel like I'm working with a superstar. We together made this project a beautiful memory so I think everyone will enjoy it.
Tell us about your rapport with Mouni?
Mouni is my best friend. We are very close and I love her for the person she is and her work. Her journey from 'Kyunki Saas…' till today doing amazing films and doing great work I'm absolutely proud of her. This was my first project with Mouni in a way that I've shot with her for the first time, before this we have done TV shows and performances together. So besides being best friends, we're now work colleagues too. Seeing her with Tiger, I think they look absolutely stunning, such a fresh pair on screen and you guys will enjoy it. Mouni has worked very hard in this song to match up with Tiger, it's definitely a tough job but she pulled it off very gracefully and did a fab job.
How have you seen Tiger evolve from 'Aa Raha Hoon' main to now?
I have been working with him since his first solo 'Aa Raha Hoon Mein Zindagi'. I think together we have grown so much in life him being an actor and me being a Choreographer, director in our skills and craft. We are so accustomed and comfortable with each other that it's very easy because we understand each other in a better way. But at the same time, we work equally hard on each and everything whether it's a film song or a stage performance. Similarly, he also works equally hard on whether it's a song, a commercial or any project. That's what we both have in common and hence we bond well. We love working with each other. Since my first song 'Beat Pe Booty' I have been with him. I'm very excited to work and create anything with him.