After much reluctance and deliberation, she gives in, but the mother and son have another battle to fight, in the court, considering euthanasia is illegal and not permissible by the Indian law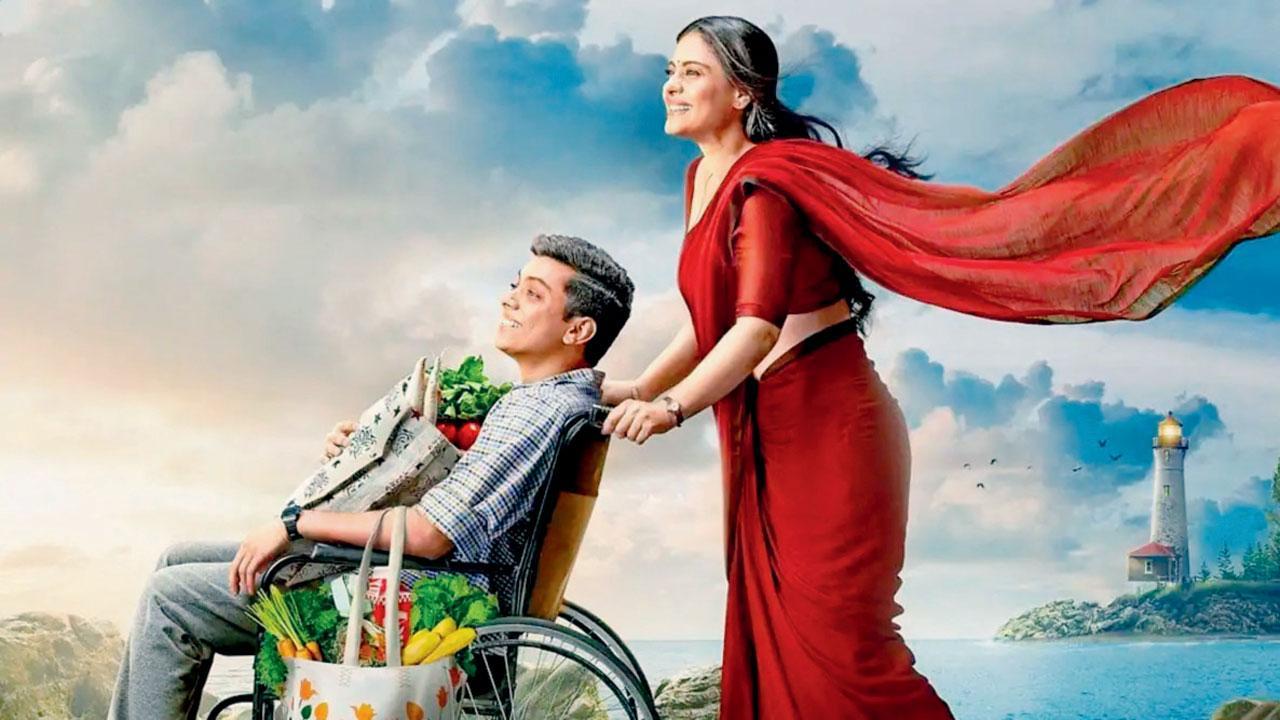 Salaam Venky
Salaam Venky 
U/A: Family Drama
Dir: Revathy
Cast: Kajol, Vishal Jethwa, Rajeev Khandelwal, Aahana Kumra
Rating: 3/5
The film's opening sequence — a young boy wheeled into the hospital followed by a paranoid mother — sets the tone of the two-hour-plus narrative. Venkatesh Krishnan aka Venky (played by Vishal Jethwa), 24, has been suffering from DMD (Duchenne Muscular Dystrophy), — a rare and incurable form of muscular dystrophy — since childhood. He has long surpassed the 16-year lifespan indicated by medical science, courtesy his resilience and the solid support of his strong-willed mother, Sujata Krishnan (Kajol). While he is a regular at the hospital, this time around, his chances of going back home are slim. Upon realising that he has little time, he expresses his desire to donate his organs and seeks euthanasia, as his last wish. Not ready to give up on her son, Sujata flatly refuses to listen to his request. 
After much reluctance and deliberation, she gives in, but the mother and son have another battle to fight, in the court, considering euthanasia is illegal and not permissible by the Indian law. 
ADVERTISEMENT
Also Read: Vishal Jethwa of 'Mardaani 2' fame is back with his second film 'Salaam Venky' co-starring Kajol
Salaam Venky, based on Shrikant Murthy's book The Last Hurrah, was inspired by the real-life story of Kolavennu Venkatesh — a chess player, 24, suffering from the rare degenerative DMD. The narrative is as much about his mother Sujata, who unflinchingly took care of him and battled with the courts to fulfill Venky's last wish, as it is about her son. While the subject of euthanasia has been explored before in Sanjay Leela Bhansali's Guzaarish (2010), starring Hrithik Roshan, it was more about style and grandeur, however, Revathy's narrative delivers more on the emotional quotient. The actor-director, who has previously helmed the National Award-winning film Mitr, My Friend (2002), and Phir Milenge (2004), effectively brings to life the story of Venkatesh and Sujata. While most of the first half is set in the hospital, intercut with montage scenes, a considerable amount of the proceedings post interval is a courtroom drama. 
Kajol, known for her acting chops, delivers yet another stellar performance as a mother who goes all out in her fight for her son's happiness. Although she disagrees with Venky's decisions, she stands by him. Kajol's nuanced portrayal convinces you to root for the teary-eyed mother. Jethwa, a television find, impresses with his heart-rendering physical and emotional transformation of Venky, who as his condition worsens, finds it difficult to even speak. Jethwa started his Bollywood innings  as the menacing antagonist in Rani Mukerji's Mardaani 2 (2019), but his acting prowess proves that he can authentically portray any complex part.
Rajeev Khandelwal as the compassionate Dr Shekhar, Riddhi Kumar as Venky's sister Sharda, Aneet Padda as the protagonist's visually-impaired love interest, and Rahul Bose as his lawyer Parvez Alam lend due support. Aahana Kumra as a journalist, Priyamani as public prosecutor, Prakash Raj as the judge, and Ananth Mahadevan as Guruji deliver as expected.
Also Read: Kajol: Don't have the patience to be a director
The soundtrack, composed by Mithoon, who also moonlights as the lyricist with Sandeep Shrivastava and Kausar Munir in this one, is passable as part of the narrative, but the music is not exactly memorable.
To sum up, apart from the top-notch performances by Kajol and Jethwa, credit also goes to director Revathy's treatment, aided by good writing (credit to Sameer Arora and Munir), that Salaam Venky doesn't become a sob-fest.
"Exciting news! Mid-day is now on WhatsApp Channels

Subscribe today by clicking the link and stay updated with the latest news!"
Click here! How would you rate the first two episodes of Kaisi Yeh Yaariaan 4?