This work of ambitious craft, directed by the deeply sincere Shoojit Sircar, sets out to patiently — and one could argue, perhaps rather too patiently — unravel the motivations behind the man, that was Udham; with multiple aliases, living in London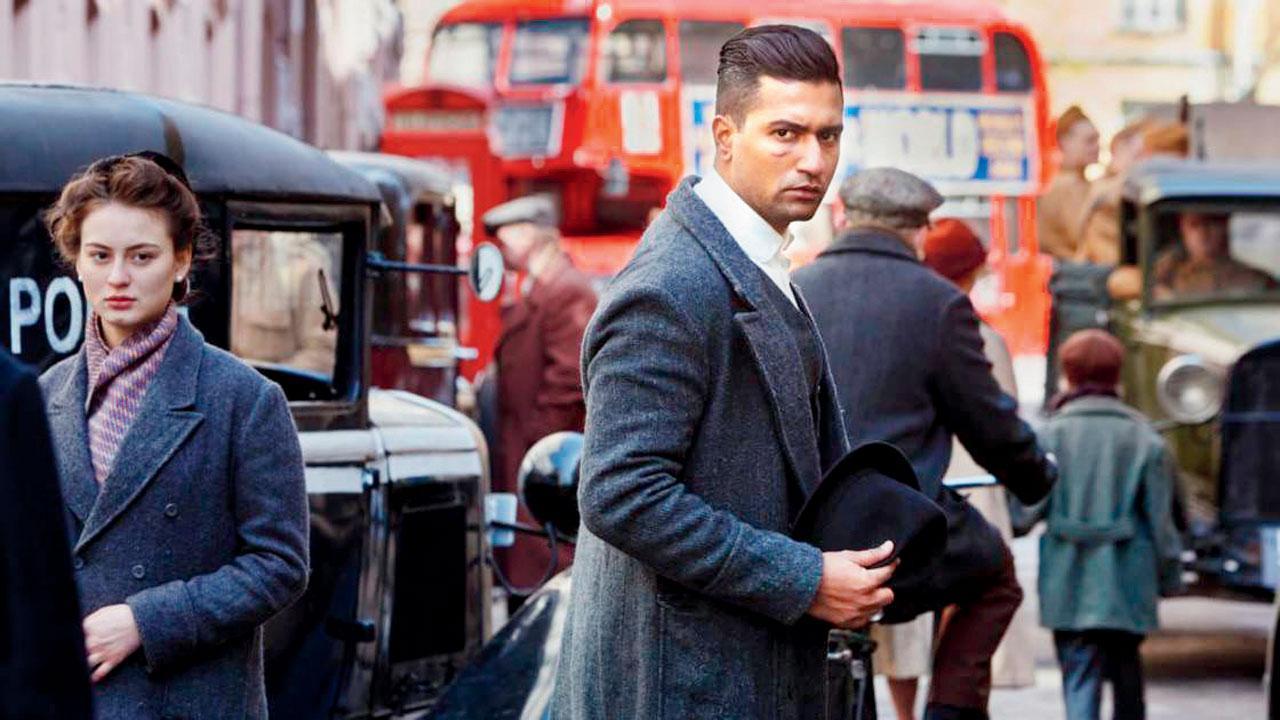 Sardar Udham
Sardar Udham
On: Amazon Prime Video
Dir: Shoojit Sircar
Cast: Vicky Kaushal, Shaun Scott
Rating: 3/5
The biopic of Sardar Udham Singh can be deemed as the opposite of Mahatma Gandhi's. In the sense that Udham Singh, in history, is chiefly associated with an act of violence — the revenge-assassination of former British lieutenant governor of Punjab (Michael O'Dwyer), who was responsible for the Jallianwala Bagh massacre in Amritsar (1919). Gandhi vehemently stood for everything opposed to that. Both being freedom fighters, of course.
Be that as it may, this work of ambitious craft, directed by the deeply sincere Shoojit Sircar, sets out to patiently — and one could argue, perhaps rather too patiently — unravel the motivations behind the man, that was Udham; with multiple aliases, living in London.
The name he preferred for himself, guessing from a tattoo in a scene in the film, is Ram Mohamed Singh Azad —  suggesting syncretic values for a people who are same, regardless of their faith. 
How then would you describe him, since a murder, by another name, is murder still? Sardar Udham, as the lead character, explains that distinction between a terrorist/militant, and a revolutionary rebel that he saw himself as. Firstly the latter cannot be casteist/racist/communal in their persuasion. The end-goal is equality alone. And the act of violence is "symbolic" — for attention, or to inspire a movement. 
As an audience, I find myself wholly conflicted on such matters, still largely swayed by screenwriter John Briley's line, that he wrote for Ben Kingsley (in Gandhi): "An eye for an eye makes the whole world blind". But then again, how does good conquer evil, by remaining good all through? Sardar Udham is a Dussehra release.
None of this debate, of course, is to diminish one bit the selfless life of Udham Singh himself — a communist revolutionary, who lived (and died) for values that were beyond personal; although they were very much personal too. There is an extensive, excruciating passage in this picture, with Udham at the Jallianwala Bagh, ferrying dead bodies mercilessly gunned down, because no one can attend to the deceased. There is a curfew in Amritsar.
The aerial shot of men, women, children, strewn around like carcasses is stuff that might move you even more, before a big screen. Especially the level of production-design, both interiors and exteriors, to attain 1930s London — looking like any other world-class World War film — suggests the cinemas/theatres was what the film was originally aimed at.
Sircar's Gulabo Sitabo (2020) was the first mainstream Hindi/Bollywood film to go directly to OTT, during the pandemic. Likewise Sardar Udham should hopefully be the last, since theatres are supposed to finally reopen in Maharashtra a week from when this film has dropped on Amazon Prime Video.
That said, maybe it is the burden of the box-office lifted from the filmmakers' shoulders, that this film remains mostly in English. Since that's what almost the entire ensemble cast are — starting from, of course, Michael O'Dwyer (Shaun Scott); General Dyer, who ordered the Jallianwala killings (Andrew Havill); Eileen, a communist sympathiser (Kirsty Averton)…
They talk in the language they otherwise would have — without devolving into caricaturised bad Hindi from similar movies from the past. 
The actual assassination takes place roughly around the 30th minute, which is to tell you that's not the whole point of the film. This is about Udham as the strange brave-heart, for whom English wasn't a strong suit, and yet he traversed through Afghanistan into Russia and finally England, to pull off a mission. Which, seemingly a bit like Subhash Chandra Bose for its intention, was to unite enemies of the Empire — but right under their nose. 
He was an acolyte/associate of the great revolutionary, Bhagat Singh. On whom, if I'm not mistaken three Bollywood biopics had almost simultaneously released in 2002. Reportedly, Hrishikesh Mukherjee was once making an Udham Singh biopic, but had to shelve it at some point of the shoot — making this a long overdue film, to begin with.
I'm told the late Irrfan was supposed to play the central character here. This knowledge somewhat clouds your judgment when you watch Vicky Kaushal step into the role in the opening scene.
Few minutes into the film though, you realise, he's picked the best traits of Irrfan as an actor. At no point does he try to act the hell out of the part. He's simply there, in that zone, casually drawing you in, scene after scene. This is a seriously slow and steady film, although slightly scattered, but stunning all the same.
Also that zone, although from history, doesn't change, does it? What you can't forget is that it's actually Indians, who killed Indians, even if the order was issued by a Brit, at Jallianwala. 
Hear the bones of contention in this movie — Section 144; sedition; punishment as a deterrence, to create fear for future punishments… The British left. Those issues remained. As does the relevance of this film. Until there is oppression, I guess, there will be revolt.