Govinda's Partner (2007) co-star and friend Salman Khan will attend the premiere of his upcoming film, Aa Gaya Hero. "Three of us, Salman, Shah Rukh Khan and I, will be the only stars at the premiere," says Govinda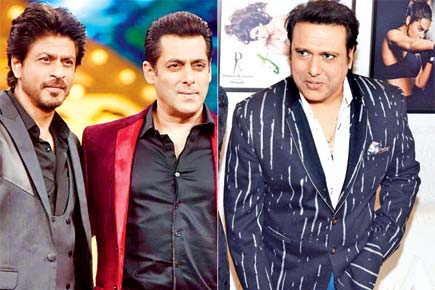 Shah Rukh Khan, Salman Khan and Govinda

Shah Rukh Khan, Salman Khan and Govinda
Govinda's Partner (2007) co-star and friend Salman Khan will attend the premiere of his upcoming film, Aa Gaya Hero. "Three of us, Salman, Shah Rukh Khan and I, will be the only stars at the premiere," says Govinda.
hitlist had earlier reported that when Salman turned producer, he wanted to cast Govinda in the Hindi remake of Marathi film Shikshanachya Aaicha Gho (2010), which was to be directed by Mahesh Manjrekar. But Govinda didn't like the script. So Salman dropped the idea altogether.
Recently, Govinda mentioned that he is likely to reunite with Salman for a film.