'Dum Laga Ke Haisha' director Sharat Kataria recalls his struggle to find a producer for his film during his visit to mid-day office along with lead actors Ayushmann Khurrana and Bhumi Pednekar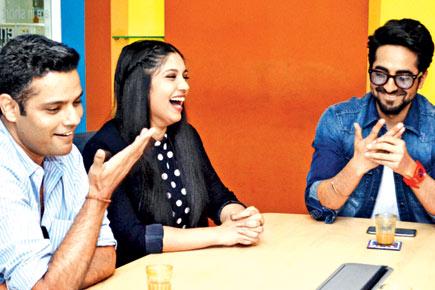 Sharat Kataria, Bhumi Pednekar and Ayushmann Khurrana
A great deal of critical acclaim has come your way. Did you expect this while making the movie?
Sharat Kataria (SK): Not really. We were just busy making it and having fun.  
Bhumi Pednekar (BP): No matter how many hours we worked, post shoot we would all meet and chill out. Sharat was always happy so we were  happy too.
Ayushmann Khurrana (AK): Sharat is a brat.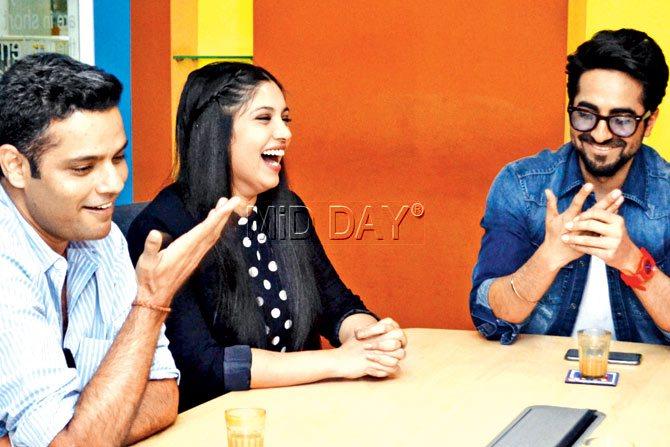 From left: Sharat Kataria, Bhumi Pednekar and Ayushmann Khurrana at mid-day office. Pic/Datta Kumbhar

What made you decide to cast Bhumi?
SK: I am tired of repeating the story, so let Bhumi narrate (laughs).
BP: Shanoo (Sharma, casting director) asked me to do a mock audition for actors who weren't present there. I readily agreed; I had no idea it was my audition. I was surprised when I found out the truth a few weeks later. Then I started my workshop with Sharat. He is a taskmaster.  
SK: No, I am not, but I am awkward at telling someone that they are really bad.
BP: He told me politely that even if I don't get the film, I must work on the casting. After the 15-day workshop, they broke the good news to me on my birthday.

Is it true that the story had been written many years ago?
SK: Yes, it was written in 2007 within a span of 17-18 days. Though there were many drafts after that, the soul of the script was fleshed out in the first one itself. I approached almost every studio, they all loved the script, but no one wanted to make it. In 2008, I gave this script to YRF, but I don't think it reached the top. It took seven years for the film to become a reality.

Did anyone force you to change the script?
SK: No. Adi (Aditya Chopra) told me it is rare for him to read a script and not make any changes. After seeing the edit, he said one beat was missing, and asked me to write and shoot it my way. The scene after the suicide when they walk by the river was what we added later. That was Adi's idea.

How did you come on board, Ayushmann?
AK: Adi sir gave me the script and within a day, I had said yes to the film. This was the first script after Vicky Donor for which I didn't consult anyone. Adi sir was proud that I chose to do it and said that he thought I wouldn't be keen on it.
SK: Behind my back he (Ayushmann) asked people if I would be able to pull it off (laughs). The character is very subtle and grows on you. I was surprised that he agreed. What he brought to the table was more than what was expected of the character.

Bhumi, did you battle acceptance issues because of your weight in real life too?
BP: I have never been skinny and been happy with the way I was. When they told me that I have to gain more weight for the role, I was like 'Wow, could I have more fun?' But, yes, I was mocked for my weight in school. My sister would also tease me. That helped me connect with my character, Sandhya.

The film's release date was suddenly advanced. Whose call was that?
SK: That was purely a business call. Distributors saw the trailer and freaked out. They asked us to come out with the film immediately. We panicked. There was no other film releasing on February 27 and we arrived in theatres. Surprisingly, it worked in our favour.
AK: I went to Adi sir and asked him how could the release be advanced? One of my films had recently released and didn't work at the BO. He said, 'Your job is to act, leave the rest to us'.