This is unlike India's most commercially successful 'war film' yet, Uri (2019), about a covert, 2016 military operation that Indians still have no clue about, and so the filmmakers could easily pull off a fantasy recreation with Indo-Pak border placed in Siberia! Shershaah feels way more real. Earthy, even. That's probably why hurts more, I guess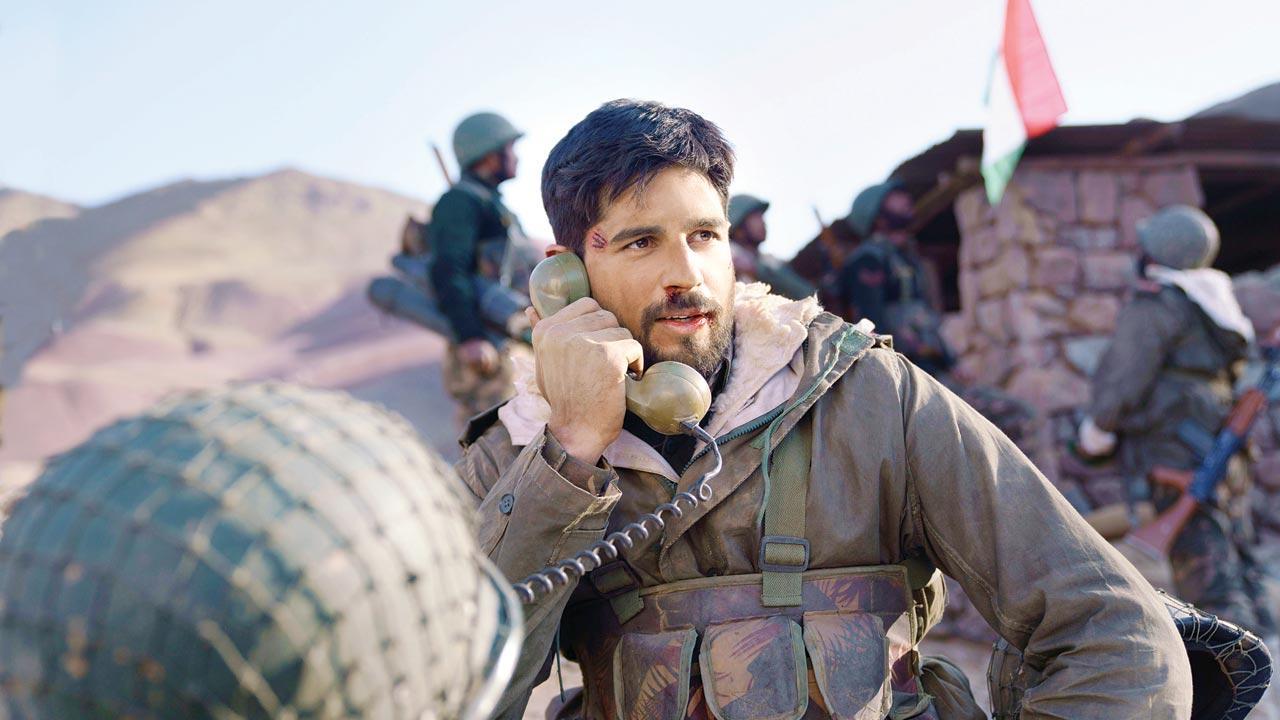 A still from Shershaah
Shershaah
On: Amazon Prime Video
Dir: Vishnu Varadhan
Cast: Sidharth Malhotra, Kiara Advani
Rating: 3.5/5
Perhaps I've realised this only while watching Shershaah. But there's something to a film which isn't burdened by what the audience must expect at the end. They already know it. This is the story of Param Vir Chakra, Indian Army Captain Vikram Batra, who lost his life fighting the 1999 Kargil War. 
The knowledge or inevitable anticipation of that moment though — manipulative as that might well be, and which movie is not — lends a certain visceral/emotional quality to at least a couple of scenes in this picture, that I found myself completely teary-eyed. 
Watch Video
The last time Capt Batra calls his fiancée on a satellite phone from the battlefield — having successfully led a key campaign to wrest back a mountain-top (Pt. 5140) — he's jubilant, of course. While you know this is not the end. This review should end here though! What more should you expect from a film of this nature — that it moves you to tears after all! 
The first time in fact was when I had seen the trailer of this film, in Drass itself, not too far from Tiger Hill, among soldiers and officers of 13 JAK Rifles, that Batra himself belonged to, with his commanding officer (now Lt Gen YK Joshi) in attendance. 
Also Read: Sidharth Malhotra: Batra family's is the only review I'm nervous about
This disclaimer is essential. Otherwise the distance between Army, and indeed those on behalf of whom they fight wars (citizens, I guess) is such, that whether we like it or not, soldiers do turn into dehumanised statistics before they're forgotten eventually. This film considerably bridges that distance. 
Allowing you immense access into the manner/mechanics of counter-insurgency operations, when nation states aren't formally at war, and soldiers are patrolling still. Further, focusing equally on the size of casualties in the armed forces, when at war. This isn't simply a chest-thumping piece on valour alone.    
What doesn't change, regardless of the flag you march behind, is that a war will always be about old men talking, and young men dying. Why should Kargil have been an exception? To be fair, this film on that subject doesn't come across as particularly pro-war either. 
And that's probably because the patriotism on screen isn't so exceedingly loud and misdirected that you wanna go thrash the 'enemies' yourself! You just know that these men had to.
Although, frankly, none of the above were my chief worries before clicking on Shershaah. I'll tell you what was — the lead character himself! If you've heard/read about him enough, the first thing you'll realise about Capt Batra is —besides that he had an identical twin brother (Vishal), a girlfriend he loved deeply (Dimple Cheema/Kiara Advani); and both are around — he was a full-on 'filmy' man. Or what in films they'll call a very theatrical sort of personality!
Some of the "filmiest" moments in this film (titled after Capt Batra's code-name) are actually the most factual moments from his life! Whether that be him drawing blood from his finger to place as sindoor on his girlfriend's forehead. Him telling his friend, "I'll come back with a flag — whether flying, or draped in it." I'm guessing even the dialogue about how you "live by chance, love by choice, and kill by profession!" He was a dildaar, Punjabi boy in his early 20s, for God's sake; what do you expect. 
Now imagine transposing such a character into what's already a full-on attempt at a mainstream/Bollywood war biopic! To be fair it's all there, but hardly underlined in such a way that you cringe for a sec. The credit for that clearly belongs to the writer (Sandeep Shrivastava), but obviously way more the director (Vishnu Varadhan), who makes his tonally consistent Hindi film debut with this battle cry, which is 'Jai Maa Durge' for 13 JAK, by the way.  
Actor Sidharth Malhotra plays Capt Batra. Partly dressed like Darr/Anjaam's Shah Rukh Khan in his college days, which makes sense for the '90s setting — he's wholly a reckless yet vulnerable lieutenant, when out on the war-zone. He looks a fair combination of both. And very different from Hrithik Roshan in Lakshya, who was also partly based on the same character.
Much as the film is centred on Malhotra alone, which helps with a tight running time (unlike, say, Border or LoC), this is still a war movie, out and out. That you've got to foremost judge for its action (Stefan Richter, Sunil Rodrigues). Which is natural/exhilarating enough. 
But as much, in this case, for the location. Shershaah is set and shot in Kargil, where the war took place, and that has no geographical parallel in a real sense. The authenticity shows. And we indeed saw it back then as well, since Kargil was also India's first televised war. Which is how, in 1999, we actually heard Capt Batra go, "Yeh dil maange more!"
This is unlike India's most commercially successful 'war film' yet, Uri (2019), about a covert, 2016 military operation that Indians still have no clue about, and so the filmmakers could easily pull off a fantasy recreation with the Indo-Pak border placed in Siberia! Shershaah feels way more real. Earthy, even. That's probably why hurts more, I guess. 
Also Read: Sidharth Malhotra: Knew of Captain Vikram only from afar as a teenager