Over 100 slum-dwelling children came together to enjoy a day filled with laughter, dance and banter with the two young actors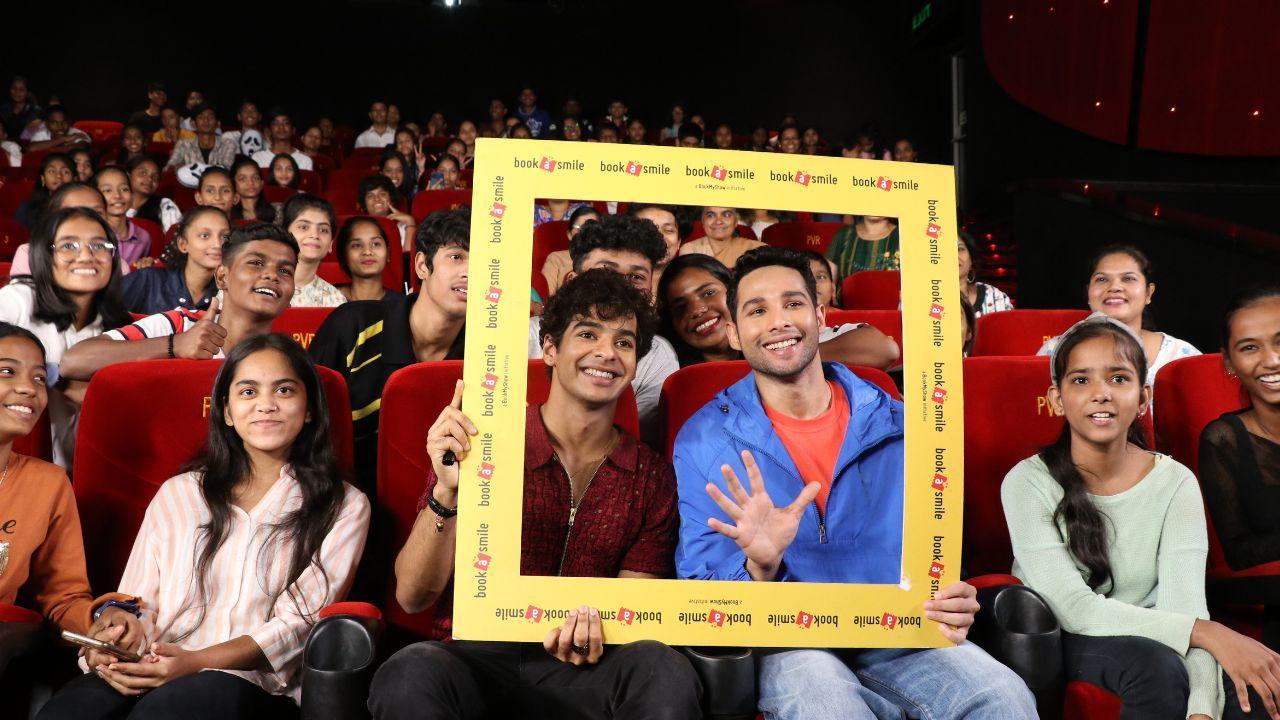 Pic Courtesy: PR
It was the onset of a weekend with laughs and some more laughs delivered on the silver screen. A special screening of the film 'Phone Bhoot', a comedy of horrors, was hosted by BookASmile for 112 slum-dwelling children from underprivileged communities across Mumbai. The initiative was rather special since it was not only graced by the two actors but also marked the first time that over 80% of the beneficiary children saw a movie on the big screen ever. 
Also Read: Childhood pal Tanisha Santoshi tells Janhvi Kapoor: 'You are phenomenal'
ADVERTISEMENT
BookASmile, the charity initiative of BookMyShow, India's leading entertainment destination organised this special initiative for young community beneficiaries from the Canossa Jeevan Vikas Kendra NGO who were in for a surprise at the end of the screening of Phone Bhoot produced by Ritesh Sidhwani & Farhan Akhtar's Excel Entertainment. The leading cast of the film Siddhant Chaturvedi & Ishaan spent a thoroughly enjoyable and memorable day with children, at a cinema theatre in Mumbai suburbs. The two actors spent the afternoon chatting away with the children on trivia about the movie, their experiences with ghosts and horror stories from their childhood and even broke into an impromptu dance with the kids on some of the hit songs from their recently released movie.
Also Read: Anu Malik recalls recording 'Oonchi Hai Building' with little Varun
Speaking about the special screening initiative, Farzana Cama Balpande, Head - BookASmile said, "The joy of watching a film on the big screen is always unmatched & to be able to experience it for the first time ever, is a very special feeling. We, at BookASmile, are grateful to the cast of Phone Bhoot & Excel Entertainment for having supported us in this initiative & spent quality time with these young children at their first ever experience of a 'first day first show' at the movies. Spreading smiles for miles with entertainment is a tenet we strongly believe in at BookASmile & it was wonderful to be able to gift some memorable moments to these young guns on the occasion of the film's release."
Produced by Ritesh Sidhwani & Farhan Akhtar's Excel Entertainment and directed by Gurmmeet Singh, Phone Bhoot stars Katrina Kaif, Siddhant Chaturvedi & Ishaan in the lead in a story about two crazy, jobless, horror-film addicts 'Major' and 'Gullu', hit upon the idea to float a unique ghost-capturing service when they meet a female spirit, Ragini driven by immense family pressure to find work. Ragini makes their business a success but in return asks them for a dangerous favour which they are compelled to honour. The film is now running across cinemas in India. Has Bigg Boss 16 lived up to your expectations?