Rajkummar Rao, in absolute top form, plays this part to near perfection, adding yet another facet to his filmography that is probably as, if not more eclectic than any of his contemporaries.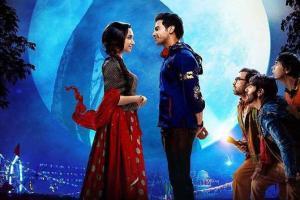 Stree poster
Stree
U/A: Comedy, Drama, Horror
Director: Amar Kaushik
Cast: Rajkummar Rao, Shraddha Kapoor, Pankaj Tripathi
Rating: 

For some, horror is comedy anyway; although audiences stepping into the theatre, seeking the former, and returning with having received the latter, are usually not the same. Stree is a horror-comedy. But more literally so; in the sense that the scenes nearly alternate between the two genres.
At one end this is a movie about a bunch of hilariously 'theth', rustic dudes in a desi small town, going about their happy-go-lucky ways over stuff that relates to the young, regardless of where they're from—love, sex, dhokha, etc.
On the other hand, you curiously follow what happens to folks in a mythical hamlet as a bad spirit makes her annual visit, preying on young boys, in particular. There is a spoiler of sorts (if you may) embedded quite early on in the script, given that there is a young female visitor (Shraddha Kapoor) in this town, falling for the hero—a super-talented ladies' tailor ("Bhagwan ka darji-roop avatar"), who can literally size up a woman, merely looking at her various physical dimensions.