This script has certainly been written with love. It helps that both Varun Dhawan and Anushka Sharma are in top form.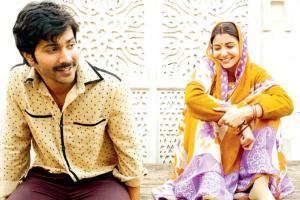 Varun Dhawan and Anushka Sharma in a still from Sui Dhaaga trailer
Sui Dhaaga: Made in India
U/A: Comedy, Drama
Director: Sharat Katariya
Cast: Varun Dhawan, Anushka Sharma, Raghuvir Yadav
Ratings: 

For a film that talks about self reliance and the closure of the small-scale handicraft industries, Sui Dhaaga doesn't particularly discover the factors that led to the demise of the artisan tribe. It's a glaring flaw that isn't allowed to linger too much on your mind because director Sharat Katariya instantly immerses you into the lives of his affable characters. Mauji and Mamta are artisans by profession, who are forced into a demeaning job for survival. Varun Dhawan charms you at 'hello'. Yet, it is Anushka Sharma who has the better piece of the cake her.
Katariya's opinion of a small-town marriage stays with you. It is progressive, propagating a union of equals and a partnership based on romance and friendship. Sharma doesn't play second fiddle in this union; she is his inspiration. She is so strong that she doesn't even need to employ expletives to showcase her power. In many ways, the film can be seen as one that carries Imtiaz Ali's message of how love bring out the best in people.
Watch the trailer here:
Fortunately for Kataria, his lead couple shares a wonderful chemistry. This is crucial, since Sui Dhaaga is essentially a love story, which only blabbers about the triumph of the human spirit.
The first half of the film is impeccably made. The rural setting and simplistic characters stay with you. You are drawn to Mauji and Mamta as they get acquainted with one another by conversing across walls and windows. Katariya understands the world of lovers well. He creates palpable moments, for, if a wedded couple holding hands can make the viewers melt, you know it's a job well done.
This script has certainly been written with love. It helps that both Dhawan and Sharma are in top form. Yet, the tempo drops in the second half. The drama runs thin, and outlandish plots that see artisans turn into fashion designers raise many eyebrows. The unimpressive climax is disjointed, a far cry from the tone the film carried up until then. Despite its rousing moments, the film leaves you feeling unfulfilled.
Also Read: Sui Dhaaga: Anushka Sharma Gives A Sweet Gift To Varun Dhawan
Catch up on all the latest entertainment news and gossip here. Also download the new mid-day Android and iOS apps to get latest updates