In a recent interview with a channel, actress Tanushree Dutta makes a startling revelation about senior actor Nana Patekar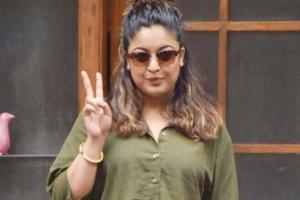 Tanushree Dutta
Tanushree Dutta, better known for her role opposite Emraan Hashmi in Aashiq Banaya Aapne is all over the news. The actress, who had vanished from the film industry for a good decade, is back and has made some serious allegations on Ab Tak Chappan actor, Nana Patekar. As per the actress' allegations, Tanushree was harassed on the sets of Horn 'Ok' Pleassss (2009) by the actor. 
In an interview to Zoom TV, Tanushree Dutta said that despite the industry insiders aware of Patekar's behaviour towards the actresses, nobody really spoke about it. She said, "Everyone knows about Nana Patekar that he has always been disrespectful towards women. People in the industry know about his background... that he has beaten actresses, he has molested them, his behaviour with women has always been crude but no publication has printed anything about it."
ADVERTISEMENT
The actress further added in the interview, "Everyone has gossiped about this but they've never spoken. People with this kind of character speak like this against the kind of character that I have because they say she does glamourous roles so must be glamorous and all. Behind the back, they are so dirty. When you are in the industry you hear so many stories about these actors. But these things never take surface because they are PR packaged very well. They will give some money to some poor farmers. How much they do, and how much they don't know, no one knows. But all this is just for show."
The 34-year-old actress had reportedly walked out of a special song sequence from the film Horn 'Ok' Pleassss owing to an actor misbehaving with her. Apart from Aashiq Banaya Aapne (2005), Tanushree has acted in movies like Dhol, Good Boy Bad Boy and Apartment.
Also Read: Tanushree Dutta Plans A Comeback In Bollywood
Catch up on all the latest entertainment news and gossip here. Also download the new mid-day Android and iOS apps to get latest updates