In the acclaimed docu-series, 'The Romantics', Anushka Sharma, Ranveer Singh & Bhumi Pednekar speak about how Yash Raj Films has always backed outsiders and groomed them to present their brilliance to the world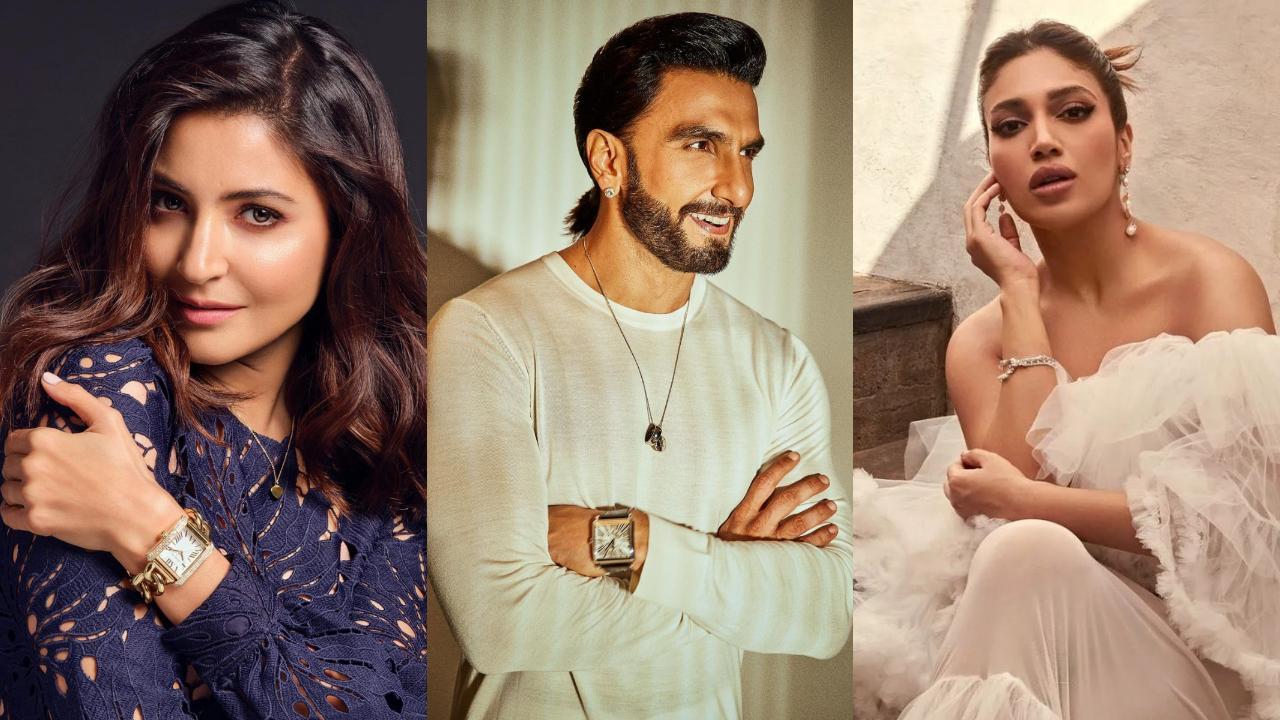 Pic/ Instagram
The much-talked about Netflix docu-series 'The Romantics', which is a tribute to the legacy of Yash Chopra & YRF and their cultural impact on India and Indians for the past 50 years, released on February 14 to unanimous acclaim and love globally.
The national over-pouring of love for Yash Chopra and YRF was evident as 'The Romantics' became the Number 1 trending title on Netflix within 48 hours of its drop, a rare feat for a documentary. 'The Romantics' is also in the Top 10 trending shows in 9 countries, including Bahrain, Bangladesh, India, Maldives, Mauritius, Pakistan, Qatar, Sri Lanka & UAE.
ADVERTISEMENT
In the acclaimed docu-series, 'The Romantics', Anushka Sharma, Ranveer Singh & Bhumi Pednekar speak about how Yash Raj Films has always backed outsiders and groomed them to present their brilliance to the world!
Ranveer, who got his debut in YRF's cult hit 'Band Baaja Baaraat' that turned him into a star overnight, says, "I wanted to be an actor since as far back as I can really remember. There is nothing that fascinated me more than Hindi films. Just picture like this slightly overweight kid, sitting on the floor in front of the television screen. While all the kids are playing outside, you know. I was just engrossed, besotted, fascinated, wide-eyed. It was a very-very fascinating world for me."
Also read: Shah Rukh Khan decodes the formula for the incredible success of 'Dilwale Dulhania Le Jayenge'
He adds, "It wasn't so simple (to get a debut) though because the Hindi film industry, for the longest number of years, was very closed. I'm talking around the turn of the century, you know 2000, when you would look around and you see that everybody is the son of somebody, and i thought to myself, 'My chances are really slim like a million to one'!"
Ranveer reveals how he felt when YRF gave him his break. He says, "I was like exalting, literally, with my hands in the air. I was like yes, I couldn't believe I got a call back the same evening. They had never launched a new face. A new male face, up until this point. So, this was unprecedented!"
Anushka Sharma was launched by Aditya Chopra in his blockbuster directorial 'Rab Ne Bana Di Jodi'. She reveals, "I came from an absolutely non-film background. I didn't know anybody who worked in movies. Not a single person. After a while then Adi called me, he said look, I am definitely going to launch you.
It was huge for somebody like me who came from Bangalore, who did not grow up in this world."
Bhumi Pednekar was launched by YRF in the hit 'Dum Laga Ke Haisha'. She delivered a path-breaking performance as a debutant after being groomed by YRF for years.
She reveals, "I come from a very-very middle class family, middle-class background. I've worked my way up. My family is very creative, but I don't come from an actor-film family. I always wanted to be an actor and I didn't really tell anyone I want to be an actor, it was like a deep-dark secret. My job was paying me well, I was very good at what I was doing. I'd become a very integral part of the filming system."
Bhumi adds, "I debuted as this overweight heroine which is unheard of in India, in a love story which is completely unheard of. But what was common between me and the other YRF heroines was that, we were very confident. You know, we had a lot of self-belief and we stood for what was right."
'The Romantics' has been directed by Oscar & Emmy-nominated film-maker Smriti Mundhra.