Honestly, the first part Ek Tha Tiger was much better. For once, it brought reasonableness, research, even intellectual heft, if you may, to action-king Salman, who is a franchise all by himself.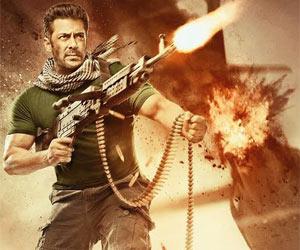 'Tiger Zinda Hai'
Director: Ali
Actors: Salman Khan, Katrina Kaif
Rating: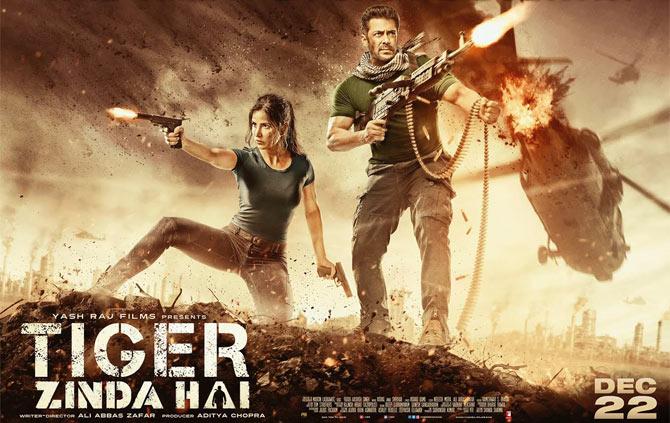 Salman Khan and Katrina Kaif (L) in the poster of 'Tiger Zinda Hai'
ADVERTISEMENT
Honestly, the first part of this film Kabir Khan's 'Ek Tha Tiger' was much, much better. For once, it brought reasonableness, research, even intellectual heft, if you may, to action-king Salman, who is a franchise all by himself.
Fifteen minutes into this movie, when its goal gets locked, you figure this isn't merely an excuse to somehow stitch together a sequel either. There's a definite objective: To evacuate 40 Indian-Pakistani nurses in Tikrit, Iraq, who have been held hostage by the IS (Islamic State), with the latter having taken control of the town's main hospital.
The Americans have decided to bomb this IS hideout. The Indian government has a week to clear out nurses from this US target. Only one man can accomplish this mission impossible. Much like Rambo in exile, Tiger (Salman), the missing RAW (Research And Analysis Wing) spy, is brought on board. He puts together a five-man army.
That minor McGuffin apart, this is altogether a full-on fantasy flick -- made all the more fun by various other laudable missions that get accomplished along the way. For one, both India's RAW, and Pakistan's dreaded ISI (Inter-services Intelligence) fight together in this thriller. Katrina, you may recall, plays an ISI agent (now in exile as well). Two, and this was my favourite part: Burkha clad women storm into the IS citadel, teaching the women-hating blood-sucking religious fanatics a lesson of their lifetime (with their deaths, of course).
All this is besides the movie's main task, which is for Tiger, or Salman, to roar his way to the box-office. And yeah, Salman is very much back to being Salman, deviating not once from the script, unlike with 'Tubelight' (earlier in the year), which left Sal-maniacs so pissed that he had to frickin' return money to distributors (which is a lot like Modi-Shah, at the peak of their political careers, having to forfeit their deposits in an election!).
Salman traverses between mountains and desert sand, hops on to ski-board and a horseback, before settling down to some crazy blaze of guns in Iraq! Now I've been saying this for a while: Reviewing a 'proper' Salman movie is a lot like searching for the meaning of life. The meaning will elude you still, and life will go on, as it should. I've of course used more philosophical analogies in the past -- like ironing jeans, or underwear. No, seriously, what is the point?
No film illustrates it better than this. It is based on an actual hostage drama that took place in 2014, where the Indian government had undertaken a major diplomatic initiative to free 46 Malayali nurses held hostage in Iraq. Not a bullet was fired during the incredible operation. Pretty much everyone returned home safe. Only last night, I watched the brilliant Malayalam film 'Take Off' (2017) that vividly recounts that episode. It's a world-class movie, with the woman (Parvathy; 'Qarib Qarib Singlle'), who saves the day.
But to wake up at 8 am with a half-packed hall rooting for the super-hero Sal-man is a very different kinda tribal experience—something that also has a charm of its own (and which is likely to become nostalgia before you know it).
Sure, at 160 minutes' plus, this movie is more than a bit of a stretch (both literally, and figuratively). Give him a few more minutes, forget evacuating the few nurses, King Salmander would have vanquished the entire IS (he's already martyred half the militia to hell). I get it. Not hard to tell who'll unconditionally love it. That's really all there is to report from this battlefield.
Catch up on all the latest entertainment news and gossip here.
Download the new mid-day Android and iOS apps to get updates on all the latest and trending stories on the go
"Exciting news! Mid-day is now on WhatsApp Channels

Subscribe today by clicking the link and stay updated with the latest news!"
Click here!