Newbie from 'Super Nani' Shreya Narayan on her admiration for her favourite screen idol on the diva's 60th birthday today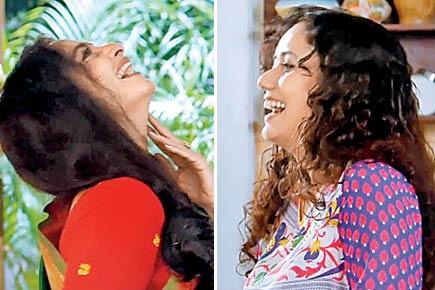 Rekha (left) and Shreya Narayan in the film 'Super Nani'
Rekhaji made an impression on me because my grandfather had asked me to watch Umrao Jaan six months before he died. And I was told, that he always enjoyed it. Movies being a scarce commodity in our home of books and letters, this was a medal of honour. Else she would have remained news, gossip and magazine covers, as she is to most people.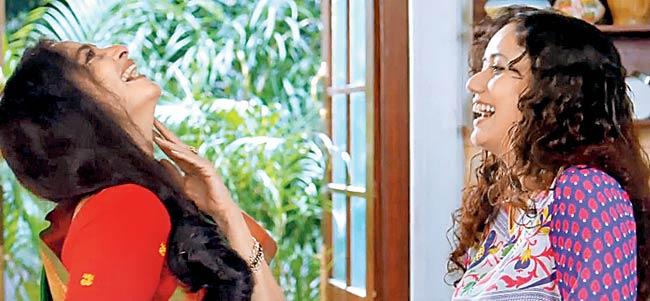 Rekha (left) and Shreya Narayan in the film Super Nani
The first month and a half that Rekhaji worked with me, she remained who I had read about — a senior, legendary actress, who was to be admired from a distance. Then it was bye-bye time. I was going through difficulties in my career with my mother falling ill with cancer. And our film Super Nani went on to get reshot over a period of a year and a half. Result was that I had to sometimes tell the production that certain dates were not good with me. So the news of my mother's condition came out. The next time on the sets, Rekhaji wanted to know about the doctors and treatment. She wanted me to go for more opinions. She wanted me to explore more avenues. She narrated the story of her dear friend who had contracted cancer in her kidneys and had passed away. She talked about her own mother reverentially, and understood the agony I was going through. My sorrow had broken the gates of her reserve and she wanted to impart a little of herself to me. This may have been the first time she revealed herself as a human being to me, but as an actor, she was a committed figure from day one.
On the set, while I would be cramming my lines, I saw that she never held a piece of paper. But I would often see an assistant director reading out the script to her. She would listen to the lines with focus, and lo and behold, deliver them with dazzling grace! Was this some old technique, I wondered. But she confessed that she did not know how to read. She had started working very young, and thus never really attended school. I was blown away — 275 films and she had not read one line, and yet had gone and delivered the performances she is known for! Wow.
From my interaction with her, I believe her truest identity is of an actor. Most men I know want to own a woman, make his dreams her dreams. Consequently, she has to forget the path God bestowed on her. Rekhaji's life is an ode for women who want to realise their path with single-minded dedication. She has uncluttered her life to leave her free to do what she loves most — to act. Today, she is not young, yet more beautiful than most — a contradiction in a country like India where beauty is associated only with youth. But on her 60th birthday, she is a better actor than she was five or 10 or 20 years back. And that's her triumph.