Vicky Kaushal reveals the story behind his evolution from indie cinema's poster boy to Bollywood's current heartthrob on a full-on dream run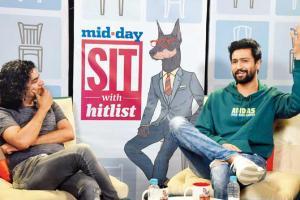 Vicky Kaushal in conversation with Mayank Shekhar at the latest edition of Sit With Hitlist, at the mid-day office Pics/ Nimesh Dave
Here's the one question we will not ask you: How's the Josh? How's the Josh… Aren't you frickin' tired of hearing it [my ears hurt]?
[Laughs] I don't think I'll ever be tired of this question. This line has given to me and my family something very special. Although, have to say, I had reached a point, where I could just get up in the middle of my sleep, hear it, and go, "High Sir!" [laughs]
In box-office terms, Uri really made you a superstar. And it was your first action film. This is not ironic. Because your father, after all, is an action director. And that would've shaped your relationship with films too, in the first place; no?
To be honest, I was craving an action film. Which, as an audience, I really enjoy watching. And not in the sense over-the-top action. I wanted to do something realistic. For me, a good action film is what Aamir Khan did with Ghulam [1998]. Or, say, Black Friday [2007]. My favourite piece of my dad's work is his first film [as action director] Prahaar [1991]. That's my space, where action is a scene — part of the narrative.
Watch the full Sit With Hitlist interview of Vicky Kaushal here:
How did you land Uri [given the unlikely CV]?
[Director] Aditya [Dhar] was going to make a film called Raat Baaki Hai, with [Pakistani star] Fawad [Khan], and Katrina [Kaif], where I had a character that I couldn't do, because of date-issues. That film itself got shelved 20 days before shoot, because of the [Balakot] attacks. Now, I was shooting interior portions of Raazi in Mira Road. It was an emotional scene, when I learn of Alia's [Bhatt] truth. We canned good stuff, and it had been a hectic day.
Driving back, I got a call from Ronnie Screwvala's office that they had dropped off an action script [to be directed by Aditya, who I already knew]. I saw the title, Uri: The Surgical Strike. And now I wasn't the actor. I was actually curious to know what happened [in Uri]. It took me four-and-a-half hours to read the script, in one go, which is what I prefer — as if I'm watching a film. That's when I get a true sense of what I feel.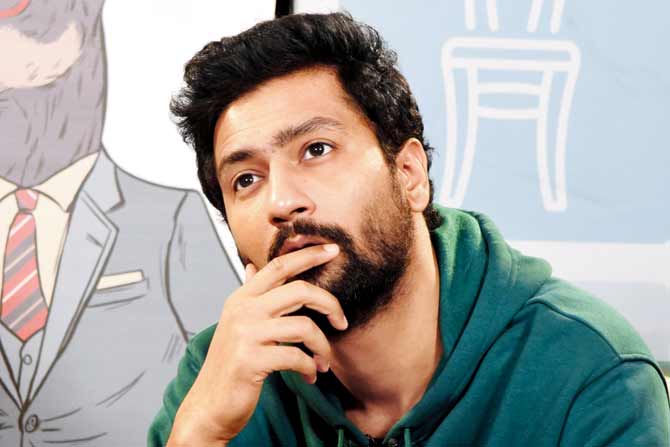 Vicky Kaushal deep in thought
As an audience?
Yes. So I started watching the film, and I just couldn't get it. There was just too much information, military-technical-logistical language. Also, I didn't feel anything. Because I hadn't taken four-and-a-half hours to read a script before. So I went off to shoot the next day. When I returned, my dad, who was equally curious about the Uri incident, and had read the script lying around, asked me what I thought of it. I said I'm not sure. He told me that if I miss this film, it'll be the biggest mistake of my life! He said that maybe I'm in a different space right now, in another kind of military film, and that's why unable to connect.
You were playing a Pak military officer, shooting for Raazi. Of course you're not going to like Uri!
[Laughs] And then I don't know what happened. I got back to the script four days later, finished it in an hour-and-a-half, as if I was reading it for the first time. I called up Sonia [Screwvala's associate] at 3 am, and said, I will do the film.
You essentially have your dad to thank for Uri. What I find most fascinating is actually your dad [Sham Kaushal]! Tell us his [lesser known] story.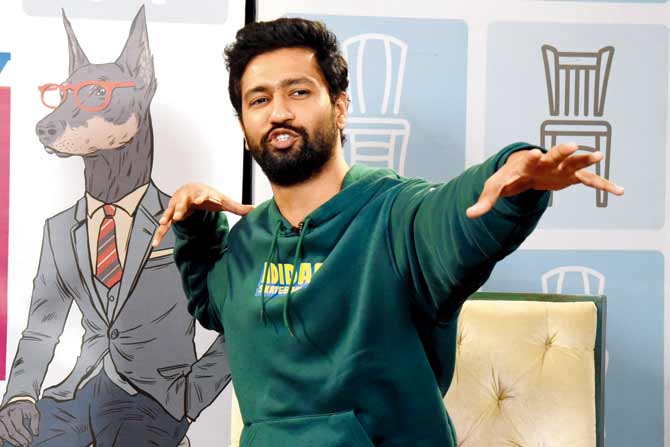 My dad and mom are from a small village in Punjab. He was good in studies, and started learning English in sixth grade. He went on to top BA, in English Literature; did his MA. And wanted to be an English professor in Punjab. But the family's financial situation was such that he could not pursue an M.Phil from Chandigarh.
At 23, he was frustrated, with no job, even after an MA degree. My dadaji [grandfather] had a very small kiraane ki dukaan [convenience store] in the village. My dad's friend Satpal was going to Bombay to become an actor. Since my dad was doing nothing at home, and frustrated, my grandfather asked him to tag along with the friend, for a few days, feel better, and come back.
In Bombay, my dad wanted to start a new life. He had a distant uncle in New Bombay, who got him a salesman's job in a plumbing-wall shop, behind RK Studios, in Chembur. He did that for Rs 350 a month, and really struggled. He's been on streets. Without letting anybody know, he used to live in the office, having done a 'setting' with the peon. He would sleep, leave early; and come back, when work started.
He would take a shower in office?
Yeah, everything. After a year, he knew he couldn't start a family with R350 a month, even if he did the same thing for 15 to 30 years. So, without Plan B, he quits his job, and comes to a PG [paying-guest accommodation] in Santacruz. Here, he stays with 10 Punjabi guys, who're stuntmen. They leave for work in the morning, and come back with a tidy sum in the evening. That's when he discovers this [profession]. Purely for survival, he decides to become a stuntman, at 25. People start training at 13-15, when their body is flexible. He had never done any physical activity before. He used to sit in his father's shop, and do accounts.
So he is a stuntman for 10 years. He lands up his first film as action director with Mohanlal, because the Malayalam filmmakers were shooting in Bombay. They needed someone to handle the stunt sequences. They would've been okay with an experienced stuntman as well. So long as the person understood English, so they could communicate with him. My father was the only guy around who knew English. He got that job because of his degree in English Literature!
Amazing!
That was his lesson to me. That it doesn't matter what you're learning. I've done engineering. He said, "It doesn't matter if the circuits you're working on is going to help you in acting, or not. But your hardwork, and giving your best to your 'now', will help you eventually!" But, yeah. It's been his, and my mom's journey.
You've also been part of the journey. Did you get to observe showbiz closely as a result?
No. Well, my brother Sunny and I knew that the good things we were getting in life was because of a lot of dad's hardships, and my mom's support to him. But it was never a house, where we wanted to meet our favourite stars, go on sets, parties, etc. We had friends line up outside our house, for an autograph of an actor who was visiting. For us, that actor was my dad's friend.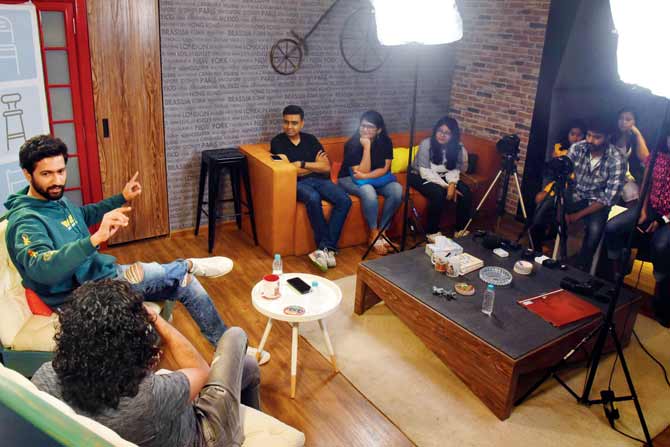 For example, Anurag [Kashyap] sir and I always have a laugh about this. He knows me since Black Friday [in which my dad was action director]. I was probably in my eighth grade. So when he used to come over for meetings, I used to call him uncle, serve him parathas, and go out to play cricket. So it was that.
But as an aspiring actor later, did you observe or notice how deeply hierarchical showbiz is. It is perhaps the most capitalistic of all arts.
Well, it is changing now.
Of course, but did it bother you, as in a system where a star takes all, or that you would have to become one [in order to succeed]?
Not at all. To be honest, I don't know why, but I never had a sense [of entitlement] that I should be launched as a star. I knew I could make a mark by knowing my job — just going through the drill, and getting opportunities on the basis of what I know. Also, my father had made it clear that he would back my decision to be an actor, as a father alone. And not as an action director.
So I had that reality-check — that nobody is going to spend crores, because I'm Sham Kaushal's son. And he's not going to do it either. Besides, for whatever reasons, whether some sort of complex, or plain under-confidence, my dream wasn't so big — that I want to be a hero. I was just on auto-pilot — that I'll give auditions, learn the craft through theatre, be an AD [assistant director]...
You did a lot of theatre?
I did. But I started off as an intern to Anurag Kashyap on Gangs Of Wasseypur [Gangs]. I also started reading scripts that my dad would get, to match with the final film, and see changes that an actor brought in. I could visit sets with him. But realised I'd then just be a visitor. My knowledge of engineering is so bookish that I can't even repair a TV. I wanted to be an engineer, who has been at the garage for four years. So I decided to dive into acting, with on-field learning.
Was it paid internship?
No. Unpaid.
I just don't understand why are so many movie internships unpaid?
[Laughs] But the payment I wanted, I got. It was not for the money, it was for the learning, and I really got paid well. Through actors on set, I got to know the importance of theatre. I'd been active on stage since school, but feared it professionally. I started doing theatre with Manav Kaul, Kumud Mishra, Naseer saab [Naseeruddin Shah], Thespo Festival, and Rage Productions — my first pay-cheque. I joined Kishore Namit Kapoor's acting academy. I also had to clean my slate, after being an assistant-director, because I wasn't looking at that profession. I completely cut off from Anurag sir.
But he made you act in Gangs, though!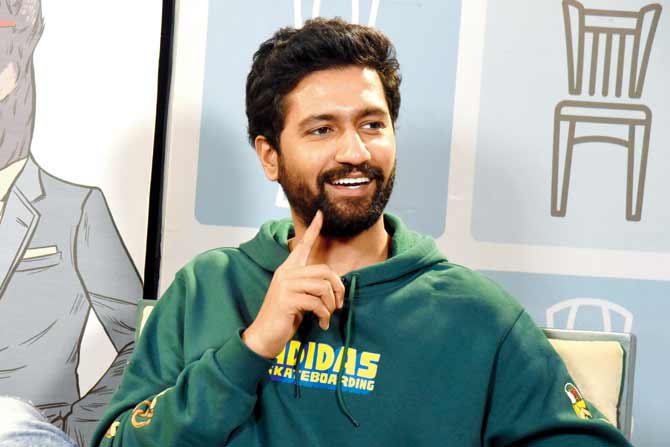 It's the scene where Nagma Khatoon [Richa Chadha] goes to a brothel. Last minute, everyone [junior artistes] that we'd rounded up in Benares refused to participate in that scene, once they realised it's a brothel. The entire direction team stood-in for them. I'm that silhouette you see behind the window-grille, overacting karte hue, when Naghma Khatoon is cursing Sardar Khan [Manoj Bajpayee]! That was the first time I faced a camera.
Oh, I'm told your first time before camera was for [director] Michael Winterbottom?
Yes, that was the first time I faced the camera, and you could see my face! Michael Winterbottom was making a film called Trishna, with Freida Pinto. We'd just finished shooting Gangs in March, 2011, and I had these braces, and was an AD. I had gone to my native place in Punjab with family, when I got a call from Anurag Kashyap, and he said, "Item number karega (Will you do an item number)?" I was like, what? He said, it's a Michael Winterbottom film, and Huma [Qureshi] and I will dance, and that he's acting in it as well, it'll be fun.
So, Trishna, that's Freida's character in the film, comes to Bombay from Rajasthan, and a friend of hers takes her to a film-set. There's a song being shot with choreographer Ganesh Acharya, which is being picturised between and Huma and I [in the film, within the film]. That song was also supposed to be the promotional track for the film, like [Slumdog Millionaire's] Jai Ho! But the film never released [in India].
So it was supposed to be taken seriously.
Yeah. It was a proper song. But in the film, it's a scene. I was wearing this shimmery black, typically item-number costume, which I was very conscious of. I had no idea how it feels to be before a camera, with 50 back-up dancers, and 200 people around. So, my body is dancing, but my face is like this [frozen]. Ganesh Acharya sir, who was very sweet, came up to me and said, "You're dancing well. Now just dance from your face!" Of course, with several retakes, we got it right.
This is before you began your daily grind of auditioning for parts. Was there any role that you made it to the top three or four of, and that we may remember from screen?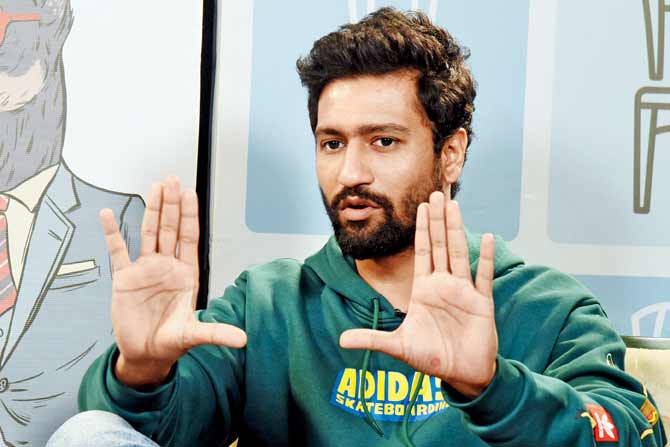 Not lead parts. But my first audition, in fact, was for the friend's role in Bhaag Milkha Bhaag [2013], which got heavily edited out eventually. In that audition, I realised that I don't know anything about acting. Then there was a part in the film Ghanchakkar [2013]. Namit Das did that role, finally. I still remember, the character's name was Idris. That was a great role.
Masaan was your first release. But Zubaan, which picked up top festival awards, was actually your first film. Honestly, couldn't understand that movie. Should one go back and watch it again?
I don't feel an audience should change the way they should watch a film. If you can't connect, you can't. It really resonated with me — a Punjabi from Gurdaspur, going to a big city, living that life, eventually realising it's not him; and now he has to connect back to his roots, and music becomes his medium. There was a lot for me to do as an actor — the journey, plus that stammering, plus music… If I feel connected to a material, for any reason, I just plunge into it. I don't think if it's going to do any good. I went through several rounds of auditions, from a short-list of around 200-300 actors, for that role.
Even Masaan, for that matter, I'm told, you'd seen the pilot promo of that film with other actors already. Who were the other people doing that film then?
I remember [director] Neeraj [Ghaywan] and I, with the entire AD team of Gangs of Wasseypur, were going to Pune. Because a friend had lost someone in her family. We were in the same car, catching up after long. He was telling me about a film he was trying to make, with a very complex title, Raand Saandh Seedhi Sanyaasi.
Are you serious?

Vicky Kaushal shares anecdotes about his journey in Bollywood
Yeah, I had the same reaction. He showed me the pilot-promo. It looked very interesting, and he gave me the gist. The cast was Rajkummar Rao for the part I [eventually] played, when the film became Masaan. There was Manoj Bajpayee for the part played by Sanjay Mishraji, and Richa [Chadha], and Shweta [Tripathi]. That was the promo.
The film had to be shot in October during Durga Puja [for the song Tu Kisi Rail Si]. If they missed the deadline, they'd have to shoot the following year, which they couldn't afford. Raj couldn't make it during the time, so that slot became open. They were looking for new actors. So they auditioned me, and I passed!
That was a breakout role. You owe your career to Rajkummar Rao!
[Laughs] Yes. In fact, my first few films, even Zubaan or Raman Raghav [2015], had gone to somebody else, and then they started auditioning again.
And let's just look at the continuing dream-run since — Love Per Square Foot, Lust Stories, Raazi, Sanju, Uri… That's crazy!

It is a very surreal kind of a run that I've had, especially over the past year-and-a-half... It really does feel special, that it happened. People recognise you. Doors started opening in the industry. And I can meet the directors I want to.
Speaking of directors, you've worked with Anurag Kashyap as an intern [Gangs], then actor [Raman Raghav, Manmarziyaan], he also produced Masaan. He's notorious for throwing actors into the deep-end, no script, etc. How did that work for you, starting off?
He's a very impromptu kind of a creative force, relying on impulse. If you give him everything ready on paper, then he might not know what to do on a set. He does give you the lines. He just doesn't want actors to be rigid, when it comes to them. So he wants you to enter knowing what your character is. And then allow him, the geography, and the costumes to mould you.
Give an example?
Sometimes, we may not have the lines beforehand. For example, my last scene in Manmarziyaan. It's the separation scene between Taapsee and I, in her room. We were ready in costume. He had told the DOP [cinematographer] to keep the tracking-shot ready. And he is with his pen and paper, writing the scene, while we're in costume. He gives us the lines, and we have five to ten minutes to prepare.
I had to hug Taapsee. It is an emotional moment. My character has accepted the fact that he's not the guy in her life. He hugs her. And once a scene is over, as per the script, for the next ten to fifteen seconds, Anurag sir has a tendency to not say cut.
He will just keep the camera rolling?
Yeah, while the actors are thinking, what do I do next? I still remember, it was my OS [over-the-shoulder] shot. I have hugged Taapsee. The moment is done. And done. And done... But I still can't hear, cut! Then I see Anurag Kashyap sitting right next to that camera, looking at me, going, "Alag ho jaa, alag ho jaa [separate]." So in that emotional, teared-up state, I don't know what to do. She [Taapsee] doesn't know what to do either. And then, I just start beat boxing. That makes Taapsee smile. And that makes me smile. And then, he says cut. That is the moment, and the scene in the film. Not the one he had written.
Is Rajkumar Hirani the methodically prepared, polar-opposite?
He is as organic. The difference between them lies in the writing, and structuring of the film. And their ways of presenting a story. As directors, they are both fine editors. They can see the film while shooting it, and so they are super-fast — no safety-shots, no safety-cuts.
I've seen on Sanju, Raju sir has called for a steady-cam operator on set for a specific shot and moment. It's a full night's shoot anyway. While shooting the scene, he captured that moment on a static camera. He was so sure that he had got the shot, that he just told the steady-cam operator to pack-up.
And Sanju was a huge film for you, too. Incredible love and fame. What about the flip side of it — public scrutiny? That you could be at a house-party chilling, and some politician in Punjab could say that you're drugged out, when you're having warm water, recovering from dengue? How do you respond to that? I'm talking about the Karan Johar house-party video, of course.
It was a very chilled-out party. That video is put out. And right after, I am in the hills in Arunachal Pradesh, with the Army, for three-four days, where there is no network. Obviously I don't know. And I have no clue that I've become the 'charsi of the country'! I come back to Bombay, and my mom and dad know everything. They have been watching the news. They didn't tell me before, because I would get affected, sitting there [in Arunachal]. So I head to my room. Before going off to sleep, I get on Twitter, and then I'm like, "Hain? FIR! Yeh kya hua?" I'm looking at those videos circling, white thing, and light falling on the floor...
They assumed it was cocaine!
So I rushed out of my room to check if my mom and dad knew about this. And then they just gave a smile, and said, don't worry. I was, like, okay, as long as they know, I'm sorted. Then the next day it started affecting me again, with TV channels circling my face in red!
I thought I should come out and speak, but realised that would be an impulsive response. That is as impulsive as them factualising an assumption, which doesn't make sense. Also, what happens on a social-media trial is this: It starts from, 'They look drunk!' Then it becomes, 'Oh, they do look drunk.' And then it becomes, 'These are actors, they are drunk!' Then it's, 'How dare they?' 'Shame on them, they're drunk!' You don't know who to answer. But there are also 10 people asking others, "Kuch toh dimaag lagao, kya bole jaa rahe ho! [What're you saying?]" So I had a choice to listen. Or react to much bigger things happening in the country than this.
Let's look at the brighter side of fame though. You went to an engineering college, where there are hardly any females, let alone female-attention. Do your classmates hate your guts now that you're the heartthrob, as it were?
In an engineering college, whatever number of girls that there are; by the fourth year, even they become like boys!
Think you're now going to be trolled by engineering students.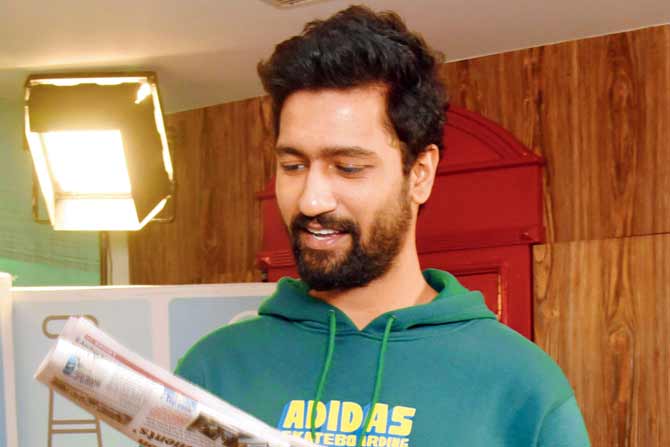 Vicky with the mid-day goodie bag
I'm sure engineering students listening to us would completely agree with me [laughs]. But, yeah, the heartthrob element also takes me by surprise a bit. I think it is a very pleasant feeling. It's got a lot to do with the characters I've played, and that they've resonated.
It's not like I'm the handsomest man ever. There are much sexier men, with better physique and charisma. The difference is that my work has resonated with the audience, so there's relatability with this guy, on screen — that's the edge. Tomorrow there'll be another one, whose works will resonate, and he'll become the heartthrob. I'm not the first or last such. It is part and parcel.
And of course, then the question [the 'resonated female audience'] wants to ask then is: Are you single?
I am.
(Audience) Can you tell us about the craziest fan-experience you've had so far?
[Long pause] Someone just landed up in my house, straight up to my apartment. There were mom and dad at home; I wasn't. The girl just rang the bell. There is building-intercom, and watchman. But my mom somehow thought, maybe some friend of mine was expected, and I may have forgotten to tell her about it. So the girl comes in. She is like, "Vicky had called me to his house. We chatted on Facebook."
Now, at least, my mom and dad know that I don't use Facebook. They figured there's something fishy. What had happened was that there was a fake-profile of mine on Facebook, with whom the girl had been chatting. And that's a bit scary. So I had to really look into my social media accounts, pull down all [fake] pages, and do one verified account. She found it very difficult to believe that it wasn't me that she had been talking to, all along. Apart from that incident, the experiences have all been sweet.
Also Read: The controversial 'Udta Bollywood' video!
Catch up on all the latest entertainment news and gossip here. Also download the new mid-day Android and iOS apps to get latest updates