Actor Neil Nitin Mukesh took to his Instagram feed on Wednesday as he shared a heartwarming video of himself and his daughter Nurvi singing the song 'Aashiyan'. Have a look!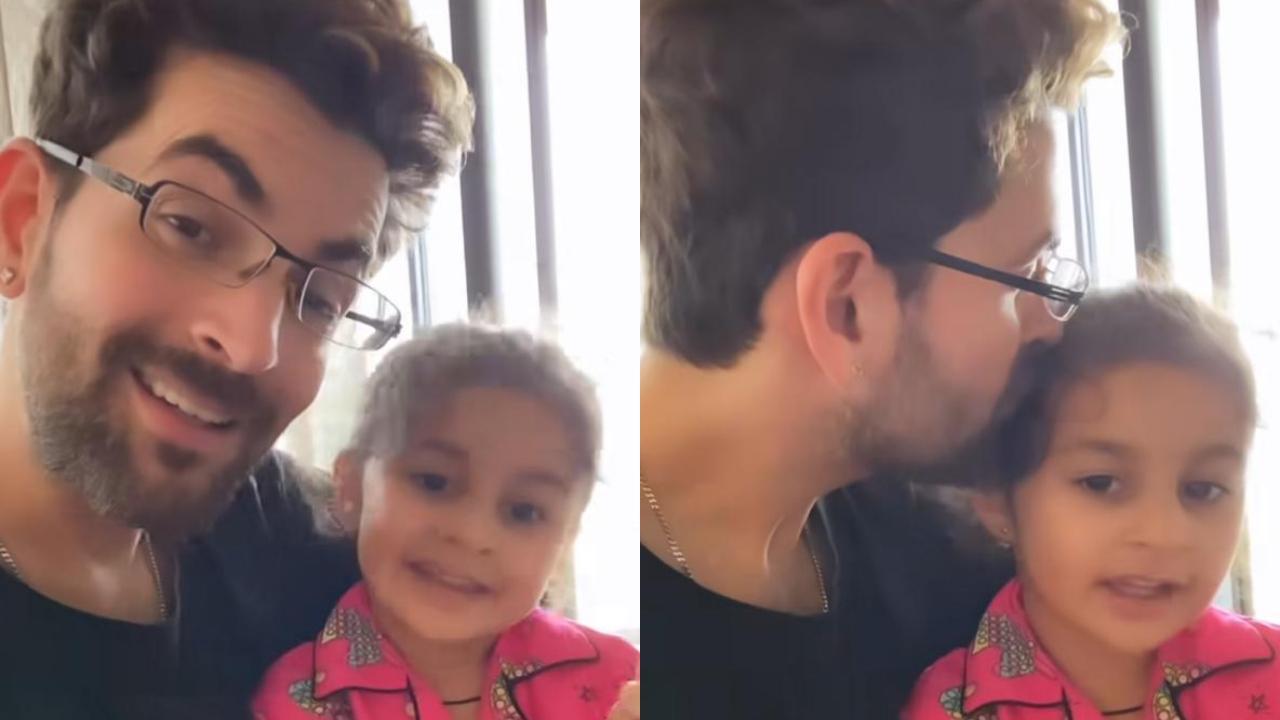 Pic Courtesy/ Neil Nitin Mukesh's Instagram
Bollywood actor Neil Nitin Mukesh is currently busy with daddy duties! The actor took to his Instagram feed as she shared an adorable video with his daughter Nurvi. Neil and daughter Nurvi can be seen singing the Shreya Ghoshal song 'Aashiyan' from the Ranbir Kapoor and Priyanka Chopra film 'Barfi!'.
 

 

View this post on Instagram

 
ADVERTISEMENT
Fans could not get enough of the heartwarming moment as they took to the comments section.
Actor Sudanshu Pandey wrote, "U have to get her singing classes .. she is so good at catching notes"
A fan wrote, "Cutest duet EVER"
Another wrote, "Awwwwdorable"
Neil Nitin Mukesh's father, Nitin Mukesh Mathur is an acclaimed playback singer known for his work with notable music directors like Mohammed Zahur Khayyam, Laxmikant Pyarelal, Bappi Lahiri, Rajesh Roshan, Nadeem Shravan, Anand Milind during the 1980s and 1990s.
He has lent his voice to many iconic Bollywood songs including Anil Kapoor's 'My Name is Lakhan' and has voiced for actors like Manoj Kumar, Shashi Kapoor, Anil Kapoor, Jackie Shroff and others.
Meanwhile, the star recently talked about his dramatic weight loss journey. Taking to Instagram, Neil shared a before and after picture of his transformation.
 

 

View this post on Instagram

 

In the caption, Neil wrote, "As I look BACK to the year 2022 , im nothing but grateful. I'm grateful to my family , to my dear friends and above all to the Almighty , to encourage me and give me the strength and power to go through this difficult transformation. As an actor we mould ourselves in various characters and take up challenges beyond our imagination. When I gained weight for a role of mine , little did I know that it would be so difficult and challenging to lose it all again. But I guess that is exactly what I needed , a challenge!! 2022 has been the year of me understanding the importance of health , family, love and relationships. Some stood by me through this journey, some mocked me for being socially disconnected, some appreciated my efforts while some questioned my willpower. But I thank My father, my mother, my beloved wife, my brother and my darling daughter for patiently dealing with me and my mood swings. I love you all the most. More importantly I thank you , my audience, my fans, for whom I work tirelessly . You have stood by me all these years and it's your love that has given me the strength to forge ahead . This is for you !! Welcome #2023 without @baqarnasser , the transformation king, this would not have been possible. Thank you for the best gift ever"