From the benevolent Ramu in Haathi Mere Saathi to the cute Tuffy in Hum Aapke Hain Kaun, our four-legged friends have gifted film-buffs many 'awwww' and 'ouch' moments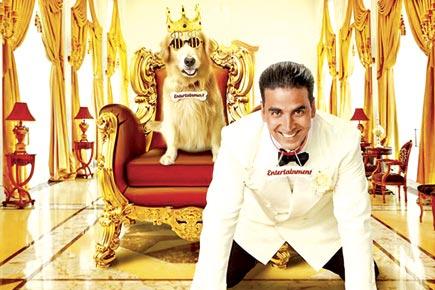 A loving pet is a joy for everyone, including film buffs. Though animal-centric films in Bollywood have been few, they have managed to remain fresh in people's minds.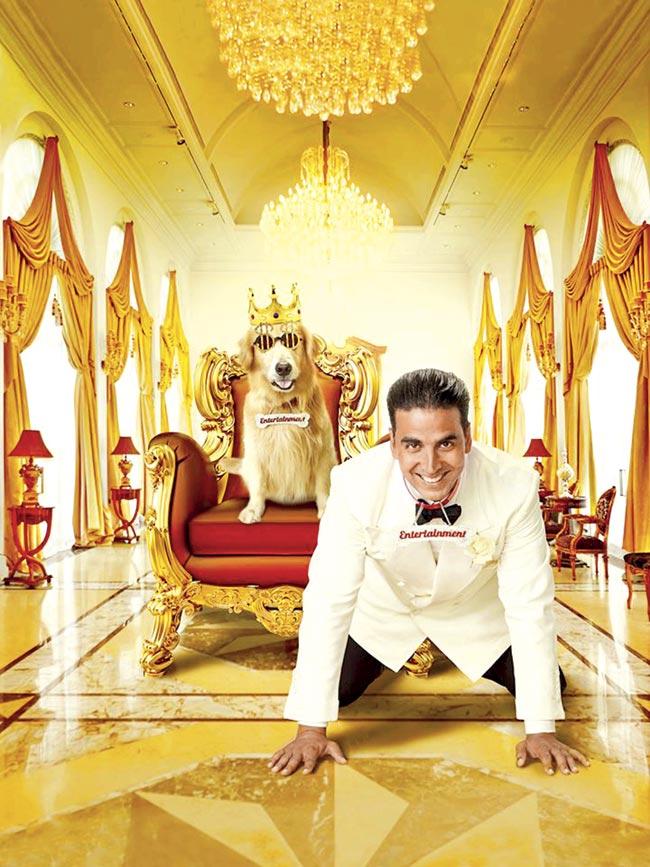 The Akshay Kumar starrer Entertainment features Junior, a Golden Retriever, who is heir to a large fortune
Think Haathi Mere Saathi, Hum Aapke Hain Kaun or Teri Meherbaniyaan, starring Jackie Shroff and wonder dog, Moti. For animal lovers who are looking to watch a 'pet' film, the Akshay Kumar-starrer Entertainment releases next month. It follows on the heels of the social satire, Yeh Hai Bakrapur, which released in May.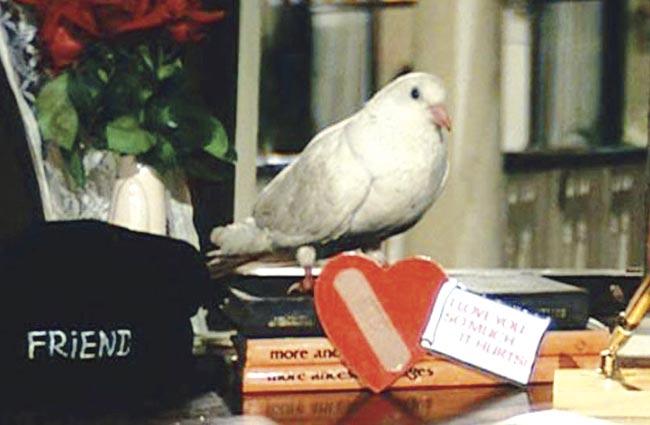 Handsome, the pigeon in Maine Pyar Kiya, made hearts go aflutter
Over the years, the use of animlas in films has undergone a drastic change. The stunts performed by animals in earlier movies have now been banned by animal welfare groups. On set, animals are handled with care, as per the guidelines issued to them. We spoke to a few actors, technicians and directors to trace the journey of animal 'roles' in Bollywood movies.
From old to new
Directed by MA Thirumugham, the Rajesh Khanna-Tanuja starrer, Haathi Mere Saathi, was the biggest hit of 1971. It left the audience in tears, as the elephant Ramu ran behind the villain and sacrificed his life to reunite the estranged couple.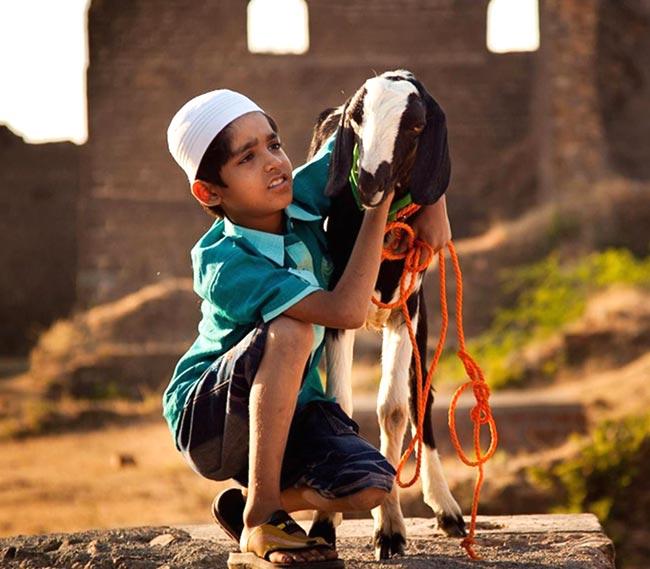 A still from the film Yeh Hai Bakrapur
However, it would not have been possible to shoot that scene today as violence towards animals onscreen is not encouraged. Animals are kept away from loud noises and explosives as per the directives of the Animal Welfare Board of India (AWBI), Chennai. The rules are so strict that you can't even make an animal walk on slippery surfaces without a padded boot for cover.
Talking about the earlier era, choreographer Chinni Prakash says, "You have to be patient with animals. In those days, they had a variety of animals like elephants, horses, monkeys, etc, who only obeyed their trainers. I have seen trainers hit and whip animals to coerce them for a shot. It was a sad sight. With animal activism on the rise, there have been no such instances in past 15-20 years," he explains.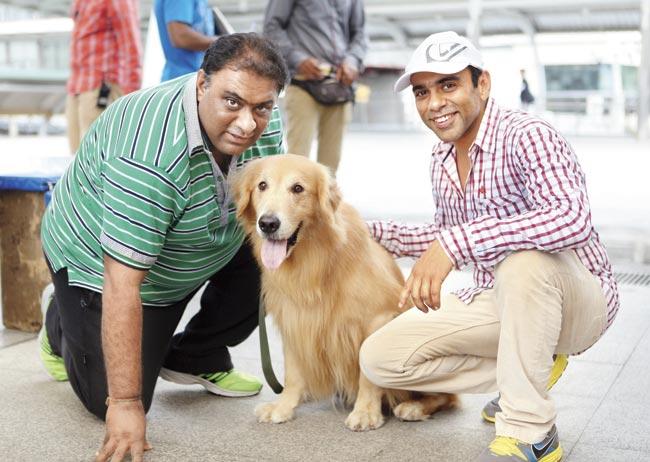 Director duo Sajid (left) and Farhad pose with Junior on the sets of the film Entertainment
In the '80s and '90s, we have seen serials and films where snakes are shown drinking milk. However, snakes don't drink milk at all. It's said that handlers starve them so that they lap the drink up. Likewise, activists have objected to snake dances as well.
What the public perceives as a snake dance is in fact a defensive action against perceived threat. With animal groups like PETA objecting to such 'unnatural' projection of animals, we wonder if we will see another Nagina, where Amrish Puri played a snake charmer.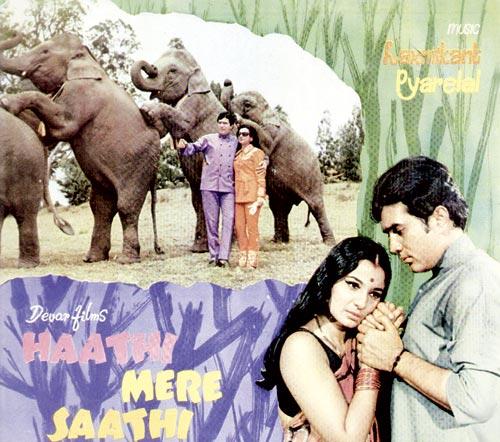 Ramu, the elephant in Haathi Mere Saathi was trained by D Kesava Rao, animal trainer of Great Oriental Circus
Likewise, in many films we saw actors portraying madaris (monkey or bear handlers), but that has too been discontinued. Considering the kind of cruelty that was meted out to these animals teeth yanked off, castration, beating and starvation having proper guidelines in place is definitely a good move.
Trained to entertain?
The role of a trainer is all-important. It's she or he who can make an animal act in the scenes the director wants him to. In the 1991 film, Maa, Jaya Prada avenged her death with help from her pet dog, Dobby, who could see her spirit.
Action director Shyam Kaushal who worked on the film tells us, "Animals, like child artistes, need a lot of love and pampering to perform on the sets. No one likes to hurt an animal.

Yeh Hai Bakrapur's goat Shahrukh once kicked actor Anshuman Jha when he spoke rudely to him
I remember that the dog we used in Maa, Brownie, was a trained one and had performed in quite a few films. He only obeyed his trainer. When such a script comes up, people scout for the right animal months in advance.
We check their physical fitness levels. In case there's a special requirement, extra time is given for training. We can't have an animal learning on the job as every second costs money during shooting." He further says that technology like VFX has made it easier to recreate such sequences without actually using animals.
Super pooches
From loyal pets to avengers and Casanovas (remember Fakhruddin of Kyaa Super Kool Hain Hum KSKHH) the portrayal of dogs in films is quite interesting.
Salman Khan's and Madhuri Dixit's characters wouldn't have got married in Hum Aapke Hain Kaun if Tuffy, the pet pomeranian, hadn't carried Madhuri's last letter to Mohnish Behl, with some divine intervention from Lord Krishna.
The dog umpired cricket matches, watched over an infant, carried notes and played Cupid. It wasn't surprising to see everyone wanting a pet like Tuffy.
In stark contrast, the 1985 film, Teri Meherbaniyaan, had the dog, Moti, avenging the death of his master, Ram (Jackie) and his wife Bijli (Poonam Dhillon). The dog hunts down his master's killers and tears into them with his claws and teeth.
The audiences loved Moti's performance. However, such a film can't be thought of today as exposing animals to explosives, making them jump or fight is not permitted by the AWBI. Even abusive language against dogs is looked down upon by dog lovers and pet owners.
Patience matters
Even for actors, the idea of working with an animal is a daunting one. Actor Anshuman Jha who acted in Yeh Hai Bakrapur, says, "We had to shoot other portions of the film when Shahrukh (the goat) was in no mood to shoot his scenes. Trying to control an animal can be disastrous. You can't force him/her to work or make it give a shot when it's sleepy.
I once lost my patience and spoke rudely to the goat. Shahrukh sensed it and gave me a kick on my calf. That's when I sensed that he understood everything. We kept a separate room for him. He was cared for much more than anyone else. Animal actors need constant pampering. And you have to observe them closely to understand them."
Such an exercise becomes easier for actors who love animals in real life. Apparently, Fluffy the pug in KSKHH took an instant liking to dog lover, Riteish Deshmukh, which made life easier for unit members. Nawazuddin Siddiqui who will be seen with a Labrador in Buddhadeb Dasgupta's film Anwar Ka Ajeeb Kissa, tells us, "Like children, animals can be very moody.
I was apprehensive about the dog's role but Buddhadeb convinced me about him. I remember giving 25-30 retakes for simple shots as the dog refused to comply. However, the effort is worth it as it looks lovely on screen."
It was indeed an exercise in patience for Nawaz, who is not a dog lover per se. Animal lovers can also take heart from the fact that Bollywood actors like Alia Bhatt, Sidharth Malhotra, Ayushmann Khurrana have come forward to support issues like stray adoption and sterilisation.
Fair treatment
According to AWBI, an animal has to be free from physical ailments or injuries before shooting. They should be mentally fit as well. Chembur-based veterinarian, Deepa Katiyal who is associated with various animal groups, tells us, "Animals like dogs and cats are fine on a movie set as they are social animals.
However, elephants, snakes or monkeys have wild instincts and can't be domesticated. Showing exotic birds or creatures as pets in films also promotes illegal animal trade, as people want to own them." With AWBI, PETA and many celebrities coming forward to support animal-related causes, there is a sea change in attitude.
Sajid, of director duo Sajid-Farhad, the directors of Entertainment, tells us, "We auditioned around 100 dogs for the film and zeroed in on Junior. Like any other actor, he too had his entourage of two attendants, a doctor, dog walker and trainers.
We shot all his scenes in at AC mansion so that he wouldn't feel too hot. Likewise, the lighting used in the film was modified for his comfort. The dog's owner was present during the shoot. I am scared of dogs but after shooting with 100 dogs for the climax scene, my fear has vanished."
Tiger, the ultimate predator, is seen as being symbolic of a man's power and bravery. But now, no one can dream of showing a villain who owns a pet tiger. Katya's (Danny Denzongpa) style in Ghatak was to have a tiger as pet while Amrish Puri loved feeding his enemies to his pet crocodiles in Ganga Jamuna Saraswati.
Recently, it was Ajay Devgn who took on a trained tiger in Sajid Khan's Himmatwala. In Ang Lee's Life of Pi, the tiger was a digital one. While the use of real wild animals has stopped greatly in films, it's the roar of kindness towards four-legged creatures that seems to have got stronger.