The pope is that Papa Don (Shukla). His marriageable daughter has taken a shine on the hero, who has other plans in life. She's more of a FOMO fatale, than femme. She liked the boy in school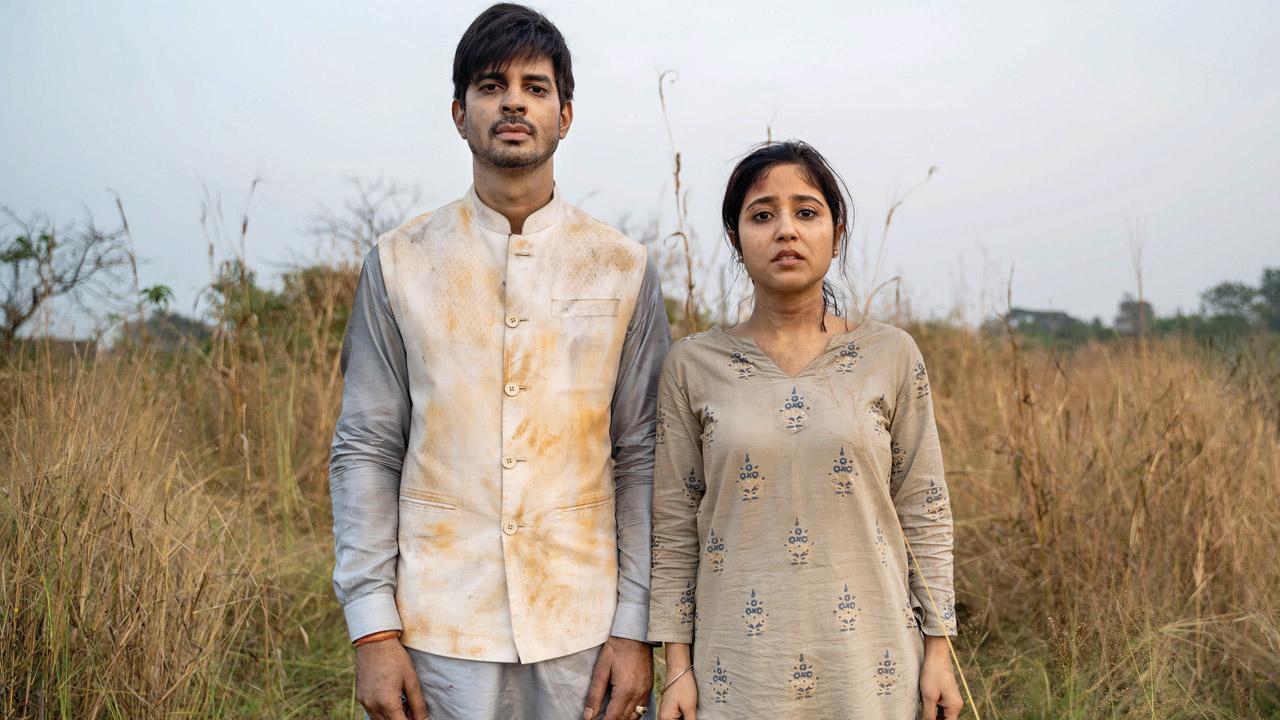 Yeh Kaali Kaali Ankhein
Yeh Kaali Kaali Ankhein
on: Netflix
Dir: Sidharth Sengupta
Cast: Tahir Raj Bhasin, Achal Singh, Saurabh Shukla
Rating: 3/5
The song in which the guy and the girl in this series sort of express love for each other in small-town India, at least brief wise, sounds similar to 'Tu kisi rail si' from Masaan (2015).
And I'm probably imagining this because of the setting, props on screen, words like 'chehekta', 'theherta' in the song, but also the girl before us, Shweta Tripathi, the lead from the same boondock picture.
That said, Yeh Kaali Kaali Ankhein is obviously titled after Annu Malik's original track from the Shah Rukh Khan starrer Baazigar (1993), a groovy version of which plays in the opening credits. 
The girl the guy loves in the 'Masaan type' song mentioned above is not the one he's going to end up with. That's the twist. Which is another girl, who likes him more. In an early scene where these two meet, you watch the 'palat' moment from SRK's Dilwale Dulhaniya Le Jayenge (1995) reprised on screen. 
Sticking to the SRK universe, this series effectively belongs to a Darr (1993) / Anjaam (1994) genre. At least in the first few episodes, frighteningly more real, given that genders are reversed, and I'm a man watching it — basically Ramayan upended with Ravan being a woman.
As an unabashed tribute to '90s Bollywood then, what you have also are the assorted tropes. The hero's best friend, willing to go the extra mile to protect his BFF — also how natural is this actor playing Goldie (Kalp Shah), no less than Pakia from Rangeela (1995). Likewise the larger/central theme of one zindagi, one soul-mate wala pyar, worth giving up life for, over a full-on 'love triangle', so to say.
For all its '90s references still, Yeh Kaali Kaali Ankhein is to Netflix, what Mirzapur (2019) was to Amazon Prime Video. Set in a semi-urban jungle called Onkar, that is fictionalised enough that you can't tell if it's in Uttar or Madhya Pradesh, UP or MP. 
And yet it matters little for you to appreciate the dangerously dark setting, or follow the relatively simple story line. Knock more than a few sequences that prohibit suspension of disbelief, and there's a winner here, pretty much all the way. 
Suffice it to know it's India's Wild West, ruled by a local sovereign, the baap of baahubalis, as it were — the always sorted Saurabh Shukla, who we last saw play the relatively genial Kanshi Ram sort of politician in the Mayawati biopic (Madam Chief Minister, 2021). Which is the great thing about a couple of performances on this show. 
Even as you've seen some of the actors in similar roles in the past, there is something they're pulling off that makes them stand out still. In particular Brijendra Kala, the young hero's foul-mouthed father. Kalra has basically trademarked this part, over a generation at least, and I don't think I've seen him play it this well before!
He's essentially the big don's educated minion. The point being: "Nadi mein rehkar, magar se bayr nahin karte." Translated beautifully in the subtitles: "You don't live in Rome, and fight the pope." 
The pope is that Papa Don (Shukla). His marriageable daughter has taken a shine on the hero, who has other plans in life. She's more of a FOMO fatale, than femme. She liked the boy in school. He didn't like her back. He's remained stuck in her head since. 
Young Achal Singh plays this role. I suspect the one thing she's got right — in her general way of being, and the casual menace — is the best character trait of psychopaths. That they don't look it! She doesn't, which works. The hero is every bit petrified, which is only fair.
That's Tahir Raj Bhasin, the actor whose stars have aligned to a point, that if you switch off Netflix, and head to Voot Select instead, he's the lead there, again, in a biopic type series created by Mahesh Bhatt, Ranjish-e-Sahi, that's dropped alongside. In the cinemas, he's playing Sunil Gavaskar in 83. A couple of weeks down, he appears as the male lead in the Run Lola Run remake Loop Lapeta, opposite Taapee Pannu. 
His character here couldn't have imagined a worse luck, of course. The vulnerability shows. At no point does he overstate his case, neither does he overplay the hurting heartland boy, parodying the pain, accent, et al. 
Which is essential, and a relief. For, as an audience, while we need to be with this guy, we are also in the most familiar terrain, ever — in the midst of the usual lawlessness, among guns and gore, senseless shootouts and subservient cops, gabru jawans and unpunished crimes. 
What the series consequently lacks is novelty, of course. But complexity too? Surely, but that's true for so many similar shows — unless exceptionally layered, and that's rare. They have to carry on beyond the length of a tightly structured feature; after Darr, what? 
The bulge is always in the looo…ng middle. The episodes sustain your interest enough to carry on to the next alright — given the appropriate click bait at the end. We term this binge-watching. But, for a watch, this is actually a breeze. Not a torrent, or something that takes you by a storm, just easy breezy stuff from the boonies; that's what this is. Nope, no complaints, really.