Zara Hatke Zara Bachke begins with yoga teacher Kapil Dubey (Vicky Kaushal) and chemistry tutor Soumya Chawla (Sara Ali Khan) celebrating their second wedding anniversary with the family at their home with a round of cake-cutting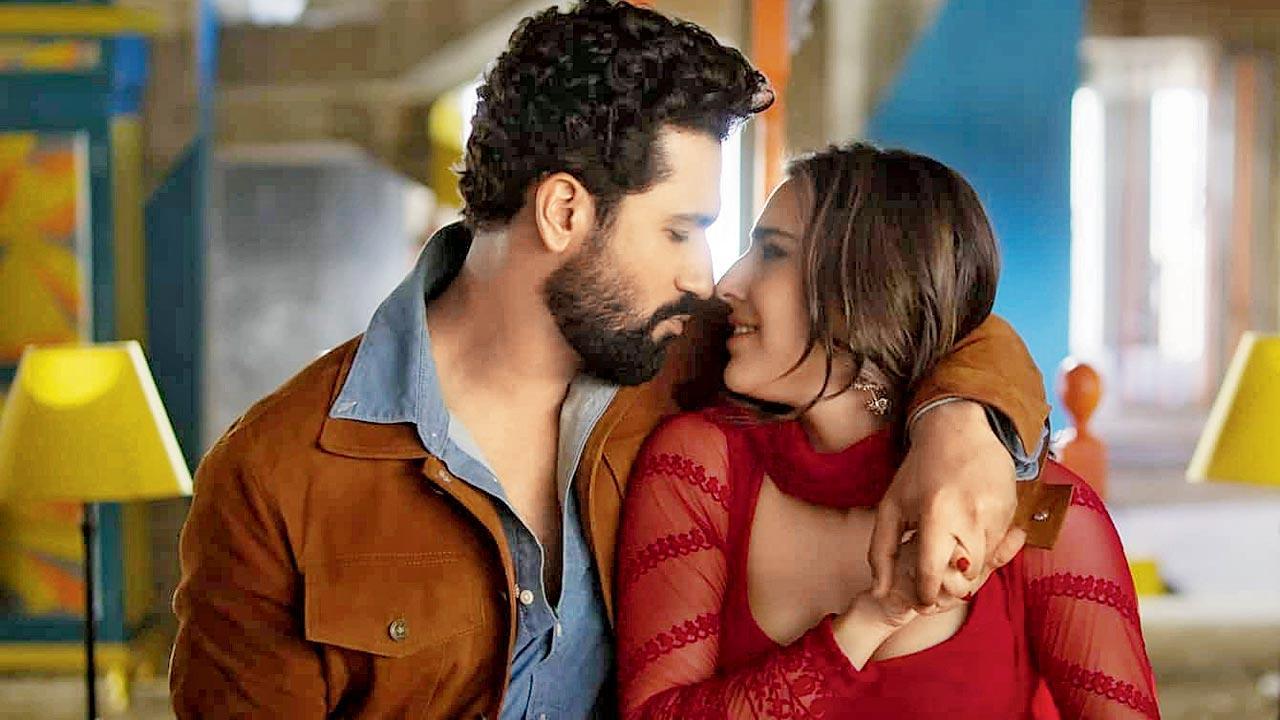 A still from Zara Hatke Zara Bachke
Film: Zara Hatke Zara Bachke
U/A: Comedy, drama
Dir: Laxman Utekar
Cast: Vicky Kaushal, Sara Ali Khan
Rating: 2.5/5
About two years ago, director Laxman Utekar retold the Marathi film, Mala Aai Vhhaychy (2011) with the Kriti Sanon-starrer Mimi. This time around, he addresses a young middle-class couple's struggle to break away from their joint family to own a home of their own with Zara Hatke Zara Bachke. The late Basu Chatterjee had effectively told a similar story with Piya Ka Ghar (1972), a remake of the Marathi film, Mumbaicha Jawai (1970).
ADVERTISEMENT
Zara Hatke Zara Bachke begins with yoga teacher Kapil Dubey (Vicky Kaushal) and chemistry tutor Soumya Chawla (Sara Ali Khan) celebrating their second wedding anniversary with the family at their home with a round of cake-cutting. The celebration is interrupted when the extended family blames the Punjabi bahu for feeding them a cake made with eggs. After sacrificing her room for the relatives who moved in, Soumya is unable to handle the unwarranted criticism and urges Kapil to build their own nest. However, the rising real estate prices dampen their plans of a nuclear family. After their application to buy a home through the Pradhan Mantri Awas Yojana (PMAY) fails, the lovebirds devise a plan to fake their divorce, so that Soumya is eligible to apply. Reason for the absurd plan: The PMAY scheme rejects applicants who have a family home. That's enough to set the comedy of errors into motion.
Kaushal and Khan liven up the proceedings with their chemistry, convincingly bringing out the flavour of middle-class families. Khan aptly essays the brash Punjabi Soumya, who aspires to more from life. Kaushal brilliantly portrays the penny-pinching Kapil's myriad predicaments. The scene where he disguises himself with thick glasses and buck-teeth and recalls their college romance, and a hospital sequence where he tells Soumya that her happiness is all that matters to him are a few examples of his evolution as an actor over the years.
Akash Khurana as Dubey Senior, Kanupriya Pandit as the caustic maami, Rakesh Bedi and Sushmita Mukherjee as Soumya's parents, Himanshu Kohli as the gutkha-chewing divorce lawyer, Inaamulhaq as the crooked Bhagwan Das, and Sharib Hashmi as the society security guard play their parts well.
Utekar has accurately showcased the dilemma of middle-class families, particularly in small cities and towns. The narrative is laced with a good mix of drama and humour. The film lags a bit in the second half and seems to rush towards a positive ending, which has been tried and tested before.
Along with production designers Subrata Chakraborty and Amit Ray, cinematographer Raghav Ramadoss has beautifully captured the essence of Indore, where the story is set, and also taps into the scenic beauty of nearby places, including Maheshwar, a riverfront that locals visit during the weekend.
Zara Hatke Zara Bachke turns out to be much better than the glimpses we caught in the trailer. Utekar could have done a lot with the subject to make this 132-minute-long narrative more engaging and engrossing. But that can be said about most movies, no?