The biggest mistake 'Insurgent' makes is that it's deadly dull — in trying to develop characters, the film snakes through at lumbering speed. The only person in the movie who brings some genuine emotion is Shailene Woodley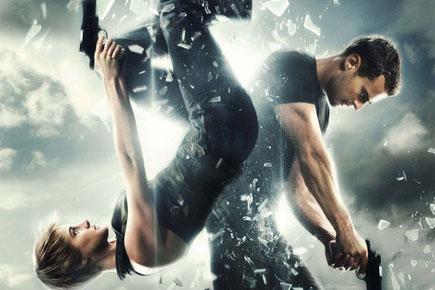 'Insurgent' - Movie review
'Insurgent'
U/A; Adventure/Sci-fi
Director: Robert Schwentke
Cast: Shailene Woodley, Theo James, Kate Winslet, Jai Courtney
Rating:

Shailene Woodley and Theo James in 'Insurgent'. Pic/Santa Banta
By this point the Young Adult genre has not only reached its peak, but also crumbled to its lowest, attempted a resurgence and then limped again. Thanks to the success of 'Twilight' and 'Hunger Games', it's clear that everyone in Hollywood wants a piece of the Young Adult pie. It's clear that somehow the formula is working because no matter how bad the movies are, the films seem to earn three or four times their budget at the box office.
Last year saw the emergence of 'Divergent', another post apocalyptic science-fiction drama-adventure, featuring an emotional but heroic female teen. It certainly wasn't as good as 'The Hunger Games', and Shailene Woodley, although a worthy replacement for Jennifer Lawrence, could not hold together the flimsy material of the script. It still made money. So, we now have a sequel with a predictably bigger budget. But it doesn't really work.
The story picks up where the previous film left off, and is hugely a derivative of 'Hunger Games'. The tyrannical leader of the post apocalyptic organisation Jeanine (Kate Winslet) doubles down on the young leader of the rebellion Tris (Woodley) who is on the run. A bunch of people from other rebel factions (Octvia Spencer, Naomi Watts) join forces with Tris to once and for all usurp Jeanine to find freedom. Along the way, Tris shares screen time with all three of her love interests from her major films last year — Ansel Elgort from 'The Fault In Our Stars' is her brother, Miles Teller from 'The Spectacular Now' is an antagonistic friend, and Theo James from 'Divergent' is her love interest.
The biggest mistake 'Insurgent' makes is that it's deadly dull — in trying to develop characters, the film snakes through at lumbering speed. It doesn't really work because there is neither a backbone of a good story nor are the characters fresh or interesting — they are the same stone cold emotionless faces from nearly every Young Adult adaptation. The only person in the movie who brings some genuine emotion is Woodley, but its too much for her to carry the flimsiness of the rest of the film on her shoulders. The central romance is cringe-inducing at best and the lack of excitement and action only takes you further away from the film. Whatever little dose of action is present is rendered in cheap looking CGI, which hammers the final nail in the coffin. It remains to be seen if a third instalment arrives next year because as a second film in a series, 'Insurgent' is a dud.