Right from the opening sequence itself, director Jon Favreau holds you spellbound. The photo-realism is breathtakingly original and the CGI rendering is exceptionally credible. 'The Jungle Book' is a must-see for all - irrespective of species, age or gender!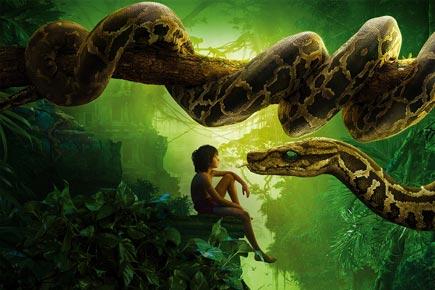 'The Jungle Book' - Movie Review
'The Jungle Book'
U/A; Adventure/Fantasy/Drama
Director: Jon Favreau
Cast: Neel Sethi, Bill Murray, Ben Kingsley, Idris Elba, Lupita Nyong'o, Scarlett Johansson, Christopher Walken, Giancarlo Esposito
Rating: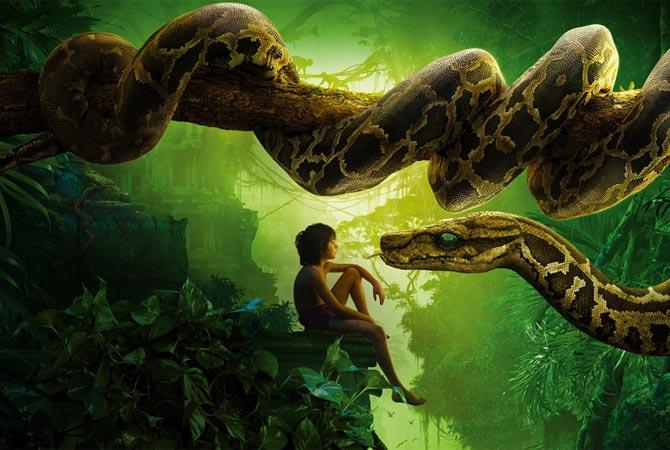 A still from 'The Jungle Book'. Pic/Santa Banta
Rudyard Kipling's India centered 'The Jungle Book' gets re-imagined by director Jon ('Elf', 'Iron Man') Favreau in this fabulously mounted, vividly 'real'ised Walt Disney production. We've seen many memorable versions of the ever-popular classic tale and several TV series have also done well in capturing the ethos of Kipling's unique creation, but none as much as this current Jon Favreau version. Of course, there's more competition yet to come in the form of currently shooting Warner Bros' live action version 'Jungle Book Origins' directed by Andy Serkis and boasting a star cast like Christian Bale, Benedict Cumberbatch, Cate Blanchett and Andy Serkis himself, expected in 2017. I guess that's another story waiting to be written about.
Let's get back to Favreau and his wonderful attempt to give Kipling's characters a stunningly realistic flourish. Right from the opening sequence itself Favreau holds you spellbound – taking you deep into the jungle setting, a foliage drenched wilderness that is both intimidating and vibrantly alive. The black panther Bagheera (effectively dramatised by Ben Kingsley) narrates the much loved, familiar story. He is the one who watches over the orphaned Indian boy Mowgli (Neel Sethi looks the part and lends it much needed energy) who was raised by wolves Akela (Giancarlo Esposito) and Raksha (Lupita Nyong'o), trained by monkeys and has stayed alive in that predatory environment thanks to a truce agreed upon by all inhabitants of the forest. The truce allows all animals of the region to assemble at a watering hole without fear of attack from their natural predators. This comfy animal kingdom allows for many exciting and tense encounters within its vividly enchanting folds – that which is largely dependent on Justin Marks' amiable script, which deigns to redesign the animal kingdom into a quasi-humanistic community. Shere Khan (Idris Elba) still comes across as menacing, Kaa, the enormous tree dwelling serpent has a hypnotically treacherous voice rendered oh-so-seductively by Scarlett Johansson, and Baloo (Bill Murray), the lovable bear's addiction to honey is cause for great revelry. The regular characters are also all there doing their bit to register bonhomie and dramatic conflict in equal measure. A baby elephant and a cute porcupine lend comic relief. A standoff with Shere Khan gives Bagheera cause for a rethink on Mowgli's future in the jungle. Mowgli volunteers to leave in order to keep the peace while Bagheera endeavors to be his protector up till the nearby human village.
The Jungle, once a happy place, is now not-so-happy anymore. For Mowgli and Bagheera, though, the treacherous trek across increasingly inhospitable landscapes and encounters with all kinds of animals is the kind of dark dangerous adventure that will help establish their own innate abilities and strengths.
Favreau's treatment eschews kid friendly conventions and stays clear of sweetened ingratiation. The attempt is to make the coming-of-age experience as grittily thematic, realistic and conscionable as possible. The photo-realism is breathtakingly original and the CGI rendering of the animal fold is exceptionally credible. The drama and treatment may border on conventional but the animal renditions are definitely not. Cinematographer Bill Pope and the VFX team led by Robert Legato and Adam Valdez integrate real time sequences with animation so brilliantly that it's difficult to pinpoint the differences. It's seamless, proportionate and way above anything that has come before. A must-see for all - irrespective of species, age or gender!