'Million Dollar Arm' has its heart in the right place, but there are moments where it gives in to clichés and appears rather predictable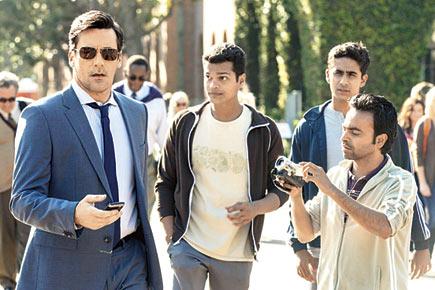 'Million Dollar Arm' review
'Million Dollar Arm'
U: Drama
Director: Craig Gillespie
Cast: Jon Hamm, Suraj Sharma, Madhur Mittal, Pitobash, Aasif Mandvi, Alan Arkin
Rating: 


Still from the film 'Million Dollar Arm'
Baseball may have not caught on in India; it's not often that you mention both in the same sentence. But Million Dollar Arm brings them both together. There has been no dearth of inspiring sports movies in Hollywood, but none have touched upon both baseball and cricket. In this regard, Million Dollar Arm scores a home run. This biopic has its heart in the right place, but there are moments where it gives in to clichés and appears rather predictable.
Centred around an out-of-luck sports agent (Jon Hamm) who is trying to save his independent business, the film shows you what it's like to scour talent in India. Hamm's character is seeking players who would be able to throw a baseball at higher than 80 mph. In a country obsessed with cricket, that should be an easy task, right? Except that isn't. In spite of the odds against him, he manages to spot two suitable boys (Suraj Sharma and Madhur Mittal). Now, all he has to do is to fly this them to the USA and groom them for professional trials. As simple as the plot seems to be, the film does capture the Indian boys' culture shock, their longing for home and their diffident moments while pursuing success.
If you've watched Jerry Maguire (1996) and Moneyball (2011), you'll have an idea where the story is heading. You see slivers from Slumdog Millionaire (2008) — not just in the title — thanks to its rags-to-riches angle. Having said that, Million Dollar Arm is relatively low on drama. Once again, AR Rahman's music makes a mark.
As far as onscreen performances are concerned, every single character is spot on. Be it Hamm (popular for his no-nonsense act in Mad Men) for his portrayal of the tense-yet-understanding agent or Pitobash who displays his love for baseball. Sharma (of Life of Pi fame) gets very little room to show off his talent, though Mittal is convincing as he plays a straightforward player. Aasif Mandvi is noteworthy in his role even as Alan Arkin's talent scout wins you over.
The fact that the film is based on a true story does help it pack a punch. The only trouble is that its knock could have been much harder.