A fly-on-the-wall account from deep inside the sets of Christopher Nolan's film Tenet starring Dimple Kapadia outside Mumbai's iconic Cafe Mondegar in Colaba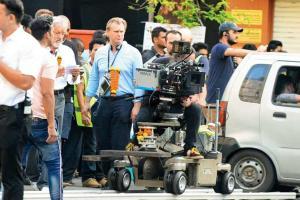 Nolan spearheads the shoot outside Cafe Mondegar. Pics/ Suresh Karkera
For the suburban Bollywoodwallahs, a trip to Colaba is not a particularly pleasing thought. It's even less appealing when the shoot's call time is 5.30 am. A stylist friend asked if it was an Akshay Kumar shoot since he is infamous for his early morning call time. "Even better," was the reply as we dashed off to see filmmaker Christopher Nolan open his week-long schedule of Tenet in the city.
Sitting a lane away from Regal cinema, iconic pub Café Mondegar, known as much for its vintage jukebox as for its Bifteck Alla Supremo, was cordoned off with barricades, and manned by brawny security guards. A few inquiries among the 150-odd extras present at the scene helped us learn that the film's on-ground production unit had been in discussion with the café for permissions to function out of their premises. A well-informed hanger-on told us the café's partners were clear they wouldn't mess with their weekend loyalist crowd, and in turn, the unit agreed to shoot in the wee hours of Monday.
The action started at 4.30 am when an over 80-member crew, donning fluorescent green jackets, started setting up the market area of Colaba Causeway characterised by cheek-by-jowl stalls, to make it look like another busy morning in SoBo. The heavy equipment was stationed in the adjacent lane where kebab king Bademiya operates from. The place was packed with young extras fighting their sleep, waiting for filming to begin. Prodded on how much they were being paid for the day, one of them said, "Jitna har film ka milta hai!"