This film tacks on the contemporary by way of social media obsession and the overall experience also feels typically like a tik-tok / youtube generated one rather than a solid hard-earned thriller with vertiginous elements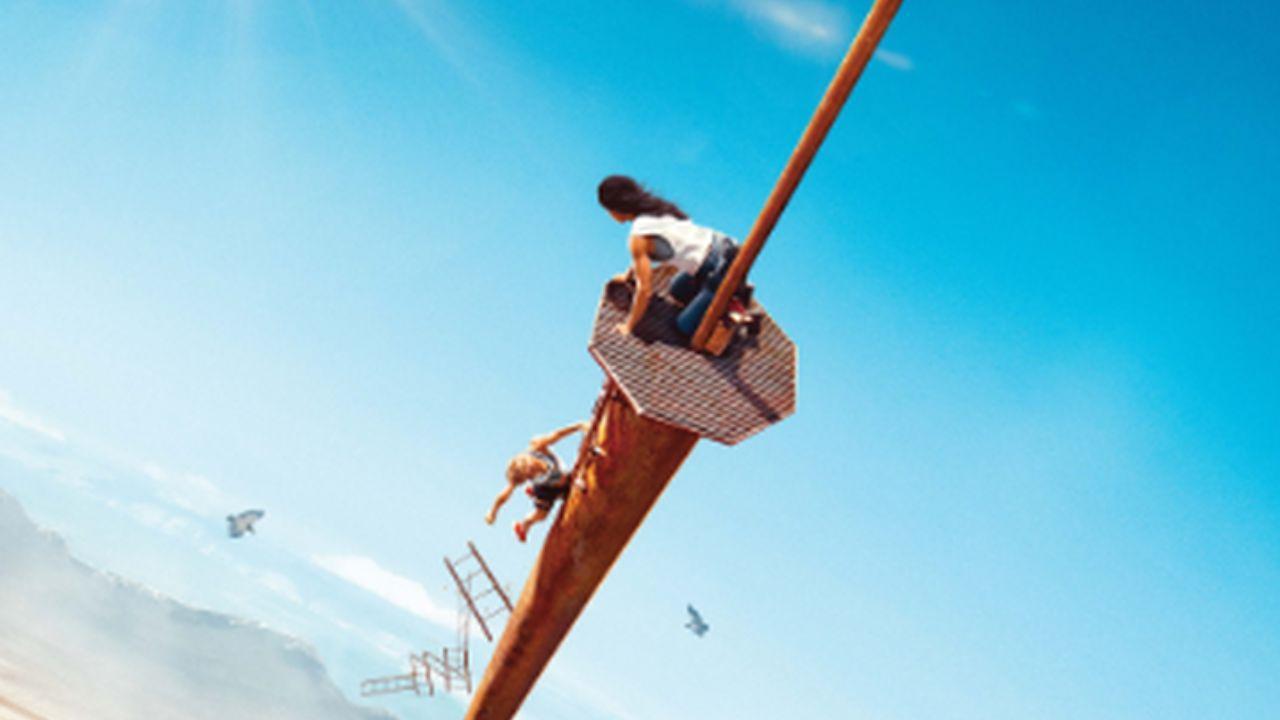 A still from the film
Film: Fall
Cast: Jeffrey Dean Morgan, Virginia Gardner, Grace Caroline Currey, Mason Gooding
Director: Scott Mann
Rating: 2.5/5
Runtime: 107 mins
This film tacks on the contemporary by way of social media obsession and the overall experience also feels typically like a tik-tok / youtube generated one rather than a solid hard-earned thriller with vertiginous elements.
What can you make of a story that has the 20-something heroine Becky (Grace Caroline Currey), shown drowning her sorrows following the tragic death of her husband Dan(Mason Gooding) in a climbing accident in which she and her friend Hunter (Virginia Gardner) were an unwitting party to - go off on yet another adrenaline chasing climbing expedition 51 weeks after the accident (with above-mentioned bestie), hung-over and without any prep or safety precautions in place? It's pure gas if you ask me.  
A 'B' grade thriller, this film does fairly well to build a fair bit of taut suspense and increments its thrills along the way before it falls completely flat with a twist that comes across as totally incredulous - belying much of what came before it. In fact, that is the only unpredictable element in a film that earns its brownie points by staging predictable hardships that one can see coming from a mile back. Becky's retrospective recall sinks the narrative to depths beyond saving.
Also Read: 'She Said' movie review: Faithfully Sublime Recant
A true climber can easily pick plenty of holes in the screenplay by Scott Mann and Jonathan Frank which focuses its mite mainly on visual alchemy rather than logical, practical, or plausible flow. This script basically overturns '40 feet under' by getting the girls to go 2000 feet over the ground on a rusty, creaky, unsafe radio/TV tower that no sane person would have ever attempted to climb. There's no doubt adrenaline junkies are thrill seekers and put their lives at risk every time but they also make sure they take all the necessary precautions to be able to go all the way to their potential summit. These two women make this 'high wire act' a lark, making it seem like the potential for humungous youtube likes is far more important than their lives. They climb all the way to the summit by means of a shaky, dilapidated ladder which conveniently gives way just when they are all set to attempt a climb down.
Mann and his team make the most of this largely single-location movie by setting up possible scare points. You see vicious hungry vultures feeding off a live desert dog as the girls are on the verge of beginning their climb, and nuts and bolts fall off on their way up.  
The first 15 -20 minutes of this movie are far more exciting and believable than what comes after. The staging of Dan's accident while climbing a sheer impregnable rock-walled mountain face comes across as pretty much legit. The narrative could have just run that course and generated enough believable thrills while getting the two women out of harm's way thereafter. But that was not to be. Scott Mann cuts out after the fall to a new adventure that fails the challenge and logic test.
Also Read: 'Violent Night' movie review: A brutal sacrilege of the season of good cheer
DoP MacGregor hand-held camera uses inventively vertiginous angles and shots of the multi-hued sky in the Mojave desert to compensate. Tim Despic's musical score helps us be swayed by loud orchestrations. But the two women yakking all through the ordeal is pretty much hard to take.  
Implausible in execution, ineffective almost casual performances and choices that counter physics make this a misfire. This predictable journey may seem entertaining to some but for the purists, its lack of conviction will be hard to swallow! Has Bigg Boss 16 lived up to your expectations?