The biggest selling point of the film is obviously the dazzling visual effects and the musical score. Gunn's "Vol. 3," the longest of the trilogy, plays more to negative emotions than positive ones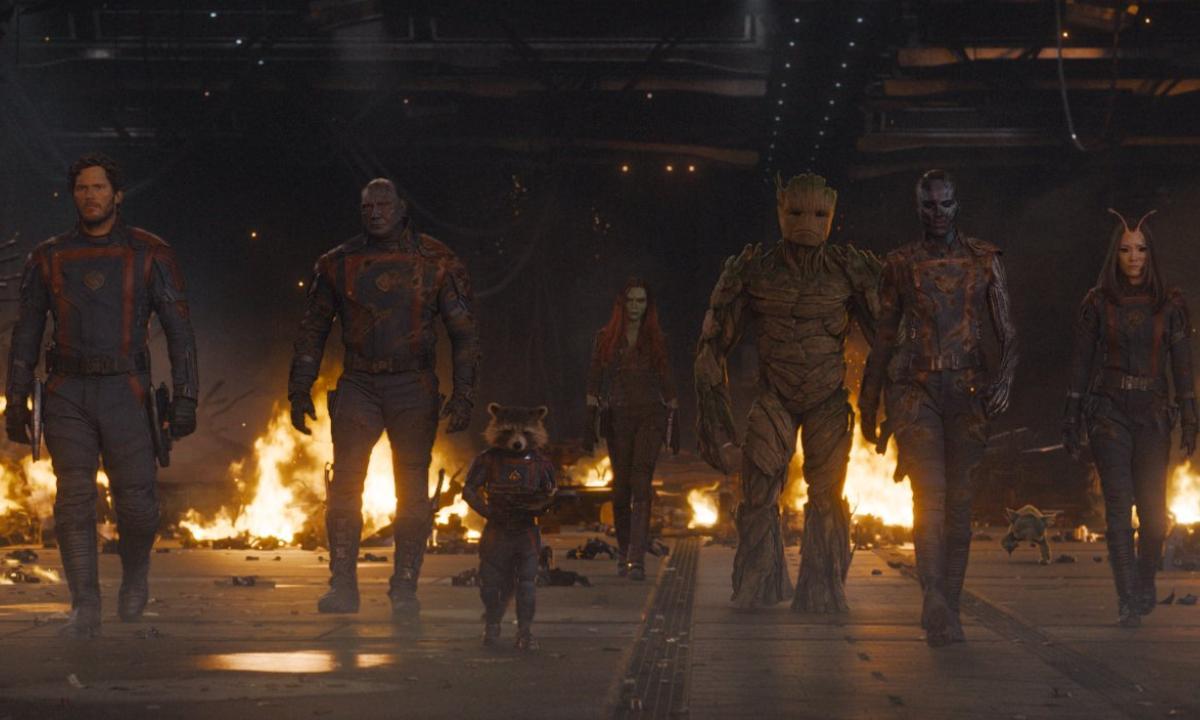 (Pic courtesy: Twitter)
Film: Guardians of the Galaxy Volume 3
Cast:  Chris Pratt, Dave Bautista, Chukwudi Iwuji, Bradley Cooper, Zoe Saldana, Karen Gillan, Pom Klementieff, Vin Diesel, Sean Gunn, Sylvester Stallone, Maria Bakalova, Michael Rosenbaum, Daniela Melchior 
Director: James Gunn
Rating: 3/ 5
The 'Guardians of the Galaxy' originally created by Gene Colan and Arnold Drake as a team of heroes from the 31st century got its revamped D-list character line-up as now seen in the MCU, through writers Dan Abnett and Andy Lanning.
ADVERTISEMENT
The Galaxy cinematic universe, planned as a trilogy, has now come full circle with Vol 3 becoming the swan song for writer/director James Gunn and his Galaxy oeuvre, as he jumps onto the Warner Bros. bandwagon, ostensibly, to run DC Studios.
 
Vol. 3, this third and final instalment, opens with Peter Quill (Chris Pratt) drinking himself into a stupor, still pining over the death of his beloved Gamora (Zoe Saldana) - as an acoustic version of Radiohead's "Creep" plays on in the background.
This movie is all about Rocket (Bradley Cooper), his creation from a genetically engineered experiment by the High Evolutionary (Iwuji), a mad scientist who wants to create a perfect society through eugenics, and how Rocket has now reached the stage where he is all set to take control of the Zune.
But before that can happen, the Guardians are attacked by Adam Warlock (Will Poulter), a golden warrior created by the Sovereign. So Peter Quill is forced to come out of his stupor and rally his team to save Rocket from a near-death situation. This mission could well mean the end of the Guardians, if not successful.
The popular and distinctive Marvel franchise which follows the adventures of a ragtag team of cosmic heroes is served as a goodbye to a set of characters and films with weird, strange stories. It's a rather befitting, fairly thrilling, intermittently funny, and strongly emotional conclusion to the trilogy.
The main story delves into Rocket's tragic backstory with flashbacks of young Rocket's cage mates (other critters with crude cybernetic enhancements) interspersed throughout the runtime.
Some of the jokes are a bit too silly and the tone is a bit confusing at times. But it makes up for that with an emotional track that captures your heart and makes you feel. This is not a perfect film. Adam Warlock appears brainless and the main villain has little scope to stand tall as powerful and forbidding. 
 
The movie has action, comedy, and drama in good measure. The action scenes are well-choreographed and thrilling. The best sequence here involves a hallway battle set shot in one continuous take.  Pratt and Cooper as Quill and Rocket, who struggle with their identities and purposes, have emotional heft.
Saldana and Karen Gillan as Gamora and Nebula, who grapple with complicated sisterhood appear to have found some meeting ground for peace to evolve. Drax, played by Dave Bautista, has funny dialogue to keep us invested in him while Pom Klementieff continues to play up her sweetness and charm as Mantis.
Vin Diesel and Sean Gunn as Groot and Kraglin also make their presence felt. Among the new characters, Maria Bakalova steals every scene as Cosmo the Spacedog, a telepathic Soviet canine who helps the Guardians while the returning Sylvester Stallone (as Stakar Ogord) leads a team of Ravagers that includes Michael Rosenbaum as Martinex and Daniela Melchior as Ura, has cameo moments that are distinctive.
Also Read: 'Polite Society' Movie Review: Dissing tradition in racy, Kick-ass, comic style
The visual palette is vibrant with colors and designs. Henry Braham's cinematography and the assorted CGI, capture it all with inventive flair. Fred Raskin's editing helps keep up the pace while catchy mash-up music by John Murphy sets the tone and mood of each scene.
The biggest selling point of the film is obviously the dazzling visual effects and the musical score. Gunn's "Vol. 3," the longest of the trilogy, plays more to negative emotions than positive ones. His attempt to conjure an epic, a semi-biblical set piece in the final act feels half-hearted and unrealised.
This final act may be fairly ingratiating but the overall drop in quality from the first two volumes is clearly visible. It may not necessarily imperil a cash run at the international Box-office though!
"Exciting news! Mid-day is now on WhatsApp Channels

Subscribe today by clicking the link and stay updated with the latest news!"
Click here!