Ever since Henry Cavill's The Witcher has hit the web, fans can't stop comparing the twisted plot with George R.R. Martin's Game Of Thrones.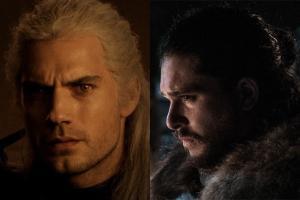 Geralt of Rivia played by Henry Cavill; Jon Snow played by Kit Harington
First and foremost, if you are a die-hard Game Of Thrones fan, you'll surely and strongly disagree with this comparison. The stories aren't the same. The mythologies are worlds apart, and of course, the character sketches of The Witcher are distinct from what we have seen in Game Of Thrones.
Many have found the new fantasy drama somewhat along the lines of Game of Thrones for all the obvious reasons. Firstly, the brooding Witcher, played by Henry Cavill, is compared to Jon Snow. But the White Wolf has his own quirks, as did the Bastard who knew nothing. Henry Cavill being a mutant is said to lack feelings, which leaves his personality more perplexing than Jon's. On the other hand, the king of the North was sensitive and warm, which made Ygritte fall for him in the series. On the other hand, Yennefer of Vengerberg does not remind us of the Mother of Dragons. You ask why? We have multiple reasons for this one too!
Yennefer, unaware of the power she possesses dives into her sorrows, which eventually make her more powerful as the episodes move forward. Daenerys fought for her rights when backstabbed by one of her subjects. Yennefer makes sure she is the only chaos in the entire room. Her ability to transform from a meek farm girl to an all-powerful mage will leave you startled.