This fourth installment, a collaboration between stuntman turned director Chad Stahelski and the never-say-die Keanu Reeves, multiplies every element that made the series so popular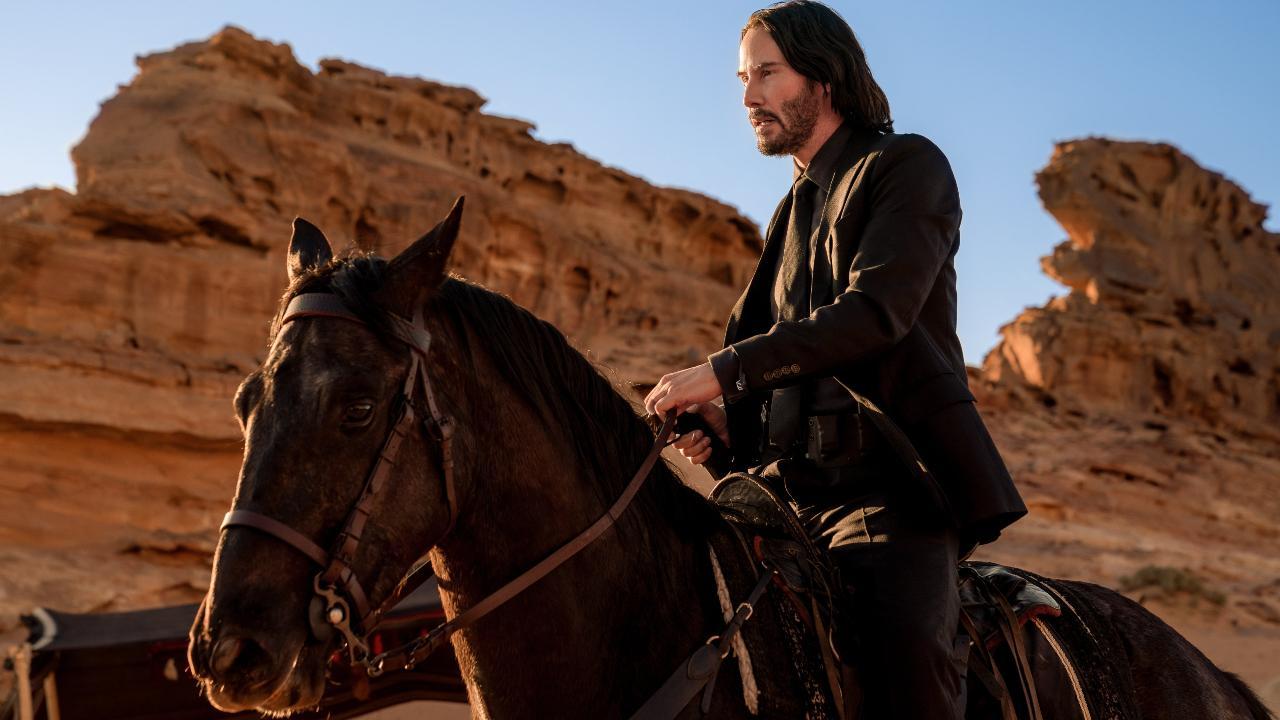 (Pic courtesy: Twitter/ John Wick: Chapter 4)
Film: John Wick: Chapter 4
Cast: Keanu Reeves, Donnie Yen, Bill Skarsgård, Laurence Fishburne, Hiroyuki Sanada, Shamier Anderson
Director: Chad Stahelski
Rating: 3/5
Runtime: 169 mins
Most action franchise entries try to get bigger and wilder than their predecessors and John Wick Chapter 4 is no different in that. This fourth installment, a collaboration between stuntman turned director Chad Stahelski and the never-say-die Keanu Reeves, multiplies every element that made the series so popular. It's therefore one of the most violent films ever to hit the screens. And at nearly three hours of runtime, it's also quite tedious for those looking for intellectual stimulation. What you get though is no-holds-barred designer action set pieces that will have the action fans going ga-ga!
 
The nods to classic genre flick like Spaghetti westerns and Japanese Samurai films and the never-ending stream of unbelievable stylised and overly extended action is likely to get the fans into a frenzy. Chad Stahelski takes the final half hour to great new heights - offering up one of the most rousing action sequences ever seen. 
 
The very fact that we are now seeing a fourth installment means that John Wick survived all that brutality he was subjected to by the end of 'Parabellum.' He has now resumed his battle with the High Table organization. The storyline here tries hard to bring in some outside scenery by having Wick riding a horse in a chase sequence in the desert and then have him globe-trotting to various locations around the globe.
ADVERTISEMENT
John Wick (Keanu Reeves) is shown as being in training, preparing for battle as he continues his ongoing quest to be free once and for all of the clutches of the criminal masterminds who have targeted him for their kill. The showdown in Japan involves John attempting to cancel his ex-communication and then go to Berlin to face Killa (Scott Adkins). En route, he calls in help from his old friends the Bowery King (Laurence Fishburne) and Winston (Ian McShane).
 
The fight scenes are striking - albeit quite unrealistic though. There are some adrenaline-gushing moments peppered throughout, but the best happen in Paris - a fantastic staircase sequence, a gun battle in a Parisian apartment, and another one amidst hectic traffic around the Arc De Triomphe. The cinematography, editing, and CGI combine to produce gorgeous, brutal, and completely inventive iconography. 
Also Read: 'The Fabelmans' Movie Review: Fab
The screenplay (by Shay Hatten and Michael Finch) introduces a bratty villain called Marquis, another in Caine - a blind man who uses his sharp senses to take out challengers and also has Wick meeting up with Shimazu (Hiroyuki Sanada), an old friend and the manager of the Continental Osaka. Shimazu's daughter Akira (Rina Sawayama) also has a meaty part to play here and so does Mr. Nobody (Shamier Anderson), a tracker looking to keep John alive to increase the payday for his death.
The narrative encompasses lengthy combat sequences, fast-paced blood-letting action, endless shoot-outs, and a humungous body count with bucketloads of blood to go with it. The sets are huge and easily destructible, the lighting is jazzy and complimentary and the weapons include arrows, nunchaku, guns of all kinds, samurai swords, knives, and explosives. The series suffers from sequel fatigue with no new story to tell but the visuals don't let up - there's complex CGI at play here. The film ends on a bloody high and one would hope that the series would wave a final goodbye…but do legends ever die?