'Baahubali 2' is, firstly, a stand-alone film. The Conclusion doesn't preclude the audience that hasn't caught The Beginning. It is in fact a much, much better movie, and one rarely says this about sequels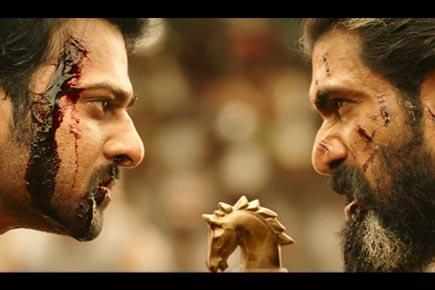 'Baahubali 2: The Conclusion' - Movie Review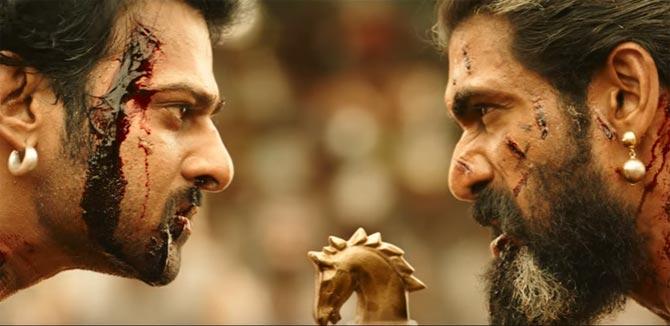 'Baahubali 2: The Conclusion'
'Baahubali 2: The Conclusion'
U/A; Fantasy/Action/Drama
Director: SS Rajamouli
Cast: Prabhas, Rana Daggubati, Anushka Shetty, Tamannaah Bhatia, Sathyaraj, Ramya Krishnan
Rating: 

Over the past two years, the question dominating India's popular culture has been, quite simply, 'Kattappa ne Baahubali ko kyun maara," so much so that I realised from an interview of the film's phenomenal director SS Rajamouli, the query in itself is referred to in the abbreviation: "WKKB"—Why Kattappa Killed Baahubali (sic).
At least based on my own spot-poll among work-mates, what's more significant is that people actually do not remember details of 'Baahubali: The Beginning' (2015), this film's prequel. Which is fair. Incidentally it was about a young man Shivudu (Prabhas: majestic in the first part, as in the second), who enters the mythical kingdom of Mahishmati, to realise he has a history with the place, and practically everyone recognises him to be Mahendra, the lookalike son/heir of Amarendra Baahubali, chief claimant to the crown, who was supposedly slain by his own loyal bodyguard Kattappa (Sathyaraj).
Mahishmati is currently ruled by Bhalladev (Rana Daggubati), a tyrant who's deviously risen to the top, and who believes in looting public money, to build a massive statue. If you can sense a modern analogy, well, sub-text lies in the eyes of the ticket-holder. This film is about the rise and fall of the father Amarendra Baahubali.
Did you really need to jog your memory though? No. Like a fine-dine restaurant over a franchise, 'Baahubali 2' is, firstly, a stand-alone film. The Conclusion doesn't preclude the audience that hasn't caught The Beginning. It is in fact a much, much better movie, and one rarely says this about sequels. What has drawn you into the theatre already is the action, special effects, and scale of production—all of which was a given, and there is no disappointment on that front at all. For an Indian movie, you're equally stunned into absolute disbelief.
But this film also actually ends up telling a more well rounded story, encompassing both humour—mainly between Baahubali, and Kattappa—and romance, even if an unlikely one, between Baahubali, the designated king pretending to be serf, and Devasena (hardly a 'Helen of Troy', sadly), the princess of a relatively smaller kingdom.
It is an epic all right (scripted by the skillful KV Vijayendra Prasad, who incidentally wrote Baahubali in the same year as Salman Khan's 'Bajrani Bhaijaan'). Like all epics— right from pre-historic mythologies (Greek, Indian, Roman)—there is the terrible villain, and an impossibly righteous hero. The conflict at the centre of this battle for power concerns 'jar and joru', or wealth, and woman, weaving in basic human emotions like jealousy, envy, greed, lust, and pride, that connects with everyone, regardless of where you're from.
And hence a film from Hyderabad that's rightly captured the imagination of the entire country, with audiences, for once, sitting and looking up in sheer awe, clapping at the right moments, hooting excitedly. Frankly I can't recall the last time I pre-booked an 8.10 am first row, first day, first show, in a completely packed hall.
Of late, Indian cinema has been more about films that should ideally be watched online, and if it's a franchise, even better. On a television series now on platforms like Netflix, you don't even have to wait weeks or months to catch all the episodes.
What Baahubali does is show the future of Indian big-screen cinema, if it has to survive the onslaught of Hollywood, or move beyond Rajini, Khans, Kapoor, and Kumar, to begin with. The manager in my theatre says he plans to start Saturday shows, 6.30 am onwards. I can't think of a better way to start your day. The excitement is totally worth it.