Talking about how the three main ones came to be, the child says, Spider-Man got bitten by a spider, unsure what happened to Batman, and nothing on Superman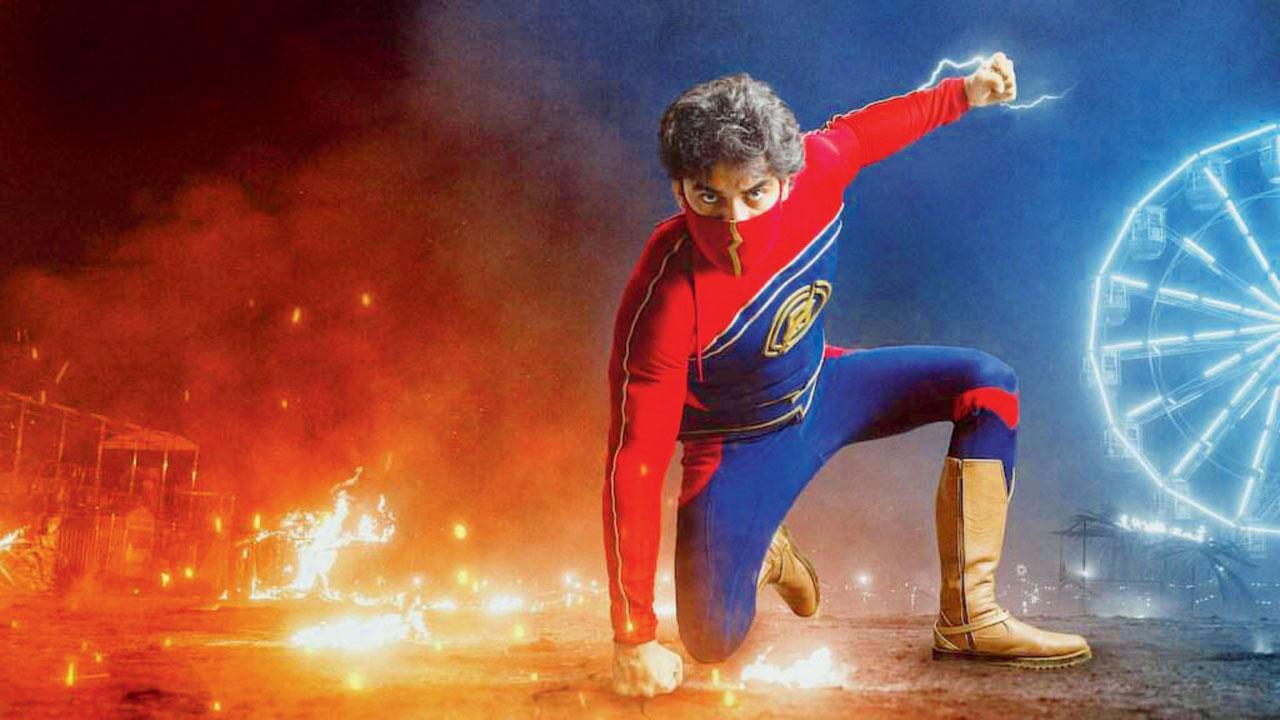 Minnal Murali
Minnal Murali
On: Netflix
Dir: Basil Joseph
Cast: Tovino Thomas, Guru Somasundaram
Rating: 4/5
This film starts off with the hero (top-class Tovino Thomas), a tailor by profession, dressed in fake Adidas/Abibas, Lacoste/Lowcoste tees, with George Michael's cross for ring in one ear, and public gathered around Doordarshan on TV. Giving a sense that we are comfortably placed in/around 1980s.
Which also sort of coincides with super-hero origin films becoming quite the thing in Hollywood — gluing young children into the genre, that's been impossible to wean them away from, once they've turned into doddering old adults still.
Minnal Murali is very much a super-hero movie. But the lead character here, whose accidental rise as a man with superpowers we are to witness, knows nothing about white people who've saved the world before him. 
America is where he wants to go, in search of a better life. But he's essentially situated in a remote village in Kerala called Kurukkanmoola. A kid gives him a refresher course on American superheroes instead. 
Talking about how the three main ones came to be, the child says, Spider-Man got bitten by a spider, unsure what happened to Batman, and nothing on Superman. What the kid should know, from the three, Superman was the only one already born with the powers that he's told to conceal from public all his life, so as not to cause panic.
In the adorably minimalistic Minnal Murali — that's still more than adequately snazzy, in terms of special effect; first-rate by way of scale and general world-building — the ordinary man transforms into a super-hero, struck by lightning on a particular night, when planets have uniquely aligned. But he discovers his powers along the way. And isn't particularly interested in showing off either. 
That adds to the allure, yes. But also the gradual discovery turns this into a really enjoyable children's film, packed with humour, foremost. Which all families hope for a good one during the holiday season (this is that film); and you ought to hook kids first, because it's not like Minnal Murali has a written comic-book history already (that at least I know of).  
Making him, if not mistaken, the first Malayalam super-hero, although he has a few Hindi/Bollywood counterparts, namely Krissh (Hrithik Roshan), Flying Jatt (Tiger Shroff), etc. What's the key difference here?
Quite simply the frickin' script (Arun Arunidhan, Justin Mathew) — smoothly leading from characters to scenes, seamlessly establishing a wider arc for both, throwing in a bit of psychology and science (Miller-Urey experiment) for a believable base. Eventually, landing at a point that there isn't just the rise of a superhero, simultaneously also an equally powerful super-villain (Guru Somasundaram)!
And this is pretty much what separates so many Malayalam movies from films from anywhere in India at the moment. The fact that they stick to a writing that's deeply thought through — at no point overwhelmed by any kinda star-system, or a global audience, that films from Kerala have begun to attract lately. 
Never losing sight of the playfulness — the soundtrack, in particular, is kickass — that audiences expect from motion pictures still. (If you sense a subconscious bias here, well the reasons are all there in your OTT libraries!).
Hence the filmmakers on board, starting from the presumably young director here (Basil Joseph), totally untouched by the sheer magnitude of the Spielbergian genre he's dealing with. Speaking of which, watch the ease with which they pull off the trembling/shaking glass scene, immortalised in Spielberg's Jurassic Park, for instance.
In terms of ambition, neither protagonist nor antagonist is really interested in saving the planet, to start with. The love for a woman unites their immediate concerns. Somehow their fantastical worlds, rooted in rural reality, merge. 
What plays out is a smartly derived, wholly original story laden with base-line emotions. Playing out way too patiently, at over two and half hours, you could argue. And I certainly do. There's enough happening here that you can forward to the following scenes as well. But you don't. Because you're sufficiently invested. 
In? Minnal Murali. And the fellow pretending to be Minnal Murali. Slowly and steadily, as per genre convention, counting down to the final showdown, that will inevitably be the film's climax. 
The long set-up was worth it, because the payback is complete. Not that there's much competition, but trust the Malayalis to pull off the best brown, super-conventional, franchise worthy mainstream, desi superhero film that I've seen (so far)!