Directed by Ksshitij Chaudhary and written by Amberdeep Singh, the romantic comedy takes its title from a popular Punjabi folk song and revolves around the love between Bhullar and Mehta, who hope to get married to each other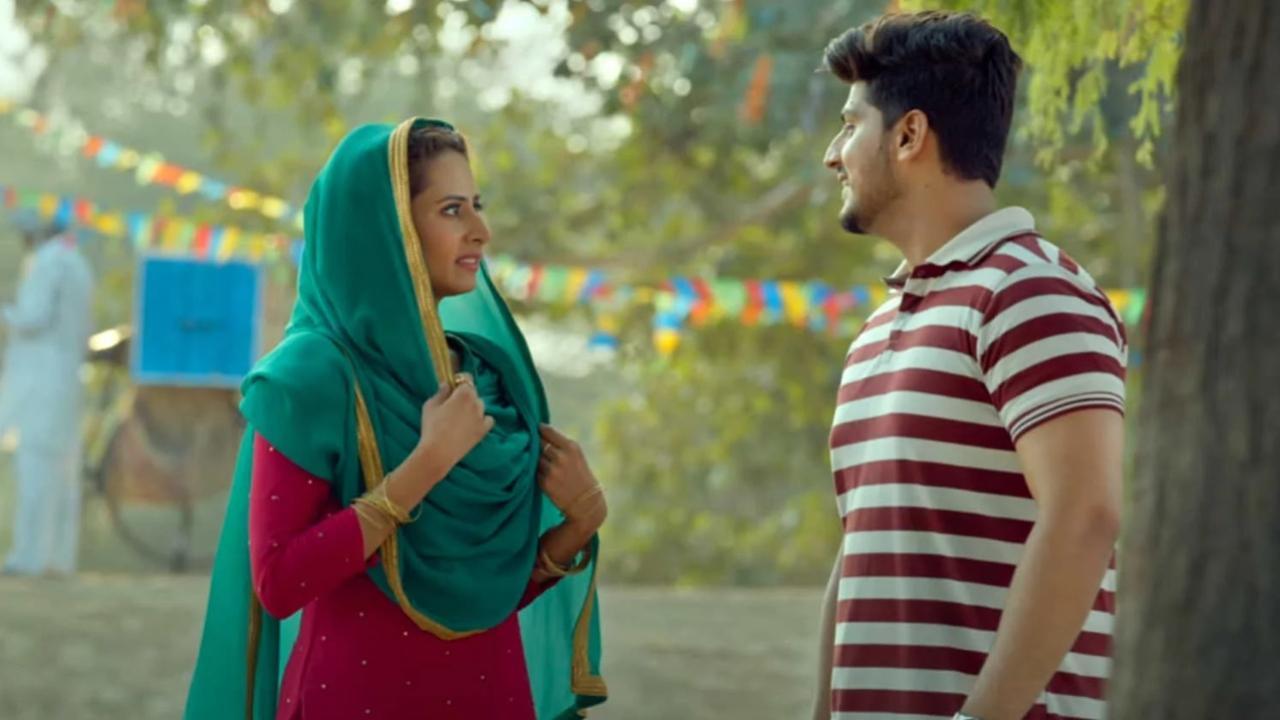 Still from Sohreyan Da Pind Aa Gaya
ZEE5, India's largest home-grown video streaming platform, announced the World Digital Premiere of its latest Punjabi offering, 'Sohreyan Da Pind Aa Gaya'. Produced by Ankit Vijan, Navdeep Narula, and Gurjit Singh, the comedy-drama stars actors Sargun Mehta and Gurnam Bhullar in lead roles and will premiere on ZEE5 on 23rd September.
Directed by Ksshitij Chaudhary and written by Amberdeep Singh, the romantic comedy takes its title from a popular Punjabi folk song and revolves around the love between Bhullar and Mehta, who hope to get married to each other. However, an unexpected twist in the tale leads to Mehta getting married to someone else. This leads to problems between the two lovers who then engage in a game of one-upmanship. Bhullar decides to spoil the fun of getting married for Mehta and is determined to tie the knot with a girl from her village so that she cannot ignore him. The battle between the two enraged ex-lovers that starts from hereon is hysterical and the USP of the film.
ADVERTISEMENT
'Sohreyan Da Pind Aa Gaya' is an out-and-out entertainer with situational comedy, a sizzling chemistry and an unusual love story with a mix of romance and revenge. The movie also stars Jass Bajwa, Jasmin Bajwa, Shivika Diwan, Hardip Gill, and Mintu Kapa in key roles and will premiere on ZEE5 on 23rd September.
Also Read: Did you know Ravi Dubey-Sargun Mehta's 'Toxic' was shot on a smart phone?
Manish Kalra, Chief Business Officer, ZEE5 India said, "Punjab is an important market for us at ZEE5 and we have been consistent in expanding our presence in this market from the very outset. We have had the good fortune of collaborating with the foremost storytellers in Pollywood to showcase blockbuster Punjabi films and 'Sohreyan Da Pind Aa Gaya' is another strategic addition to our library. Sargun Mehta and Gurnam Bhullar's last film, 'Surkhi Bindi' saw great traction on our platform and with the unusual and wacky plot of 'Sohreyan Da Pind Aa Gaya', we are confident that this movie too will strike a chord with the viewers and tickle their funny bones". 
Director Ksshitij Chaudhary said, "Witness our film's second innings on India's largest homegrown OTT platform, ZEE5 on 23rd September. This film was made with a lot of heart, humour, good intentions and a purpose to entertain. So, we hope that our efforts reach more and more people via its digital premiere and proves to be a superhit".
Actor Sargun Mehta said, "I had a lot of fun shooting for this film as it is not your typical romcom. This film starts with romance but very soon leads to revenge which is the most fun part about this film. Viewers will get to see a different kind of chemistry between me and Gurnaam in this one. We definitely see a greater traction towards the film on ZEE5 as this is the perfect family entertainer one would want to invest in".
Sargun Mehta added, "Well! OTT has a different audience although there are films that do well and are made for theatrical preview. But those who connect with the film's story while watching it in a theatre get a chance to watch it again and again on the OTT. On the contrary, some genres work best watched on OTT… so it's a good thing that you have a different platform for all kinds of content."
Actor Gurnam Bhullar said, "It was a fun ride shooting for this film as the story is so unique and exciting. Love stories usually end with a happy ending but in this one, it starts with romance and ends with an attempt to seek revenge from an ex-lover. Now that the film belongs to the fans, I am excited for them to sample the film on ZEE5 and shower their love. I hope that the World Digital Premiere is a success".
Play Quiz: How well do you know Akshay Kumar?
"Exciting news! Mid-day is now on WhatsApp Channels

Subscribe today by clicking the link and stay updated with the latest news!"
Click here! Are you excited to watch Tamannah Bhatia beatboxing in `Babli Bouncer`?