he Indian Idol team hosted a modak making competition on the sets after a contestant Avanti Patel's mother challenged music composers Ajay, Atul and judges Neha Kakkar, Vishal Dadlani and Anu Malik to make modaks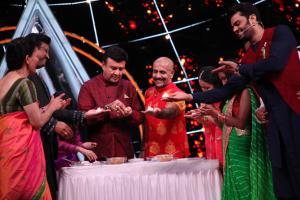 Indian Idol judges and host Maniesh Paul on the sets of Indian Idol
Indian Idol 10 is celebrating the most awaited and loved festival of Ganpati Bappa with Maha Ganpati special episodes. Get ready to become a part of the festivities with the Top 11 contestants, musical prodigies from the entertainment industry – Ajay and Atul and judges Neha Kakkar, Vishal Dadlani and Anu Malik. The judges and guests were impressed after Indian Idol's Marathi mulgi Avanti Patel's performance on 'Apsara aali' and expressed the importance of that song in their lives. How can Ganpati celebrations ever be complete without Lord Ganpati's favorite sweet Modak? The Indian Idol team hosted a modak making competition on the sets!
An interesting Modak making competition happened on the sets after Avanti Patel's mother taught the guests and judges how to prepare modaks. Avanti Patel's mother challenged Ajay & Atul and judges Neha Kakkar, Vishal Dadlani and Anu Malik to make modaks, after which everyone tried their hands on making the traditional Maharashtrian steamed sweet.
Avanti said, "Ganesh Chaurthi is one of the best times of the year when we indulge our taste buds to the fullest. Modaks are my favorite part of the festival but at our home we all have to prepare modaks then only do we get to eat them. Its really fun and amazing to sit together with your family and make modaks and this was exactly what happened on Indian Idol sets when my mother taught everyone to make modaks and then challenged judges and Ajay & Atul ji to prepare some. This weekend will be one of the most amazing episodes of the Indian Idol 10."
Also Read: Watch Shahid Kapoor's Ganpati Dance On Indian Idol 10
Catch up on all the latest entertainment news and gossip here. Also download the new mid-day Android and iOS apps to get latest updates