His 'Dadi' and 'Nani' act in 'The Kapil Sharma Show', gained him admirers from all over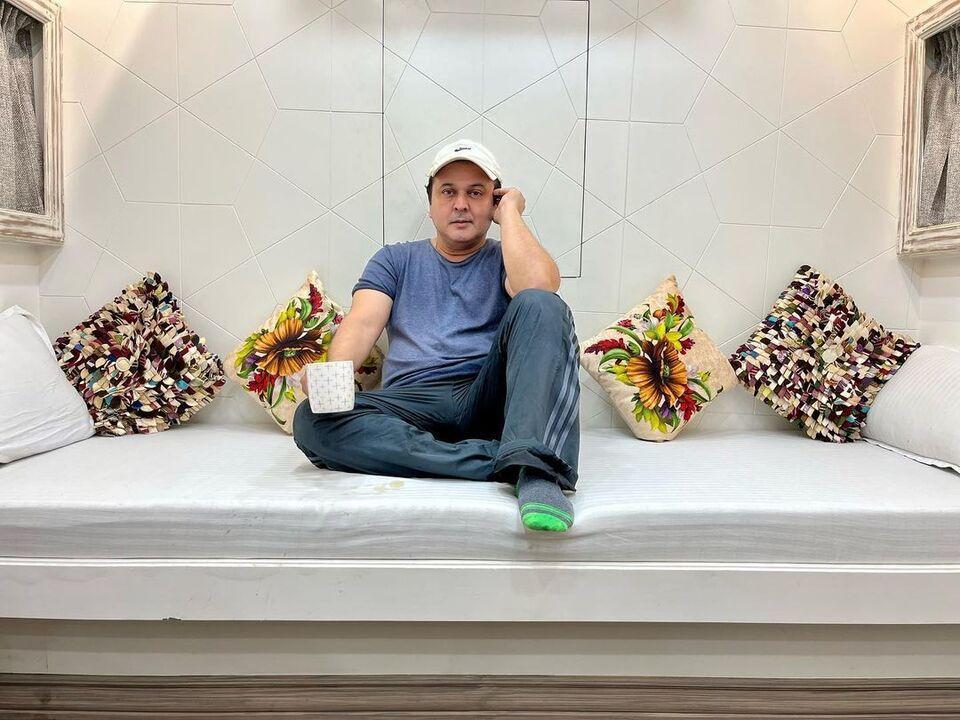 Official Instagram Account of Ali Asgar
Actor Ali Asgar needs no introduction. After debuting in showbiz with the teenage detective show 'Ek Do Teen Chaar', he went onto do an array of serials and films. His 'Dadi' and 'Nani' act in 'The Kapil Sharma Show', gained him admirers from all over.
This week, Mid-Day Online met Ali Asgar for an exclusive interview, wherein he spoke about why he decided to stay back in India despite having a high paying job offer abroad, his equation with Kapil Sharma and whether he will make a comeback in Kapil's show.
ADVERTISEMENT
You started acting when you were around 15 years old. Were you successful in managing studies as well as acting?
To a large extent yes. I was in my tenth standard when I started working in the serial called 'Ek Do teen Chaar'. There were two other co-stars with me, who also were in school. Our schedules were matched in such a way that, none of us missed our schools. The show's makers also ensured that we never worked during our exams.
What was your first pay check?
I was paid Rs. 1000 per episode and Rs. 100 towards travelling.  
How did you spend the money?
My father used to handle my income. Whatever money I used to get, it used to be in my father's account. Times have changed and how. In today's time and age, children ask for their account number and password the moment they are born! (smiles).
Is there anything that you want to tell our readers who have grown up watching your detective series 'Ek Do Teen Chaar'?
All that I want to tell is that, whatever I am, it is purely because of your love and affection. I am grateful to each one of you wholeheartedly!
Also Read: Visually impaired 'KBC 14' contestant is a fan of Big B's 'Black'
Is it true that since your parents did not let you go abroad despite having a lucrative job offer?
Yes. I had a job offer to work in an oil rig in Texas. It was a very high paying job. They wanted me to sign a bond of minimum 5 years. Even though I was very excited for the job, my parents were reluctant to send me away for five years, as they wanted me to stay in India and work here.
There was a FIR which was filed against you regarding one of your acts in 'The Kapil Sharma Show'. What has that whole episode taught you? Have you become doubly careful about the kind of roles you play, your one-liners and dialogues?
Of course, yes. I wasn't alone in that, there were a couple of others as well. Initially, the channel did not intervene, but, on a later stage, the channel intervened as well and took over and somehow, the whole matter got settled. The whole episode definitely taught me a lot.
Is it true that you have acted in a comedy serial produced by Dilip Kumar and Saira Banu titled 'Allah Meri Tauba' on Urdu ETV…?
(A bit stunned) Yes! I cannot tell you in words how gratified it is to even talk about that experience. Meri poori zindagi ka kaam ek taraf, aur yeh ek show ek taraf! My father always used to consider Dilip Saab, Motilal ji and Balraj Sahni ji as 'testimonials' of superlative acting. Not just me, my entire family have been great fans of Dilip saab. And for me to work in a production of Dilip saab was nothing less than divine! We used to shoot in Dilip saab's bungalow only. Whenever he used to come down from stairs, all that I used to do was to stare at him awestruck. I used to see his hand movements, his grace, his poise, his mannerisms… everything about him. His mere smile was so soothing.
What was your father's reaction when he came to know about your acting in Dilip saab's production?
My father was extremely happy. My father told me to work with all my heart and soul in the serial and allot all the dates asked to me. He also told me not to discuss money at all! All of this, because it was a prestigious Dilip Kumar saab's production.
Your character of 'dadi' was totally synonymous with 'pappis' galore. Were there any guests/s reluctant about this act?
Not at all. To tell you an incident, when we were shooting for 'Comedy Nights With Kapil', the legendary Amitabh Bachchan had come for the film promotions of 'Bhoothnath'. At that time, we had got a list of dos and don'ts from his team. And the list of 'don'ts' was totally for me only (laughs heartily). After reading the list, our entire team was like, if this has to be considered, then, there won't be any entry of Dadi, as she was known for all of those things! That's when we decided to tone down the whole act. But, when I made an entry on stage… Bachchan saab supported me and my character in the show. And just as when I realized that the mood was lightening up, I (in the character of dadi) casually spoke to Bachchan saab and told him, "Sir, you know that, mujhse bachke koi nahi gaya hai iss manch pe. Aur ye budhiya aapse bheeek maangti hai… toh please mujhe woh de do, warna mera saara glamour utar jaayega". That's when, Bachchan saab kissed me (the character of dadi). That's the greatness of Amitabh Bachchan, who not just lifted my character, but also did not let my character of dadi go astray.
When people offer only woman's roles to you, does the artist inside you feel irritated or angry?
Hundred percent it does. I feel sad many times. Even though there has been good money offered, I have refused many roles because, all of them centered around the same old stereotype.
Is there anything that you want to tell the directors who refuse to see you beyond the character and mannerisms of Dadi?
I appeal and request with gratitude to consider me for meaningful characters as well.  Even if I am offered four scenes, I will still be happy doing it… provided there is meaning in the role. The length of the role is not important. All I need and ask for is to have substance in my role.
Will you do 'Bigg Boss' if offered to you?
I cannot see myself in 'Bigg Boss' because, I am not a 'Bigg Boss material'. At the same time, I wont even participate in a singing show because, when I sing, paani chali jaati hai (laughs heartily).
Looking back, when you had participated in 'Zara Nachke Dikha', your team had staged a walk out in protest against the results. What exactly had happened then?
(smiles) Yes, we did stage a walkout. I was the captain of the team. Whatever I remember of that show was that, after every round, we were always told that 'you guys are really very good'. But, despite that, more marks were given to the girls team repeatedly. Hence, walking out was a natural feeling which we did. Uss samay jawaani thi… umar ka taqaaza bhi tha…
Much has been written about your moving out of 'The Kapil Sharma Show'. What exactly happened with Kapil Sharma?
When Kapil had called me, I was GENUINELY busy. And, when I had called him, he was GENUINELY busy, which led to a communication gap between us. Amidst all this, there were so much of 'mirch masala' that were being added, that the actual subject matter which was supposed to reach Kapil Sharma could not reach him at all. He moved on… and I also moved on. At the same time, respect and love for him was there and will always be there.
In case Kapil Sharma calls you to join his show this season, will you do so?
You never know…. (smiles). I would definitely love to hear from Kapil and meet him. There is no enmity between us. Whenever he calls me, I would love to work with him.
In case you say yes to the show, will you continue to play the role of nani or dadi in the show?
I would love to do something new. I would like to do something which will be beneficial for the show as well as for me.
Play Quiz: How well do you know Akshay Kumar? Will Alia Bhatt and Ranbir Kapoor starrer `Brahmastra` touch Rs. 500 crore mark?