That's the thing about the insatiable Satyajit Ray, isn't it? Seems like he had multiple lifetimes. At any rate his works do, as you can tell, from this smartly inspired collection as well. Can't complain.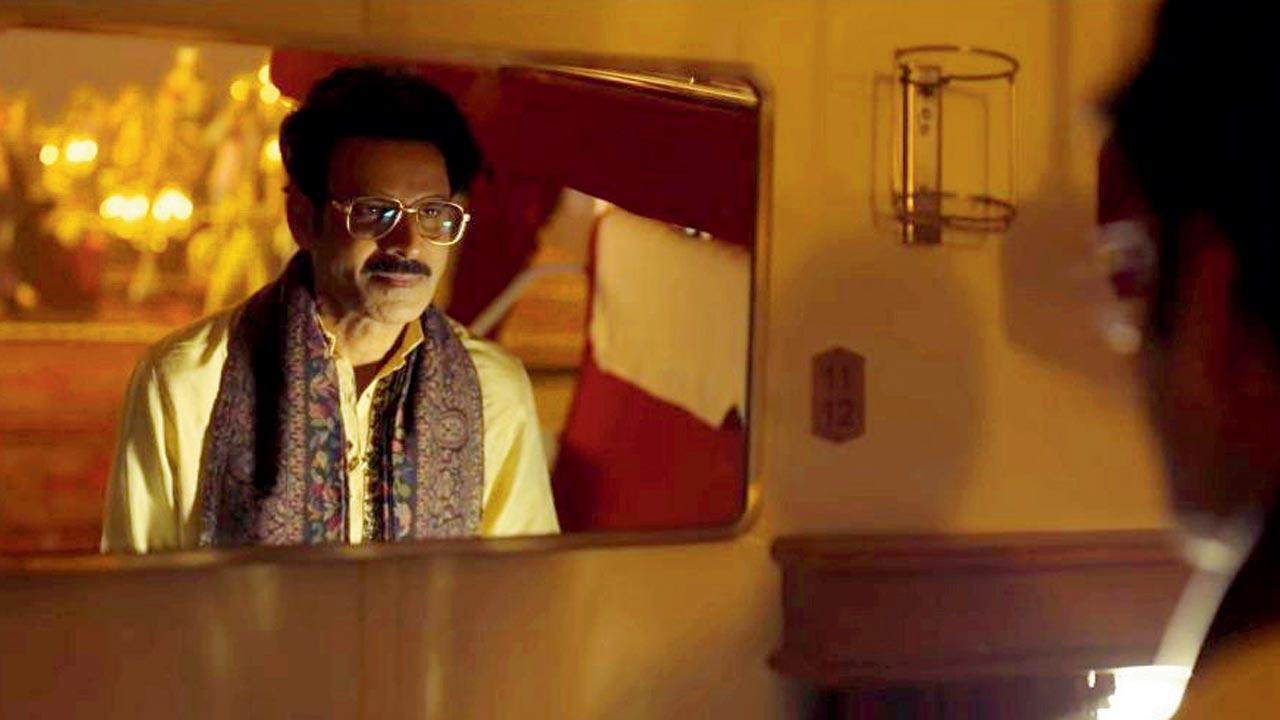 A still from 'Ray'
Ray
ON: Netflix
Dir: Srijit Mukherjee, Abhishek Chaubey, Vasan Bala
Cast: Kay Kay Menon, Manoj Bajpayee, Harsh Varrdhan Kapoor, Ali Fazal
Rating: 3/5
Satyajit Ray is India's Shakespeare. Meaning, the sheer volume of work he put out during a lifetime makes one wonder if there was a syndicate/team of ghosts working behind him to make this even physically possible.
ADVERTISEMENT
Although of all the things Renaissance Man Ray delved in — illustrations, novels, typography, music composition, screenwriting, filmmaking — writing plays, to the best of my knowledge, wasn't one of them.
This anthology of four short films, named after the author, is based on Ray's short stories. This is essential to know, because at least the first two shorts here, Srijit Mukherjee's Forget Me Not and Bahrupiya — the latter being particularly macabre — posthumously reveal a relatively unexplored dark side of Ray as a writer. Still surprising fans, with his staggering range!
Watch the trailer of 'Ray'
Unless, these are simply far-out reinterpretations by the filmmaker; which is also quite likely. And precisely what Abhishek Chaubey does with Hangama Hai Kyon Barpa (HHKB), resetting a Ray story into an altogether Urdu milieu, with Manoj Bajpayee playing a ghazal singer, and Gajraj Rao, a retired pehlwan.
All Hindu men play Muslim men, inadvertently arguing, which cinema always has, that on the face of it, you can't even tell one from the other. So much for politics surrounding them to separate. The language is particularly chaste. Since Urdu, it automatically sounds poetic!
Speaking of which, given the competently crafted Calcutta landscape, Bahrupriya should've ideally been in Bangla. The timid lead-character here applies prosthetic make-up to successfully transform into another person — what about his body?
Kay Kay Menon plays this role. I'm told he wished to avoid the Bengali caricature (in dialogue). Well, you get an actor like Kay Kay on board — everything eventually seems more than okay, doesn't it? As does the film, of course.
Also bear in mind these are jugaadu, pandemic productions — given to lower crew strength, and limited possibilities for locations. Two shorts, Forget Me Not and Vasan Bala's Spotlight, are shot almost entirely inside a hotel. Chaubey's HHKB works around this best, with a playfully Wes Andersen feel to neatly colourful interiors for a dream-like production design.
Suffice to say, these are inherently bright contemporary filmmakers doffing hat to Ray on his birth centenary. Does it matter which film is better than the other? Ideally not, because each different enough, that it's hard to compare.
Only way to do it then, is to base it on which of the lot you remember the most. Or the least, as it were, which for me, is probably Bala's slightly scattered Spotlight. Chiefly because it's another self-deprecating meta movie, on the movie world, starring Harsh Varrdhan Kapoor, after his extended cameo in the Netflix production, AK vs AK.
As a short story, it still bears the stamp of Ray the most. There's talk of stardom, dealt with in Nayak (1965), and a religious cult, explored in Mahapurush (1965). Spotlight has some of the wittiest one-liners though.
My favourite from this entire anthology being Kapoor as superstar Vicky Arora telling his girlfriend he's breaking up with, who's also a Bollywood heroine: "Don't come back when I'm at the Oscars, huh? Tum macchar-dani wali gown pehenke rampwalk karna, at Gutkha awards!"
Which was the short film I recall being absorbed by the most? Mukherjee's Forget Me Not, starring the incredibly kinetic Ali Fazal. Which is the one I didn't have to speed-watch again, before stringing these sentences together? HHKB — what's there to ever forget about Bajpayee and Rao jamming on screen!
This is also to tell you how I watched Ray. Patiently, over four days, an episode each. Felt like I was reading short stories, by myself, before bed, on a personal device — something that cinema, mimicking a book, allows for, in a way that it's never done before.
As per Oscars that define a short film as under 40 minutes (including credits), ones in this anthology, each clocking close to an hour, strictly speaking, aren't short films. They're not features either. You can click on them separately like episodes in a series (something you couldn't do in several, similar anthologies by Netflix in the past).
Also read: Harsh Varrdhan Kapoor: Vasan likes to improvise on set
The form then is as alluring as the content. It's made me hope to rediscover the two seasons of Satyajit Ray Presents — series of shorts telecast on Doordarshan in the '80s. The only memory of which I have is Shashi Kapoor as Feluda in an episode set in Kathmandu. It's unavailable online. Plan to check out Sujoy Ghosh's Ankul (2017) on YouTube perhaps, also based on a Ray short story.
That's the thing about the insatiable Ray, isn't it? Seems like he had multiple lifetimes. At any rate his works do, as you can tell, from this smartly inspired collection as well. Can't complain.
Also read: Harsh Varrdhan Kapoor: I am an avid reader of reviews
"Exciting news! Mid-day is now on WhatsApp Channels

Subscribe today by clicking the link and stay updated with the latest news!"
Click here!