Prakash Jha and Bobby Deol collaborate for a show called Aashram and the trailer gives us a glimpse of Deols world, and questions his characters morality!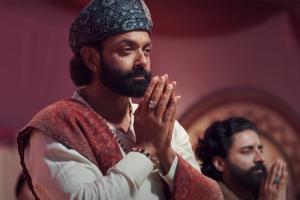 Bobby Deol in a still from his upcoming show, Aashram/Picture Courtesy: YouTube
Bobby Deol is basking in the glory of his second innings in Bollywood that began with Race 3 and Housefull 4. After the impressive trailer of Class of 83, he now slips into another character in the intriguing-looking Aashram, a show directed by Prakash Jha.
He plays a god man called Baba Nirala and there are millions of followers and faithful bhakts that have blind faith on his teachings. And this is the very theme of the story and how it questions his character's morality. 
The trailer has dropped today, and it questions how some self-proclaimed leaders distort the truth to exploit simple and innocent believers. This fictional story on the undying loyalty for Kashipur Waale Baba Nirala and his Aashram is an attempt on the same subject and hints at whether it is indeed a place of faith.