Farzi creators Raj and DK talk to mid-day.com about the research behind the show, actually printing notes, to managing a stunning casting coup in their series and films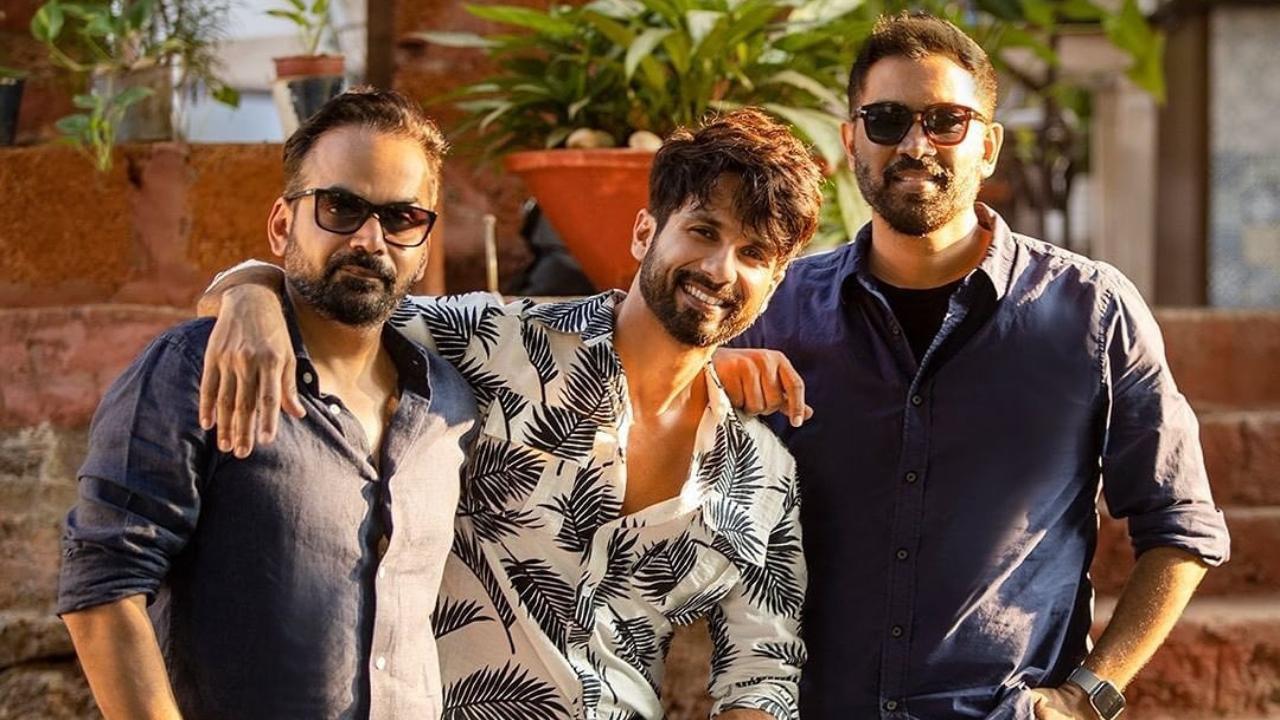 Raj and DK with Shahid Kapoor
A list of Indian web series cannot be complete without the mention of 'The Family Man' and its sequel. And the one name associated with the series is its creators Raj Nidimoru and Krishna DK. After the success of the Manoj Bajpayee-starrer spy thriller series, the creators have another win on their hands 'Farzi'. The show which brings together actors like Shahid Kapoor, Vijay Sethupathi, Amol Palekar, Raashii Khanna, and Kay Kay Menon was released on February 10 on Amazon Prime Video.
The show revolves around Shahid Kapoor, an artist whose expertise lies in flawlessly imitating existing art. He takes his art to next level when he imitates the design of the Indian currency and falls in the midst of a counterfeiting racket. Vijay Sethupathi, on the other hand, heads a task force that is set out to nab the counterfeiting kingpin Mansoor Dalal (Kay Kay Menon).  
ADVERTISEMENT
At the trailer launch of the show last month, Shahid Kapoor revealed that Raj and DK had come to him with the germ of the idea eight years ago with the intention of making a film on it. Eventually, they made it into an engaging series. The last eight years also involved a lot of research about counterfeiting.
"There was a lot of research material that went into it. We read about the world of counterfeiting itself, and the various players in that world. Also read about the more technical aspects of what this show deals with, which is the process of making the currency note. So, there are a lot of these things that you cannot make up. There is no fictitious way to do this. A lot of research had to go into it with planning and effort. When we were shooting it or printing the currency notes, the fake currency notes, we were actually printing it. It's not some kind of VFX job or some kind of patch job. We had to get around to the process of printing a convincing currency note in the press to be able to film it. A lot of research and thought went into that part of it," shared DK in a conversation with mid-day.com.
"We spent a lot of time discussing Shahid about his character, with Raashii, Kay Kay, and with Vijay Sethupathi. And each of them brought something to the table eventually. Now, at the end of the day, as you can see, they brought to the table something only they could have done. They made themselves like, indispensable, the perfect cast for that character," he added.
Also Read: I feel 'Farzi' is the best digital debut, says Shahid Kapoor
One of Farzi's many strengths is its cast. All the actors play characters that they have never done before and that is something that Raj and DK consciously do. From Sunny (Shahid), Megha (Raashii), and Firoz (Bhuvan), to Yasir, every character has been thoughtfully penned and performed. Even with 'The Family Man', Raj and DK presented different sides to well-known faces like Neeraj Madhav and Samantha Ruth Prabhu.
"If you notice that everybody that we have cast so far in all our shows or in our films is cast differently from what we've seen them do or what they've always done, at least in our minds. So that's been a conscious effort. Like Neeraj Madhav does in romantic movies, a chocolate boy in Malayalam films. So, you take him and make him appear in some character here. Samantha was doing a certain kind of film down south and you take her and make Raji here, so that's definitely a part of it. Be it even to the level of Shahid Kapoor; we want him to do this role because this is something he's never done before. If it was a role that he's already done in two films, and this is the third one; first of all, Shahid being the actor that he is, he probably would have said, 'Bro, I've done this before, I don't want to do it'. And we being who we are, we would say, 'you know what, you've done this before, let's not do it'. So that part is very clear in our head that we want to explore a new facet, while playing on their strengths, rather than make them do what they're comfortable doing or what they've already done."
"Amol Palekar, Kay Kay, everybody has their own way of doing things. That's the job of the director to really figure out how each one does adapt to them, and figure out a way to get everyone to interact with each other. A good actor loves another good actor because they feed off each other no matter what. So, it's always magic, when you put two strong actors into a frame, and let them do their things most of the time, for when you have such a good cast, you just sit back and watch and pick and choose what you like," he added. 
Also Read: Sachin-Jigar tell a story with every song in Raj and DK's 'Farzi'