Vishal Bhardwaj is probably the only one who taps into the love for a Mumbai lost in time. Bringing on screen the story of a Chinese matriarch, who is striving to hold on to her roots and her struggle of coming to terms with the Gujarati girlfriend of her son, is palpable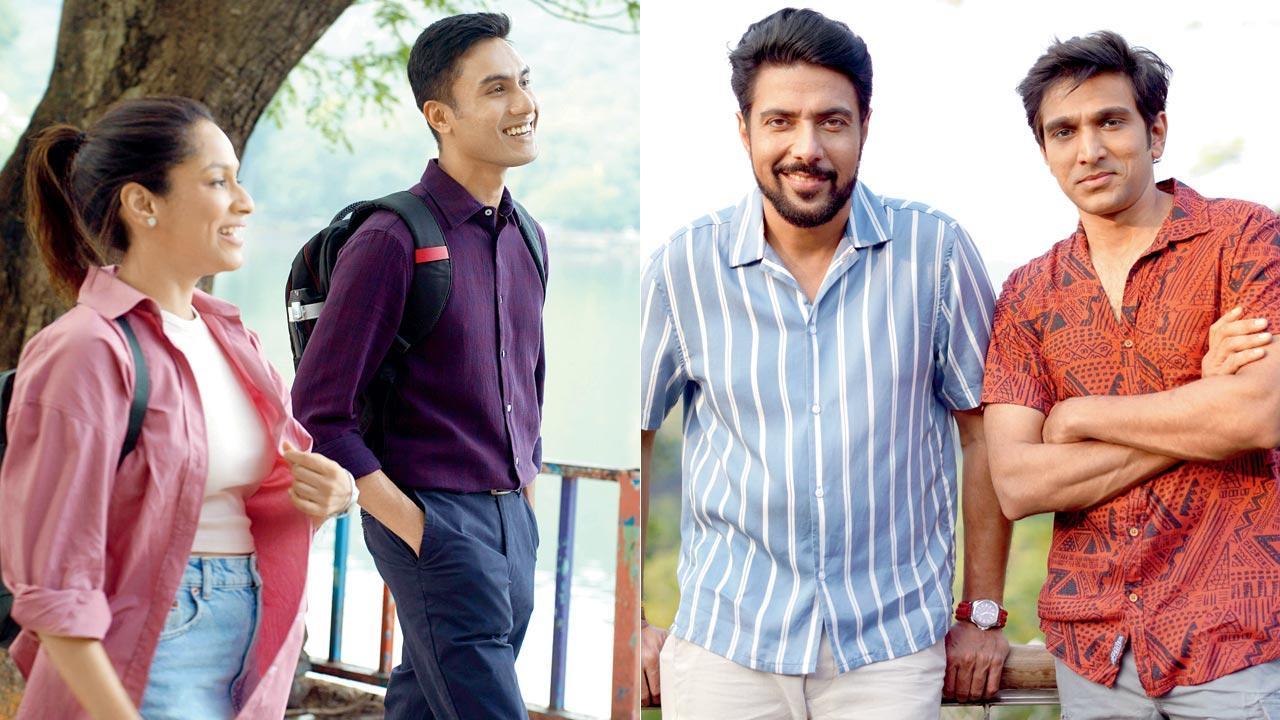 A still from the series
Modern Love Mumbai
Dir: Nupur Asthana, Hansal Mehta, Dhruv Sehgal, Alankrita Shrivastava, Vishal Bhardwaj, Shonali Bose
Cast: Ritwik Bhowmik, Pratik Gandhi,  Fatima Sana Shaikh
Rating: 3.5/5
I have always found screen adaptations of Modern Love uneven. Even though it has frequently blown me away with its fuzziness and charm, I have often wondered - can the written word ever be as perfectly captured by the camera? On that count, one must commend the directors and writers behind Modern Love Mumbai for offering a series which - for me - is the binge equivalent of my favourite hot chocolate at Birdsong cafe on a rainy day. Mumbai people will relate to the sentiment... The series, despite all its flaws, is the sort of comfort watch which will stay in your hearts for its little moments. 
Watch Video
Right at the start, it must be mentioned that by design of its format, a review of this series is bound to be personal. What hits home for one, could be deemed dull for another. There's no formula of what works, much like love itself. Personally, my favourite is Dhruv Sehgal's I Love Thane starring Masaba Gupta and Ritwik Bhowmik. Navigating the harsh dating world women in their 30s are faced with - filled with disillusionment borne out of being ghosted routinely or inability to find a connection with absolutely anybody, the short explores an unlikely romance between two people who belong to the most diverse worlds possible. There's nothing common between them, and yet something fits. I love Thane is a rare kind of romantic movie that is told simply, without any fuss or grand gestures. In that moment when Gupta's Saiba points out - "I judge myself less around you…", you fall for it. Sehgal and co-writer Nupur Pai bring in their A-game. The conversational familiarity of these two people, seeking an oasis in a bustling world that's barely letting them breathe, strikes a chord. The easy chemistry between Bhowmik and Gupta, lends to it the right amount of frothiness.
Next up, Shonali Bose's Raat Rani is another standout short, primarily because of the brilliant performance of Fatima Sana Shaikh - the best one from the series. The screenplay by Nilesh Maniyar and John Belangar is deftly brought alive by Bose. Shaikh plays an affable and cheery Lalzari, a Kashmiri girl, who is abandoned by her husband of 10 years. Watching her pick up the pieces of her heart and their fast dilapidating house, and falling back in love with life, is such a delight. It's the kind of film that hinges on the performance of its leading lady, more than its writing and Sheikh outshines herself this time around delivering what I believe is easily the best performance of the year so far in a Hindi film.
Vishal Bhardwaj is probably the only one who taps into the love for a Mumbai lost in time. Bringing on screen the story of a Chinese matriarch, who is striving to hold on to her roots and her struggle of coming to terms with the Gujarati girlfriend of her son, is palpable.  Mumbai Dragon peppered with humour, delves into the insecurity of a mother. Yeo Yann Yann and Meyiang Chang deliver such warm and memorable performances. This short also proves that everything is better with a sprinkle of Naseeruddin Shah. 
Hansal Mehta's Baai is beautifully poetic, with Ali Sethi's voice crooning Chandni Raat in the background. Baai written by Mehta, along with Ankur Pathak, is the much-needed story of love and acceptance. Starring Pratik Gandhi and Ranveer Brar, the short is about a man's journey of coming out to his grandmother played by a wonderful Tanuja. But you don't remember Baai as much for the chemistry as for its nuances and the larger social message which Mehta and Pathak punch in. The best line of the series features in this short where Tanuja while retelling a story from the 93 riots, says - Nafrat phailane waley aksar bikau hotey hai. The dialogues have been credited to Raghav Raj Kakkar and Kashyap Kapoor, who deliver some poignant lines about love, hate, empathy and acceptance. 
And finally, we are down to the two short stories that absolutely didn't work for me. One could blame the performances or the simplistic writing, but My Beautiful Wrinkles by Alankrita Srivastava starring Sarika and Danesh Rizvi felt inauthentic. A story about the female desire of a woman in the autumn of her life just doesn't connect. The backstories aren't well fleshed out. Similarly Nupur Asthana's Cutting Chai, despite sturdy performances especially by an affable Arshad Warsi, feels hollow There is not enough besides a whole lot of Mumbai, to keep you invested. 
Modern Love Mumbai is hardly an ode to the city. Not in the beautiful postcard way A Life in a Metro or Wake Up Sid was. But it's a good beginning to a series about love in all its form and glory, platonic and romantic. The anthology keeps reminding us - everything is better with a bit of love! I, for one, buy it.