What hurts more as a viewer is a show that is so technically sound—production design, photography, action, with scale/budgets to back it—that it looks devastatingly real. And yet script/story wise, so intellectually bereft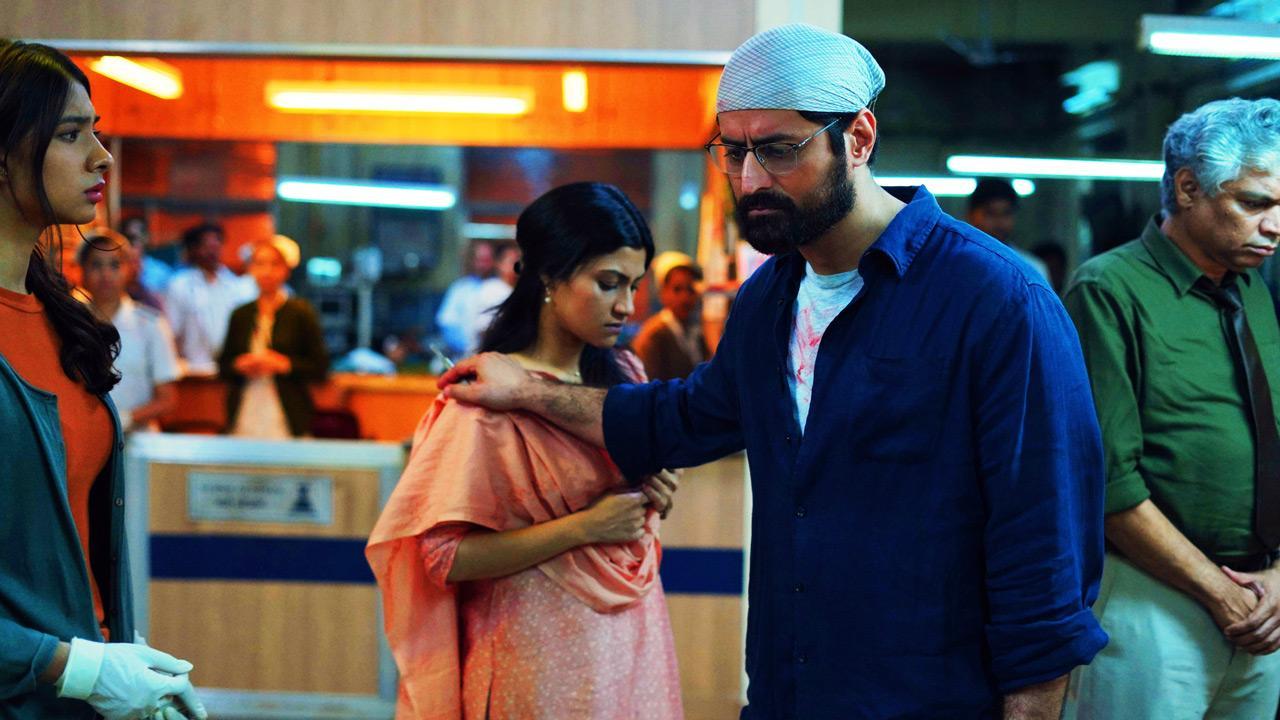 Mumbai Diaries 26/11
Mumbai Diaries 26/11
On: Amazon Prime Video
Dir: Nikkhil Advani, Nikhil Gonsalves
Cast: Mohit Rana, Konkona Sensharma
Rating: *1/2
Two of the most misrepresented, public professions we know are probably news media and the police. As part of the first, I stand guilty of having done the same towards the latter. Which isn't to suggest both don't have (more than) their fair share of absolute douche bags. The issue is with their representation as a bulk, where you come across seeming like an ignorant outsider/troll.
ADVERTISEMENT
As does this show, with a TV news reporter (Shreya Dhanwanthary), risking her life to cover 26/11 terror attacks in Mumbai. She gets on a car to crash herself in it, so she can enter the hospital as a patient instead. What's the scoop she's looking for inside? Death of city's top cops (whom she calls inspector later). Promise, no night-crawler would do that. There is no scoop. 
The said cops, badly shot by terrorists in the tragedy, are indeed dead. Docs can't save all lives. The terrorist himself, a rare one to have been nabbed, has a chance of survival. This is when the underling policeman at the hospital, in public, pulls a gun against the surgeon's head, saying there is no way the militant will be sent to an operation theatre. He has to die! You don't have to be a Sherlock to know—no cop will do that either.
Without saving that life as crucial evidence—a reason Ajmal Kasab became the first ground-level face of global terror—how do you uncover a massive international conspiracy behind the coordinated attacks by 10 armed men in Mumbai, that 26/11/2008 was? And this show, despite the detailing, doesn't seem so much about that. Why name/milk it thus?
I'm guessing the attempt must've been to script a strong medical drama/procedural, set in the emergency room, or casualty ward, of a government hospital. And look at what everyone goes through, when shit hits the dusty, creaky fan. That it always does. 
Such as a maverick surgeon (Mohit Raina), who constantly performs surgeries, breaking protocol, with a 'chya mayla, tujhya ayla' type foul-mouthed cop posted in the lobby to badger him. And the hospital head (Prakash Belwadi) perennially rolling in disbelief! This same cop has bullets pumped into his body, but would rather not be treated by a Dalit doc. Another bullet, he simply never dies. This fellow is named Mayank—how can I forget!
The series (eight episodes, averaging 45+ minutes each) is set over a few hours overnight, with the city under siege, massacred patients getting wheeled in, and deaths hovering over. There is enough room for everyone to dreamily segue into their personal back stories still. And even front stories, with random politics/dynamics developing between three young trainee docs (Satyajeet Dubey, Natasha Bharadwaj, Mrunmayee Deshpande), who've literally joined the same damned evening for work!
I haven't seen Sanjivani on TV. Have you seen a patiently unraveling, Indian medical drama/thriller, centred on the life of doctors? This could've been that. There is nothing to fault the frontline actors on this show, mentioned above. 
In my books, Konkana Sensharma, who plays a healthcare exec here, remains a delight, regardless of where she appears. She draws you in still. As does Mohit Raina, a top TV actor, whose fan base I became familiar with, only when he was nominated for an audience-poll award for a 2019, ZEE5 show Kaafir. He beat the hell out of Manoj Bajpayee from The Family Man!
It's the walk-on parts, side-cast, as they say—guard, cop, nurse, trainee's dad—that are such a mismatch; seems like they were instructed to go OTT, because they're on such a platform!
Mumbai Diaries 26/11 also has major portions set in the Taj (named Palace) Hotel, Chabad House, "25  km away from Islamabad", etc. The main location called Bombay General Hospital is obviously stand-in for Cama Hospital. 
Which is attacked on this show, by three terrorists—up against a decent convoy of cops inside, with proper weapons and bullet-proof jackets, and a posse of press outside! Which is a distortion of reality that might especially irk those from Mumbai, who knew how that night played out—thanks to television news, that the makers loathe so much by the way—or many, like me, who had family in that tragedy.  
26/11 changed everything though. How do you change 26/11 itself? Unsurprisingly the best works reflecting it are still in the space that's chiefly documentary: Hotel Mumbai, Rubaru Roshni, Scott Clark & Levy's book... Borders on dumb-f****ery, if you go far, as Mumbai Diaries sometimes descends to life-gyan or Gadar level conversations over "isko maroon, ya nahin"—kill the terrorist or not! 
What hurts more as a viewer is a show that is so technically sound—production design, photography, action, with scale/budgets to back it—that it looks devastatingly real. And yet script/story wise, so intellectually bereft, that it feels frickin' inauthentic/fake!