Lending her voice to Batman Ek Chakravyuh podcast, Shweta on how the language helps it reach a wider audience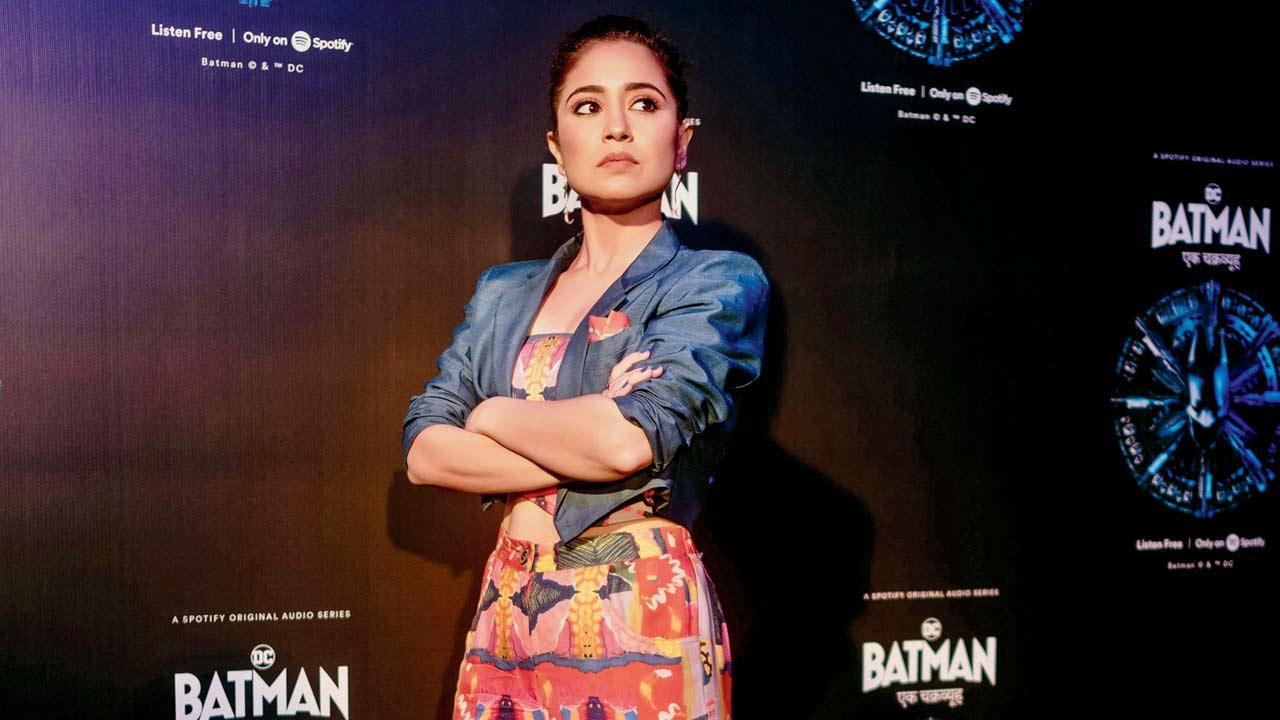 Shweta Tripathi Sharma
From Mirzapur and Yeh Kaali Kaali Ankhein, it is evident that Shweta Tripathi Sharma loves taking up dark roles. She believes such parts offer her the opportunity to explore deeper as an artiste. Naturally then, the Batman series is right up her alley. Tripathi is ready to bring the story of Batgirl to listeners with the Spotify podcast, Batman Ek Chakravyuh. Talking to mid-day, she explains the challenges of recording for an audio medium, and why the Batman series is close to her heart.
Edited excerpts from the interview.
You've had a brush with audio medium before.
I had this knowledge beforehand that acting is not done only through your body, it is also what you hear. Once, I couldn't dub for an ad because I was travelling for a shoot. That made me upset. For me, the voice completes a performance. I had also done an animation show called Birds Like Me before any of my acting gigs. Since then, it has been on my mind to give my voice to characters. When Batman Ek Chakravyuh was offered to me, I couldn't say no. It was a different experience altogether. It's a solo act where there is no co-actor to give cues. There are a lot of things I have learned, which I will now take to my set.
Are you a Batman or DC comic fan?
I am a fan of Christopher Nolan's Batman series. He is one of my favourite characters. When I started reading the script, I [started] understanding Batgirl more.
Had this been a visual show, would you have been more excited to take that up?
I want to do both audio and video. I want to wear a costume. Performing with Christian Bale and the entire cast would be on another level. Of course, I am the one to replace Anne Hathaway [laughs]. I usually get a lot of dark content. Yeh Kaali Kaali Ankhein, Mirzapur, Laakhon Mein Ek — they are all real and rooted shows. When I began reading the script of Batman Ek Chakravyuh, I realised it is also dark. When I went to Mantra's [director] studio and heard the sound effects, [I realised] it is an immersive experience. Everyone who has heard it, says they could imagine it visually. If we managed to create imagery through voice-overs, then I think the job is well done.
Since this is an audio show with heavy action, it must've been challenging to record.
Barbara Gordon is a cop. I had to figure out my character's pace and pitch. When the Hindi version of Jurassic Park had come out, the dialogues went: "Bhaago, bhaago, Tyrannosaurus aa raha hai" [laughs]. I didn't want to do a show like that. It needed to sound more convincing than that. Also, I like to keep my acting restrained. In this scenario, the emotion has to be conveyed through your voice without help from any other department — hair, make-up, or lighting. Your voice, sound effects and direction are the only things at your disposal.
Do you watch the Hindi dubbed version of movies? Often, they are hilarious.
I usually prefer to watch [offerings] in the original language — be it Squid Games, or Money Heist. The emotion you find in the original language is different. So, there is a sense of responsibility when you are dubbing something. 
 
People watch dubbed movies, but the audio medium has a niche audience. Do you think the show will find many takers?
Batman and his world have a lot of fans, but [so far] they may be unable to follow it fully because of a language barrier. So, they will be excited about a [Hindi version]. My heart breaks when children think Hindi, as a language, is not cool. We should take pride in our language. For example, at an international film festival, a French director will speak in French, and he will have an English translator. In contrast, if an Indian director doesn't know how to speak in English, he will struggle to speak the language. The effect may be lost on the listeners. I am hoping that the coolness of The Batman in Hindi will bring in a lot of listeners.