The first likely question on any fan's mind is, if The Family Man 2 > 1. No doubt in my mind — for sure. Not just for the sheer scale, and a better plot.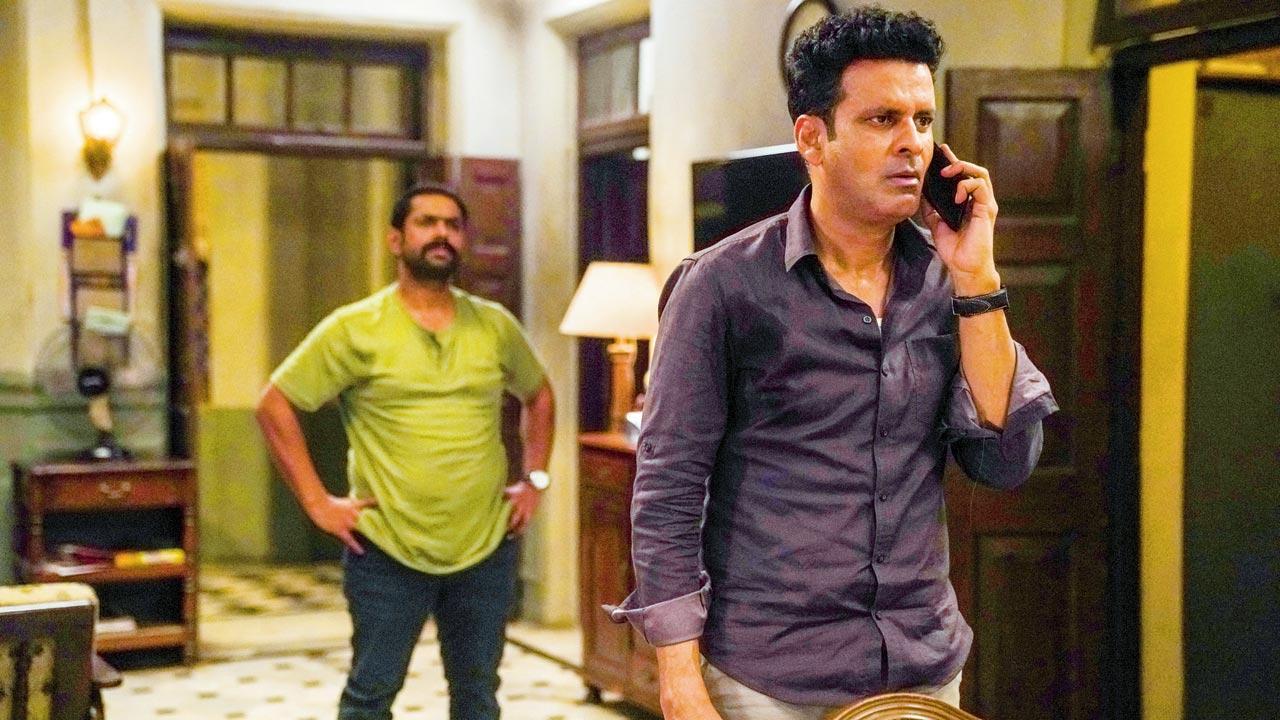 A still from The Family Man 2
The Family Man 2
On: Amazon Prime Video
Creators: Raj & DK
Cast: Manoj Bajpayee, Samantha Akkineni
Rating: 4/5
What's an Indian's memory of LTTE (Liberation Tigers of Tamil Eelam), chiefly from the late '80s? Place called Jaffna (in north Sri Lanka). Mustachioed don called Prabhakaran. His army in jungle-camouflage uniform, with ivory-like pills of cyanide hung around their necks. The Family Man, Season 2, brings back all such haunting memories. 
The last vestiges/romance of it, at least among Indians, died with the suicide-bomb attack on Prime Minister Rajiv Gandhi in 1991 — smartly summarised in Shoojit Sircar's thriller, Madras Café (2013). 
Watch Video
As you observe on this show, there are still sympathisers in Tamil Nadu for the demand of a separate Tamil homeland in Sri Lanka. Call them LTTE militants/terrorists/revolutionaries/freedom fighters, or what you like. Doesn't change the reality of the mindscape. 
It's merely a matter of perspective isn't it, which changes with time, even governments. 
This is a precious point that The Family Man 2 cares to touch upon convincingly — that casual moment alone transcends this show from any other dumb blast-fest, straight into a smart thriller, with its worldview in place. That was true for the first season as well.
Speaking of which, how much do you recall of the original The Family Man (2019)? Just pick that year, and look at what followed in our lives with the 2020 pandemic — compelling us to fill the space between our ears with umpteen books, movies, podcasts, series, for lack of an option, to even step out of the home.
So, no, I remember nothing of The Family Man! Would a quick season-recap have helped? My advice to web platforms is they must consider that for all previous seasons, of all shows, anyway. That said, it doesn't matter. 
The Family Man 2 is distinct/standalone enough for you to hit it off right away — without bothering much with where you left off. Isn't that true for the fun men in our families! Just so you know, some men (and women) here have begun to speak a different language. A good portion of the series is in Tamil; with subtitles, of course. 
This could be off-putting for certain mainstream audiences, who must flit between getting more alert to the screen — because they must also alternately read — rather than casually binge on a nine-episode spy-thriller (around 40 minutes each). Needless to add, do get used to this though, if you're not. Subtitles are quite simply the window to the world. 
Be sure, the family 'man of the moment', desi opposite of 007, Srikant Tiwari (Manoj Bajpayee) speaks the same way — adorable, UP-expat mix of Hindi and English. 
Sarcasm being his third language! 
The season opens with scenes made for memes, where Srikant is employed by a pint-sized, late-20s, over-achiever boss of what looks like a tech start-up. Every time this baby-boy nags the secret service agent on sabbatical, throwing new-age jargon — "don't be the minimum guy" — you wait so hard for things to blow up. When it eventually does, payoff feels worth it! So will the screenshots, when they appear on the Internet. 
The serious side to Srikant is equally arresting. Over time, it appears the actor and character has wholly merged. The Family Man is playing on Prime Video. It's Bajpayee, who's at his prime. Sorry couldn't resist that!
Taking away nothing from the rest of the freshly picked, and the old ensemble cast — JK Talpade (Sharib Hashmi) onwards. And the antagonist, obviously, standing out — Samantha Akkineni: Sharp as blade, subtly styled like a roughened cat-woman landed from Colombo; so quiet and effective, although unsure if bronzing/tanning ever works for a permanent look on screen.  
Suffice to say, given how routine it's become to find placements for parts with perfect performers, the casting director (Mukesh Chhabra) is progressively becoming the star of India's OTT wave. This show is not an exception. 
But if the whole thing comes together credibly as popular/pulp fiction, including the vanquished LTTE forming a government in exile with possible western support — who to credit foremost, but the writers, creators (Raj & DK), along with a new director on board (Suparn Verma). 
Also read: 5 reasons why 'The Family Man' is the best Indian espionage web series
The first likely question on any fan's mind is, if The Family Man 2 > 1. No doubt in my mind — for sure. Not just for the sheer scale, and a better plot. But for the fact that The Family Man itself was essentially a sleeper hit. Its second season remains arguably the most anticipated show of 2021. To even meet such an expectation is a global feat. This is possibly even better than it seems!
What am I going to remember most from it? Lots, of course — some of the shootout and chase sequences, Srikant's emotional scenes, the clever ISI-LTTE angle, Bengali woman for the Indian PM...
Strangely, what's coming to my mind right now is actor Asif Basra, making his first appearance on this show. He passed away from suicide, after playing this part of a psychologist/counsellor. Irony died with him.
Also read: Know 'The Family Man 2' characters: From Priyamani to Sharad Kelkar