Life & Emotions - Casting impressions, captures that special moment in time, thereby preserving the magic of childhood for Life or the joy of marriage or togetherness and blessings from elders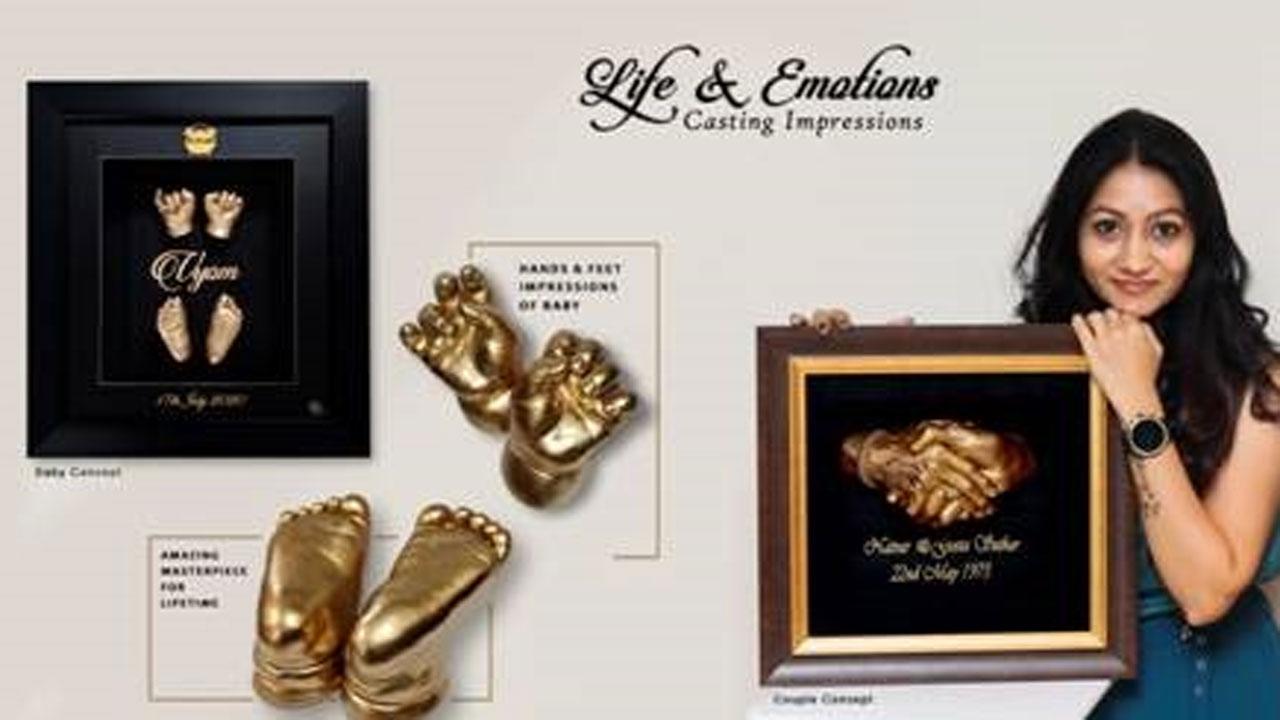 Amrita Dalal
Envision, a beautiful moment for a mother with her new born baby, preserving her cute memories with a keepsake of Baby's Hands & Feet. Or, presenting your grandparents with a cast of their hands clasped together on their golden anniversary.
Life & Emotions - Casting impressions, captures that special moment in time, thereby preserving the magic of childhood for Life or the joy of marriage or togetherness and blessings from elders. 3D Life casting impressions of hands and feet are the reflection of a moment of tenderness and love. You can now easily capture detailed footprints of your new-born baby or your elders as precious memories. The entire 3d life casting process is totally safe and, above all, hygienic.
ADVERTISEMENT
Life & Emotions aims at creating immortal memories with products of multiple events orchestrated within our lives, bringing together people and ideas connected through the emotions towards Life. Started in the year 2014, Life and Emotions is dedicated to immortalizing your life memories in the form of a cast. Ensuring the fleeting time of Life is captured in the best way possible through the process of moulds capture. Casting can be described as a process of replicating human body parts in a 3D mold through various molding and casting techniques. Life casts can replicate the minutest of details to ensure Life like casts."Events and emotions are woven into the fabric of Life. Human emotion is always inclined towards basking in the glory of happiness and makes an effort to keep those moments alive forever." says Amrita Dalal, Founder of Life & Emotions.
Amrita Dalal, is an artist with a keen for perfection on Art. Extensively qualified in Fine Arts, Fashion Design, Makeup, Human Resource, Voice & Accent and Masters of Business Administration. It was a natural transition for her to combine the qualifications and experiences, mixing art, design and human resources to Life & Emotions – Casting Impressions.
With unquestionable support from her family & friends and equipped with professional certifications in Real-Life Castings for Hands, Feet, Belly and Torso from London and Germany, Amrita has expertise in casting and creating moulds in an eco-friendly, hygienic, hassle-free manner and capturing the essence of the emotions involved.
This craftmanship includes projecting 3-dimensional impressions of hands and feet, making them a memorable keepsake forever. There are different alternatives accessible, completely exclusive custom-fitted to your decision.
You will find casting impressions concepts for all ages and budgets at www.lifenemotions.com.
Instagram: https://instagram.com/lifenemotions
This story has been sourced from a third party syndicated feed, agencies. Mid-day accepts no responsibility or liability for its dependability, trustworthiness, reliability and data of the text. Mid-day management/mid-day.com reserves the sole right to alter, delete or remove (without notice) the content in its absolute discretion for any reason whatsoever