This Mumbai based company has it all India presence with their presence in the USA (California) and Dubai in the Middle East.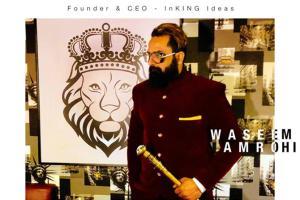 Waseem Amrohi
Digital Marketing guru Waseem Amrohi, the founder of Inking Ideas is one of the most sought after professionals in the sphere of digital marketing and movies, media and entertainment business. This Mumbai based company has it all India presence with their presence in the USA (California) and Dubai in the Middle East.
Waseem has worked with over 450 brands, 70 movies and several Television Channels and has won best social media campaigns in CSR at ACEF Awards for the tremendous success of his innovative campaigns with Parx Hunt'17, YES Foundation's - Yes I am The Change as a creative Director.
Widely known for his achievement (Part of Digital Team) of the most successful Digital Marketing Campaign in Indian history - Tata Tea's 'Jaago Re', he was awarded the BBC National Marketing Award for National Award-winning films – Pink, Neerja and best campaigns for Hyundai, All About You and HRX as a Creative Director, ACEF Awards for Best Digital Integrated Award for M.S. Dhoni: The Untold Story, Padmavat, Sachin – A billion Dreams and International movies: Logan, The Boss Baby, Baywatch, The Greatest Showman, Kung Fu Panda 3, while being associated with Sultan, Padman, Raid, Golmaal Again and Poster Boys.
Waseem Amrohi, Founder and CEO of Inking Ideas Private Limited speaks to Mid-Day:
What is the idea behind your firm's name - Inking Ideas?
Don't you think that the moment a human being comes to this world, they start 'inking ideas for their lives and livelihood?' Every person is always inking ideas... be it the Street Vendor to a someone producing Children's toys and right up to a Corporate Leader - How can I excel in my work or business or profession? (Waseem ends with a smile)
We all are InKING ideas!
Where do our Indian businesses lag as compared to their counterparts in the west about creating Digital presence of their brands?
We have failed to realize the simple reality! Digital marketing is something that is unique and keeps changing every day, month and every year. A decade or two ago having a website used to suffice the need of a digital presence, but then came YouTube, FaceBook, Instagram to the present-day scenario of TikTok, Viga Videos to engage with your customer.
Unfortunately in India, most of the corporates in the public sector and even in the private sector, still are limited to marketing through ad-films and hoardings. The drawback is that they are still not aware of the power of digital marketing.
What are the most common mistakes by corporates in the area of digital marketing of their brands or products?
Most of them fail to create customer engagement that leads to acquisition. If you are selling something, you have to create a bond between the customer and your brand. In 2013 for instance, I was a part of the 'Make A Move' campaign of VLCC Arabia and that yielded tremendous response and it actually connected with the masses via a pledge campaign on digital to fight against obesity. It was huge and a game-changer for hole UAE health issue.
Take the Entertainment industry, what is the role of Inking Ideas as a Creative Director and Strategy Head for marketing Bollywood feature films?
Movie marketing is not just about hoarding or movie trailer or song on TV.
We are not only inking ideas to pull the audience to watch the movie in theatres but on the OTT platform like Netflix's, Amazon, Hotstar's and many other.
We select the positives from the content-driven films. Among several options, like we may choose WhatsApp messaging, Blogging, PRs and influencers to drive out the point. For instance, the film Sultan and Golmaal Again ran huge campaigns on TikTok, WhatsApp messaging, influencers and Google Display Banners; and this is how we made the film bigger. Also, the creation of Campaigns for Platforms like BookMyShow and PayTm generated greater response. Another example is that of Beat the Booty Campaign of Jacqueline Fernandes and Tiger Shroff where we generated massive User Generated Content (UGC).
Can you give an example of a campaign which fetched totally unexpected huge success of the brand that can be used as a benchmark in your industry?
I would present a case study of LINO PERROS Campaign. The client produces exclusive range handbags, purses and clutches and had almost predetermined to sign up an A grade actress as its Brand Ambassador. They aimed at catering to teenagers, moms and grandmas. We created a large amount of UGC videos and ran the campaign #Thisisme. We introduced each and everyone without any age limit. After creating a website, we started Online Model Hunt and the response was just tremendous! It fetched us more than 10,000 UGC videos from girls all over India out of which the selected 10 Finalists were invited to Mumbai and the winners were award grand prizes. Would you imagine that total eyeballs garnered were over 35 Million in a span of just 17 days!
What is the future roadmap at Inking Ideas?
The roadmap for "inking ideas Pvt. Ltd" is to keep inking new ideas every day!
Catch up on all the latest Crime, National, International and Hatke news here. Also download the new mid-day Android and iOS apps to get latest updates.
Mid-Day is now on Telegram. Click here to join our channel (@middayinfomedialtd) and stay updated with the latest news